cosplay2010 Award result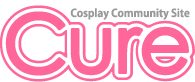 From the Japanese cosplayers nominated by overseas fans, No.1 cosplayer will be chosen by your voting. The 2010 best Japanese cosplayer will be able to participate in the "Comic Party (at Thailand)" and asian country's cosplay party.
Internet voting was closed October 2, 2010.

Thnak you !
See you next year !
JAPAN COSPLAYER OF THE YEAR 2010 #Schedule
Nominate (September 6 to 12, 2010)
↓
Internet voting (September 20 to October 2, 2010 on asianbeat)
↓
Results on this website, October 3
↓
The winner will participate in the "Comic Party" which will be held in Bangkok.