BATTEN GIRLS ♡ Munakata

The Fukuoka, Kyushu-based idol group BATTEN GIRLS have put together a plan for any tourists who want to enjoy a day out in Munakata! The group are tourism ambassadors for Munakata City (Fukuoka Prefecture), so their suggestions are well worth checking out! Make sure to take a closer look at their "Ideas for Getting the Most out of a Day Trip in Munakata" for insightful recommendations and some personal experiences of the locations suggested! Please use this feature as a point of reference when you plan your next trip to Munakata!
Fans should take a closer look at these recommendations! Check out BATTEN GIRLS' "Ideas for Getting the Most out of a Day Trip in Munakata!"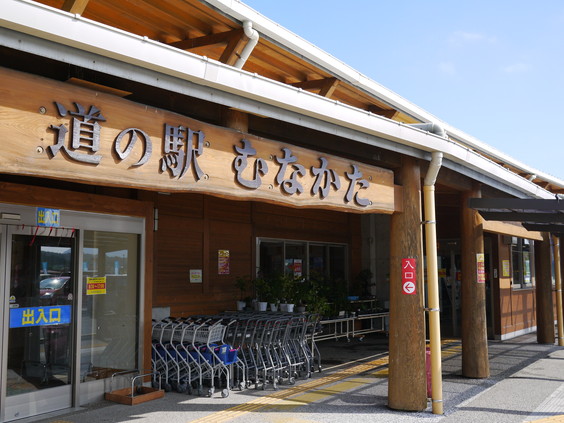 Kiyama Ai
: I think a great way to start the day is by visiting
Michi no Eki Munakata
(Roadside Station) Munakata. For me… This is an unforgettable location. It is the site where we held a "Drive-in Live" event in 2020! They sell lots of vegetables and fresh fish, such as squid, sea bream, and conger eel.
Seta Sakura
: I would recommend picking up some seaweed "
wakame
" dressing! It's packed full of umami flavor. It can also be used in a variety of Japanese and Western dishes. It tastes great served with sashimi, salad, tofu, and meat.
Haruno Kiina
: I would suggest trying sazae (turban shell). We participated in a cooking contest/battle at the Drive-in Live event. I collected some sazae shells with a few
ama
(female shell divers) in the sea off Munakata before the event took place. Diving itself is very hard, so I've come to appreciate sazae more than ever!
(From left) Seta Sakura and Kiyama Ai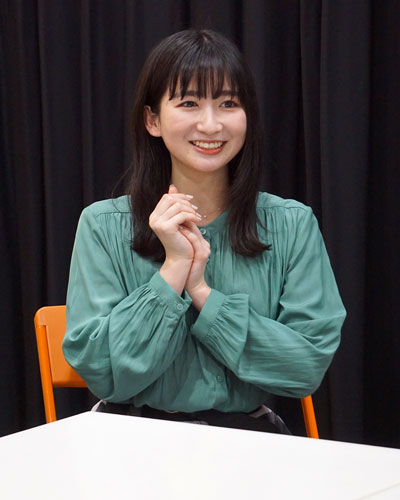 Haruno Kiina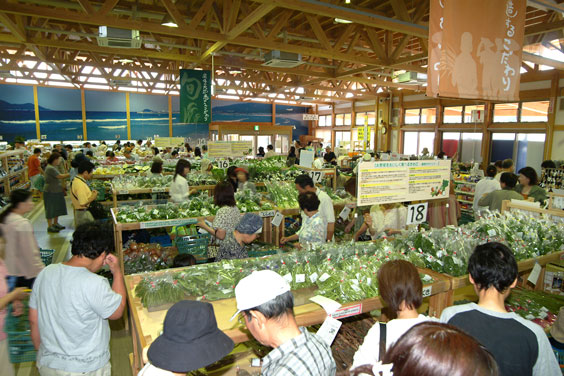 Michi no Eki Munakata

*Photo provided by: Munakata City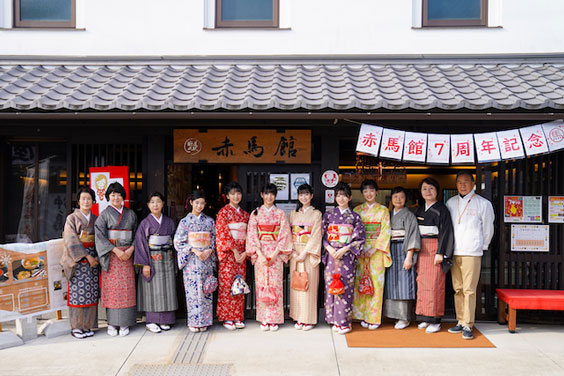 *Photo provided by: AKAMAKAN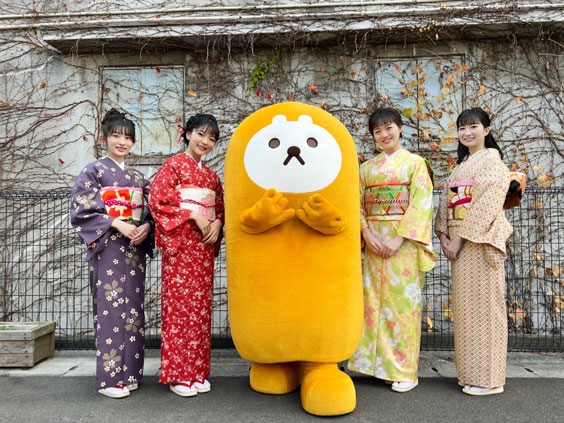 Here is a photo of some of the group members with "Munakata no Tenchan!" This lovable characters helps promote Munakata City!
Kiyama Ai: After you've been to the Michi no Eki, it would be worth heading over to AKAMAKAN. It's a place where visitors can pick up souvenirs and gather some tourist information. Last year, we participated in an event to commemorate AKAMAKAN's seventh anniversary. We all got to wear a kimono for the celebration! There is a delightful, traditional Japanese atmosphere in the air… It's nice just to take a stroll and see what's inside. I think that people visiting from overseas will have a lot of fun!
Ueda Riko: I saw all kinds of handmade goods and ate some delicious dango (sweet rice dumplings). The yomogi dango (sweet rice dumplings made with Japanese mugwort) were super delicious!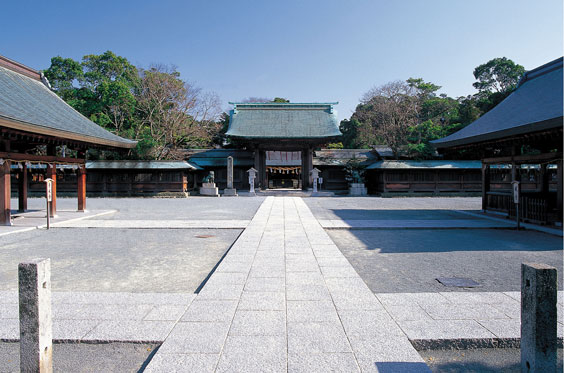 Munakata Taisha

*Photo provided by: Munakata City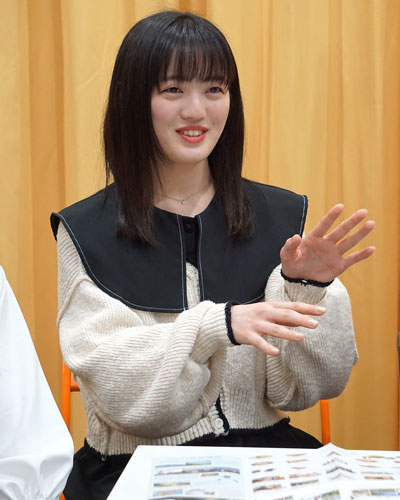 Kiyama Ai: You can't forget to visit "The Sacred Island of Okinoshima and Associated Sites in the Munakata Region!" It was added to UNESCO's World Heritage list in 2017. Takamiya Saijo (Ceremonial Site) in Munakata Taisha is one of the World Heritage Sites. When I visited with Kiina, it was a place that left a lasting impression on me. The site of the ancient shrine is surrounded by trees. When you close your eyes, all you can hear is the sound of the wind... It is a spot that has some kind of mysterious power!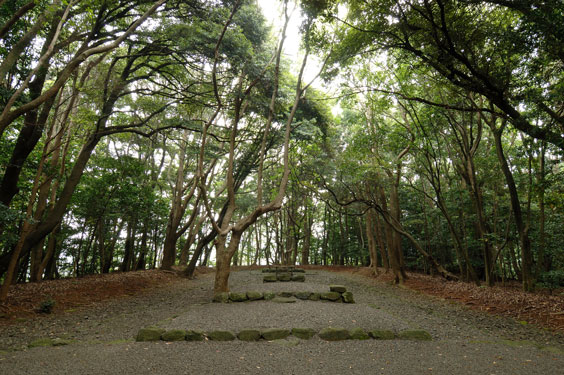 Munakata Taisha Takamiya Saijo

*Photo provided by: Munakata City
*BATTEN GIRLS YouTube Channel | Munakata City tourism Ambassadors working together in Munakata Oshima: Released in July 2021
Ueda Riko: Oshima is lovely, too. It is about a 25 minute ferry ride from Kouno Minato in Munakata City. We visited in 2021, to do a photoshoot for a poster. It is also the site of an old fort ruins. On my last trip, there were some spots where I hardly had enough room to stand up. When the wind blew, I was terrified that I would be blown off (lol).

Yanagi Miyu: I remember fishing with Ai at Umi-ing Oshima, which is a facility that gives visitors the chance to interact with the ocean! I caught a big fish but the weight of the rod got so heavy, I didn't know what to do! But in the end, two of us worked together and we were able to reel in a striped horse mackerel!

Aoi Rirua: I had a wonderful time horseback riding near the Windmill Observatory. It gives total beginners the chance to try riding a horse!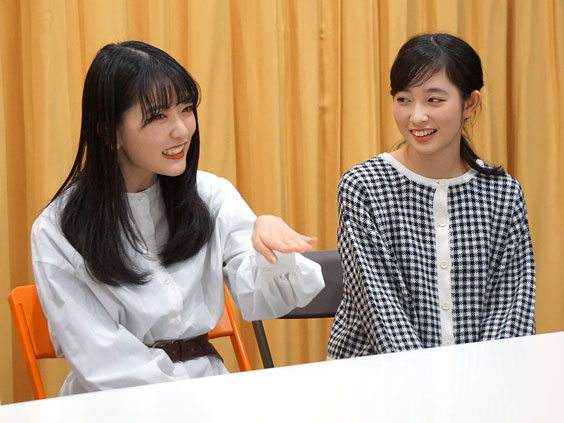 (From left) Ueda Riko and Yanagi Miyu
Here is the Windmill Observatory and the fort ruins (left hand side of the photo) *Photo provided by: Munakata City


*Photo provided by: Munakata City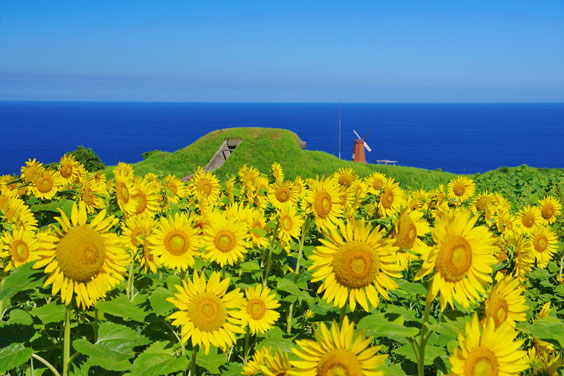 *Photo provided by: Munakata City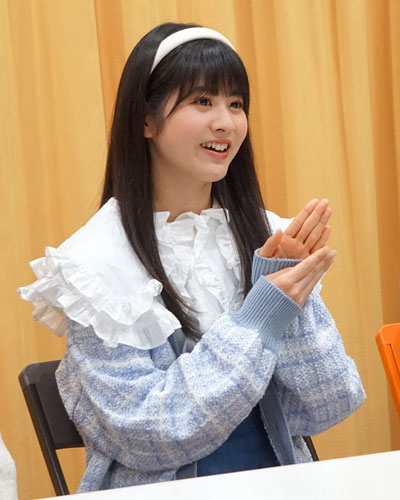 Aoi Rirua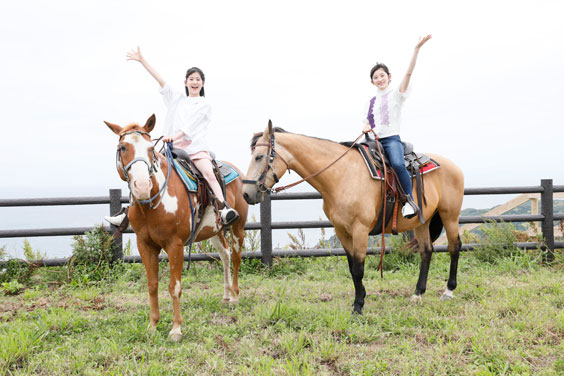 (From left) Rirua and Sakura had an amazing time horse riding!

*Photo provided by: Munakata City
 ● Kane no Misaki Katsugyo (Live Fish) Center / Hanawarabi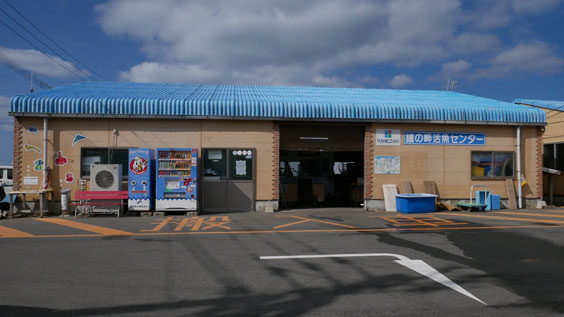 Kane no Misaki Live Fish Center

*Photo provided by: Munakata City
Seta Sakura: After you get back from Oshima, I think it would be worth visiting the Kane no Misaki Live Fish Center. It is a really interesting center where you can find lots of live fish. It is located at Kanezaki fishing port. I would recommend buying some fish or sampling a seafood set meal in the local area. If you want to stay overnight, check out Hanawarabi. The accommodation is great and their squid dishes are amazing. They're so tasty... Their squid almost melts in your mouth. I hope everyone gets to try it!

Yanagi Miyu: The squid in Munakata is really succulent and has a sweet flavor. When you first take a bite, it's like... "Wow! I didn't know squid could be this delicious!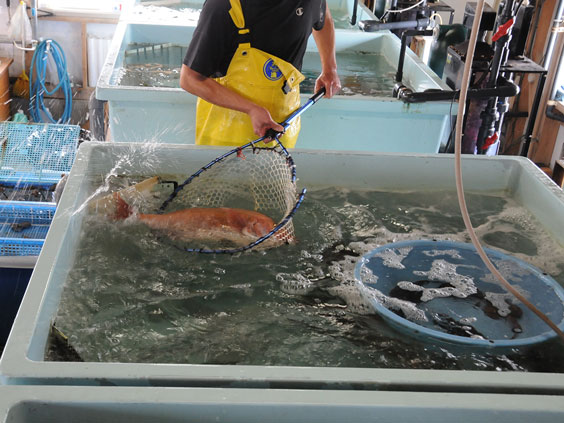 Kane no Misaki Katsugyo Center

*Photo provided by: Munakata City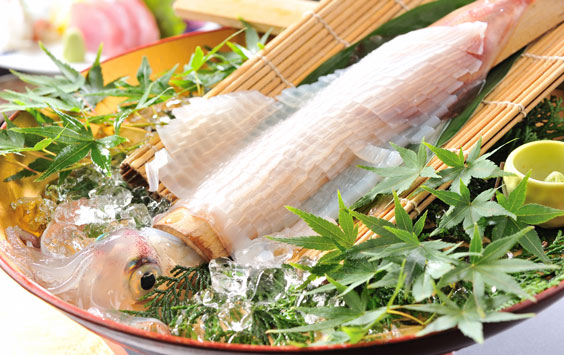 Sashimi prepared from live squid. *Photo provided by: Hanawarabi
Aoi Rirua: The water is so clear, the sand under your feet is beautiful, there are super cute seashells, and the sunsets are incredibly romantic! I would love people to go for a walk by the sea before they leave!

Kiyama・Ueda・Haruno・Seta・Aoi・Yanagi: Let's go and visit again! We hope you all go to Munakata soon!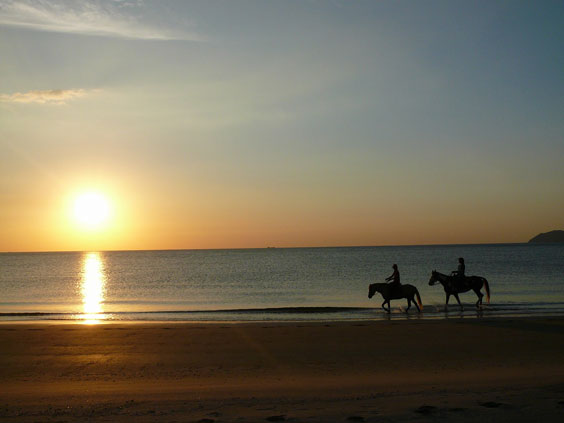 *Photo provided by: Munakata City
- HOT SPOTS around Hakata Station! -