"New Theatrical Edition "Initial D" Legend 3-夢現(Mugen)-" premieres nationwide on Saturday 6th February in Japan!

The tempestuous, exciting world of street car racing!! Who will come out victorious!?
"Initial D" is a legendary manga that sparked an unprecedented car boom among young people. Racing towards screens for it's latest outing, this new theatrical release will be the last in the trilogy and will be in cinemas from Saturday 6th February in Japan!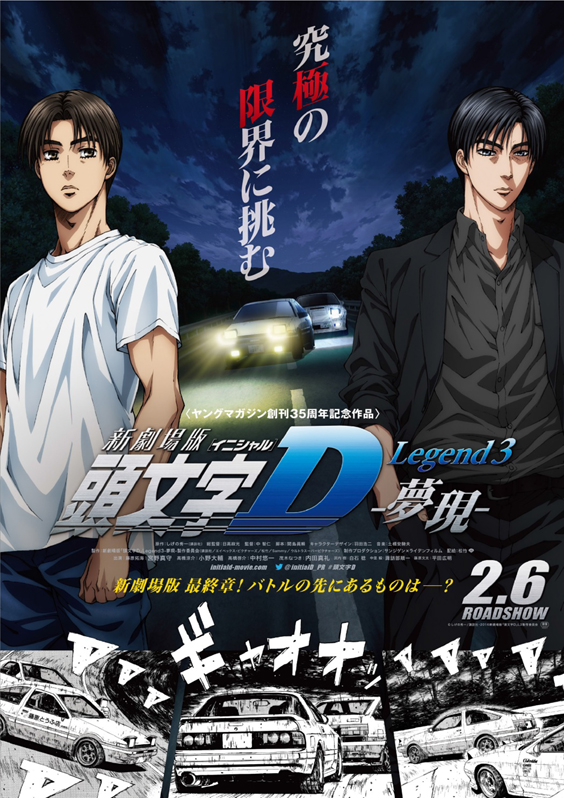 The first and second films in the series, "New Theatrical Edition "Initial D" Legend 1-覚醒 (Kakusei)-" and "New Theatrical Edition "Initial D Legend 2-闘走 (Tousou)-" have depicted vivid, exciting race scenes, and "New Theatrical Edition "Initial D Legend 3-夢現 (Mugen)-" continues on in the same vein, bringing the trilogy to a conclusion.
Who is the fastest driver out there?! The world of street car racing unfolds on the screen and goes into overdrive, as viewers are treated to the most intense, exciting installment yet! The latest computer technology, along with "Initial D's" 18 year history have combined to create this cinematic trilogy, and with the third in the series "New Theatrical Edition "Initial D Legend 3-Mugen-" out soon in Japan, be sure to experience the world of street car racing in cinemas while you can!
[Introduction] Beyond the battle, what will be waiting?
Takumi Fujiwara from Akina, together with his "86," is getting a lot of attention and is the street racer who everybody's talking about. Keisuke Takahashi with his FD aggressively challenge Takumi to a race.

Takumi is faced with the overwhelming power of Takeshi Nakazato's monster machine GT-R, and then Shingo Shoji, who drives an EG6, adds extra pressure and danger to the race by suggesting a gum/duct tape death match, that could see Takumi's "86" come close to crashing. Takumi battles to overcome this truly formidable opponents, and as he starts to realize his potential as a street racer, the fighting spirit inside him starts to sprout. "Initial D" also depicts a normal high school student becoming a man.

The cast from the rest of the series reprise their roles for this film, Mamoru Miyano plays the protagonist of the story Takumi Fujiwara. Daisuke Ono provides the voice for Ryosuke Takahashi, Yuichi Nakamura plays Keisuke Takahashi, and Maaya Uchida's also returns as Natsuki Mogi.

The battle between Takumi, together with his "86" and Ryosuke Takahashi in his FC3S comes to a climax. This guy is Akagi's fastest racer and goes by the name "White Comet of Akagi." With his cool, cerebral manner he is able to quickly identify the weaknesses of the "86." Takumi in his "86" versus Ryosuke and his FC3S. In this half dream-like world, who will come out on top in this fate determining battle?
[Story] "No intention of running away."
Before racing Ryosuke Takahashi, who is the fastest driver from the Akagi, Takumi is grumbling. The figure of Ryosuke Takahashi has grown to loom large in his mind. This young man, who says that he's not a street racer, who's lost interest in his "86," and who has not been displaying any emotion when racing around the mountain roads, has noticed a change in himself.

At the same time, Ryosuke Takahashi has been putting the finishing touches on his FC3S. He's finally made the decision to downgrade and change the specs of his car, decreasing the horsepower from 340 to 260, thus focusing on the overall balance of the vehicle ahead of it's power. This "humiliation" wipes the smile off Ryosuke's face.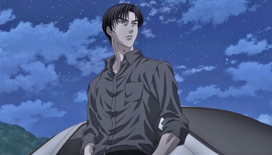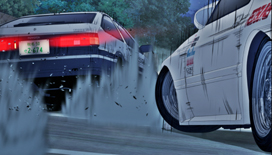 With mountain pass of Akina as their stage, this legendary battle that will determine the fate of two individuals is about to get underway. One will be victorious, one will be defeated. Not sure who they want to see win or who they want to lose, a strange atmosphere comes across everyone there and envelopes the entire place. Ryosuke's younger brother Keisuke stands between the "86" and the FC3S. The countdown to their destiny begins, and as the battle begins, Takumi races towards his future!!
New Theatrical Edition "Initial D" Legend 3 -Mugen-
Release date (in Japan): 6 Feb (Saturday)
Screened at: Fukuoka Nakasu Taiyo Theater, Shinjuku Piccadilly, etc.
Based on the story by: Shuichi Shigeno(Kodansha)
General Director: Masamitsu Hidaka 
Director: Tomohito Naka
Screenplay: Mayori Sekijima 
Character design: Koji Haneda 
Music: Akio Dobashi 
Production: 新劇場版「頭文字D」Legend3-夢現-製作委員会 (lit. New Theatrical Edition "Initial D" Legend 3 - Mugen - production committee)
(Kodansha Ltd./avex pictures inc./Shochiku Co., Ltd./Sammy/ULTRA SUPER PICTURES)
Production company: Sanzigen X Liden Films
Distributor: Shochiku Co., Ltd.
Official Website:
http://initiald-movie.com/
Cast (Character: Name)
Takumi Fujiwara: Mamoru Miyano / Ryosuke Takahashi: Daisuke Ono / Keisuke Takahashi: Yuichi Nakamura / Natsuki Mogi: Maaya Uchida / Itsuki Takeuchi: Minoru Shiraishi / Takeshi Nakazato: Junichi Suwabe /Bunta Fujiwara: Hiroaki Hirata
Your chance to win "New Theatrical Edition "Initial D Legend 3-夢現(Mugen)-" postcards!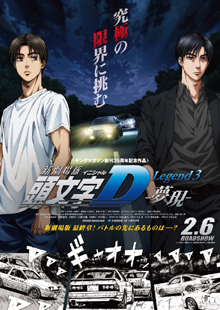 To celebrate the release of the film, we've got 3 "New Theatrical Edition "Initial D Legend3-夢現 (Mugen)-" postcards (pictured left) to give away! Please click on the button below to apply!
[Application Period]
Until Wednesday 3rd February (Wednesday) [Japan Standard Time]
The application period is now over. Thank you!
The lucky winners are...
ayumu san
亜鉛 san
Jessika Xi san ......Congratulations!!
(Please note, winners will receive an email directly from asianbeat. If you don not reply with a confirmation message within a week, you application will become invalid and you will not be able to claim your prize.)
Ⓒしげの秀一/講談社・2016新劇場版「頭文字D」L3製作委員会
Related Articles
External Links
PRESENTS
All the info. on asianbeat's present campaign!