New Theatrical Edition "Initial D Legend 2- Tousou" premieres nationwide on Saturday 23 May!

Who's the fastest racer!? The world of street car racing hits the big screen!
Having shifted a total of 48.6 million copies, "Initial D," the legendary manga that sparked an unprecedented car boom amongst young people, has been turned into an jaw-dropping film with the use of all the latest technology and is racing towards a Japanese theater near you!
The 2nd film, New Theatrical Edition "Initial D Legend 2-Tousou" is the latest in the trilogy and premieres nationwide on Saturday 23 May!
"Legend 2" is speeding towards screens as the latest in the Initial D series, following on from The "New Theatrical Edition "Initial D" Legend 1-Awakening-," which brought you vivid and striking battle scenes!

Who's the fastest racer?
The battles that unfold on screen are really a sight to behold! This is achieved using the latest in computer technology and represents yet another chapter in "Initial D's" 18 year history!
 
The protagonist of the story is a shy, yet maverick driver called Takumi Fujiwara, who is played by Mamoru Miyano, currently Japan's highest-profile voice actor. Rivals Takeshi Nakazato (played by Junichi Suwabe) and Shingo Shoji (played by Shūhei Sakaguchi) stand in Takumi's way, stoking the flames of battle!

Yuichi Nakamura (in his role as Keisuke Takahashi), Daisuke Ono (as Ryosuke Takahashi), and Maaya Uchida's (as Natsuki Mogi) also return for this latest installment, injecting soul and verve into the these young characters, who duke it out in order to see who is the fastest racer on the roads!

Viewers will be enthralled by the exhilarating sound of the driver's exhaust pipes revving up! This is a film that you have to try and catch in the cinema!

We also have extra-large "Fujiwara Tofu Shop (private use)" stickers that can be won!
Have the same sticker on your car that Takumi has on his 86! This is a must have item for all "Initial D" fans!
In order to be in for the draw please click through to the application form below! (Editorial Dep't.: 93a)
New Theatrical Edition "Initial D" Legend 2 -Tousou-
Release date (in Japan): 23 May (Saturday)
Screened at: Fukuoka Nakasu Taiyo Theater, Shinjuku Piccadilly, etc.
Based on: Shuichi Shigeno (Kodansha)
General Director: Masamitsu Hidaka 
Director: Tomohito Naka
Screenplay: Mayori Sekijima 
Character design: Koji Haneda 
Music: Akio Dobashi 
Production: 新劇場版「頭文字D」Legend2-闘走-製作委員会 (lit. New Theatrical Edition "Initial D" Legend 2 - Tousou - production committee)
Kodansha Ltd./avex pictures inc./Shochiku Co., Ltd./Sammy/ULTRA SUPER PICTURES
Production company: Sanzigen X Liden Films
Distributor: Shochiku Co., Ltd.
Official Website:
http://initiald-movie.com/
Cast (Character: Name)
Takumi Fujiwara: Mamoru Miyano / Takeshi Nakazato: Junichi Suwabe / Keisuke Takahashi: Yuichi Nakamura / Ryosuke Takahashi: Daisuke Ono / Shingo Shoji: Shuhei Sakaguchi / Itsuki Takeuchi: Minoru Shiraishi / Natsuki Mogi: Maaya Uchida / Bunta Fujiwara: Hiroaki Hirata
Overview
There wasn't a street racer around who hadn't heard of "Akina 86" after the enigmatic downhill specialist took on and defeated Keisuke Takahashi from the Akagi Red Suns. After his triumph street racers who thought they had what it takes flocked to Akina to challenge the new king of the roads.
Then on one night, whilst tearing through the mountain roads of Akina, the sound of screeching brakes and the flashing headlights of Ryosuke Takahashi's FC and Takeshi Nakazato's GT-R crossed paths!
At the same time, Takumi Fujiwara, who Ikeya and Itsuki were calling "Street Racer," became lost and confused admist the storm of excitement that surrounded him. It was then that Itsuki got carried away and accepted an authorized challenge from Takeshi Nakazato, of the Myogi Knight Kids.
86 vs. GT-R.
The GT-R, equipped with a 380 horsepower RB26DETT engine, is a "beast" of a car. 86 has his back firmly against the wall and with virtually no hope of victory, the raging waves of battle get under way!
86 stares into the cold, fierce nature of battle, as the suspicious presence of Shingo Shoji, second in command of the Myogi Night Kids, looms over proceedings!
Viewers are about to experience an explosion of natural driving instinct from the racers as they navigate their way through the mountain roads!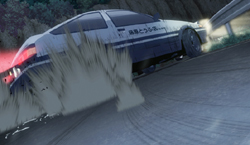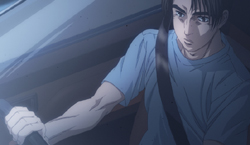 Win a extra large "Fujiwara Tofu Shop (private use)" sticker!

(height 10cm×width 33.5cm)
To celebrate the opening of the film we have 3 extra large "Fujiwara Tofu Shop (private use)" stickers to give away! For information on how to apply click here!
The application period is now over. Thank you!
The Three lucky stickers' winners are...
ぽぽんた san
けいこまり san
なぎっぽいど san ......Congratulations!!
(asianbeat will contact the winners directly. Please note: If you are selected as a winner (and receeive an email from asianbeat), please reply asap. If we do not hear back from you within a week, we will be selecting another winner. We appreciate your understanding.)
Ⓒしげの秀一/講談社・2015新劇場版「頭文字D」L2製作委員会
External Links