"cool japan mag!" – it's all things Jpop culture, it's free and it's out now!

The very active otaku university student giving it her all
Last week the self-proclaimed "active otaku," Misamisa, not only revealed her bedroom to the world in the 19th installment of the asianbeat column, "otaku relay" (English page: "otakus @ home"), she also gave us an interesting update on her publication, "cool japan mag!"

"cool japan mag!" is a free paper (free magazine) that introduces various aspects of Japanese pop culture like anime, cosplay, Vocaloid, etc., and all the latest trends going around on the net from a otaku angle. One year since the prototype issue (issue #0) of "cool japan mag!" was released, Misamisa announced that "cool japan mag! First issue" was published on June 1st. That's not all though! It's also being distributed to 15 countries/regions throughout the world!!
"Misamisa," aka Misako Ochiai, is a university student and chief editor of "cool japan mag!" She's also a cosplayer, a regular contributor to Nico Nico Douga, and a self-proclaimed otaku. All that aside, she's one very active and very kawaii girl.

In the prototype issue that was published in May last year (2011), the magazine was packed with interesting articles, including a feature on Nico Nico Douga headquarters and interviews with a number of "Nico-Dou's" popular contributors. But this first issue goes a step further and promises to be even more compelling than its predecessor. We're told we can expect interviews with asianbeat columnist, Takamasa Sakurai, as well as KANAME☆, and Misako Aoki, and I personally can't wait to get my hands on a copy to have a read for myself!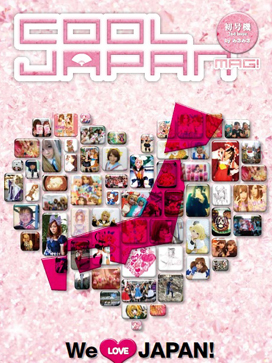 The cover of "cool japan mag! First issue"
Misamisa's goal with this publication is "to spread Japanese culture throughout the world" – not unlike asianbeat's own goal I might add. But she's running this publication while still enrolled at university! I truly take my hat off to her.

Copies of "cool japan mag!" are scheduled to be distributed in mid-June to cities around the world, including Taiwan, Hong Kong, Bangkok, Manila, Paris, Singapore, San Paulo, Jakarta, Moscow, Shanghai, Beijing, Ho Chi Minh, Los Angeles and New York. Residents of Fukuoka will be able to pick up a copy from asianbeat headquarters (Acros Fukuoka 3F Kokusaihiroba) towards the end of June.

I'm sure we'll see even greater things from the 2nd and 3rd issues, and I look forward to the continued global expansion of otaku culture in the near future!

Editorial Dept. - Yamashita

【INFO】 cool japan mag! first issue <Contents>
I LOVE JAPAN Special Interview produced by Takamasa Sakurai
Antic Cafe - Kanon
Lolita Model - Misako Aoki
CONOMi - Toyoko Yokoyama
Script writer - Dai Sato
Japanese Cosplayer KANAME☆ Akichi Koyomi Ruara Misamisa Inuitatsumi
2525 interview
Dasoku
GARNiDELiA~MARiA&toku~
that
Misamisa love's
Taiwan otaku 'joshikai'
Info 
【Inquiries】E-mail: misa3351@gmail.com ,
Twitter
,
落合みさこ公式ブログ
,
Facebook
Related Articles
PRESENTS
All the info. on asianbeat's present campaign!