[Prize giveaway!] Is there a "Megami" living inside your IC travel card? The talking communication game "Megami Meguri" is here!

*PLEASE NOTE: The terms and explanations we have used in describing "MEGAMI MEGURI" are translations from our
Japanese article
. This game is avaialble to users in Japan.
---
Travel the railways of Japan with the talkative Tsukumo! Also compatible with the IC travel cards!
Scheduled for release and distribution on the Nintendo 3DS from 8th December in Japan, "Megami Meguri" is a new kind of communication game. In order for the "megami" (lit.: goddess) in waiting Tsukumo, who resides inside IC travel cards, to come of age, she must first embark on a train journey all across Japan. 10 types of IC travel card, including SUGOCA, nimoca, Hayakaken, etc., are compatible with this game, which not only initiates conversations based on your travel history and your purchasing patterns, but also gives players the chance to get different items. (*Please note: this game can also be played without an IC travel card.)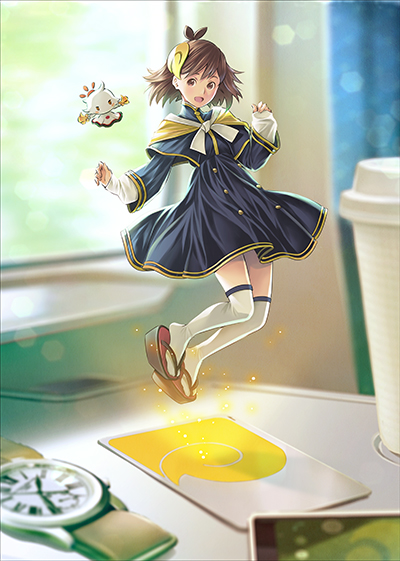 The fresh-faced "Tsukumogami" Tsukumo (right) alongside Amaterasu (left), who is in charge of Tsukumo's education.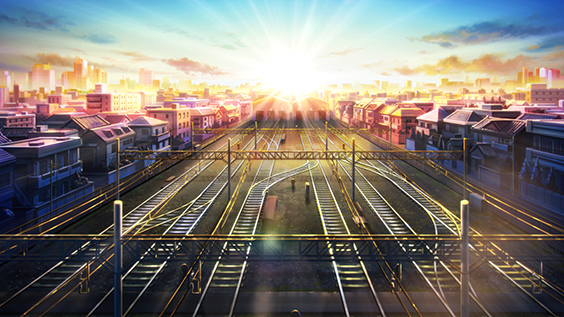 This interesting game features the fresh-faced "Tsukumogami," who dwells inside IC travel cards. And in order for Tsukumo to meet the requirements to become a fully fledged goddess, players will need to set out with her on a trip throughout Japan. While rolling the dice and traveling through the map, which includes over 9,000 stations nation-wide, you'll help Tsukumo to grow and pass her deity "test."

The more you communicate with Tsukumo, who loves to chat, and teach her new words, the more she will grow. Maneuver your way through the game while zigzagging all over the country. And in the process you can communicate with Tsukumo on all kinds of topics to ensure that she develops. Real-life stations that you pass through will appear in this travel game, so you can get to experience the magic of a place that you might not have actually set foot in!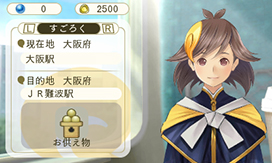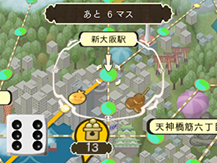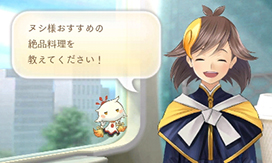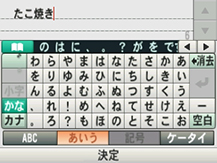 Travel around the country with the fresh-faced "megami" Tsukumo and chat to your heart's content!
With an almost insatiable appetite to satisfy, Tsukumo will be trying to pick up different foods as you travel by train around the country. As you find ingredients specific to the area, you'll be able to treat Tsukumo to some of the local delicacies, so give it a go! This is a game that allows you to enjoy conversations about places you have visited. For example, the topics that could crop up if you're in Fukuoka might include "Hakata Dontaku," (one of the biggest festivals in Japan) and "Motsu nabe!" And this type of communication is so important for Tsukumo's growth. Able to learn new vocab that comes up in conversation and respond naturally to what you're speaking about, you can talk to your heart's content with the amazingly expressive Tsukumo.

Manga artist and character designer Taro Minoboshi was in charge of designing the characters that feature in the game.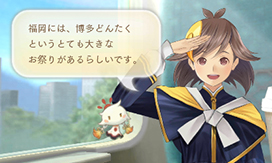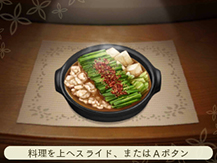 There are popular voice artists playing the characters, with Ayasa Ito in the role of Tsukumo and Yuka Ozaki as Amaterasu Omikami. They have attempted to introduce new features and tried out cool new things in this highly anticipated game. For example, the game ties in with IC travel cards and also features the "Megami Speaker Engine," which can read out any word in a full voice. The software for the basic game is free to download (*Please note: there is a fee for additional items), so if you have a Nintendo 3DS, why not try it out! (Editorial dept.: Gon)
Prize Giveaway!
We have prizes to give away to
TWO
lucky asianbeat readers! Some of which were distributed at the Tokyo Game Show! Each winner will receive a set that includes; a "'Megami Meguri' clear fan," a "clear file" and a "CAPCOM CALENDAR 2017" (which are not on sale). Apply now to be in with a chance of winning!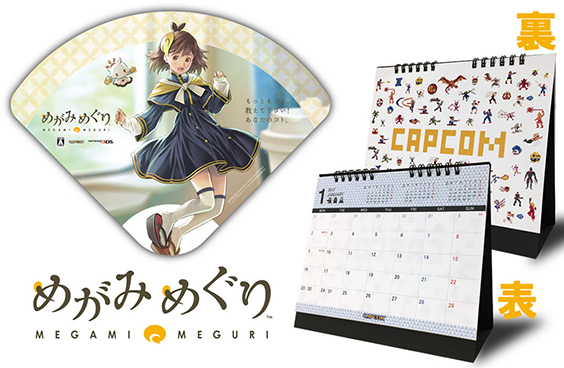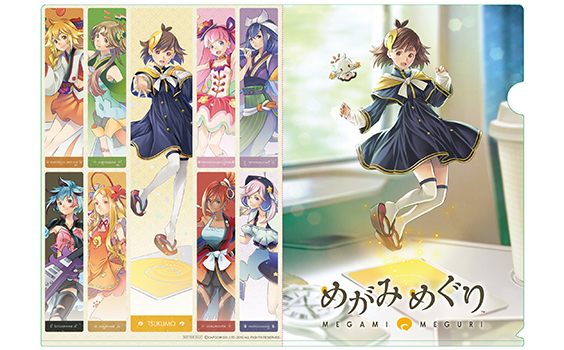 [Application Period]
Tuesday December 6th to Sunday January 8th 2017 (Japan Standard Time)
Announcement of Winners
Wednesday 11th January 2017
The application period is now over. Thank you!
The two lucky autographed cards' winners are...
ヨシヒロ san
문상용 san
(Please note, winners will receive an email directly from asianbeat. If you don not reply with a confirmation message within a week, you application will become invalid and you will not be able to claim your prize.)
MEGAMI MEGURI Megami Meguri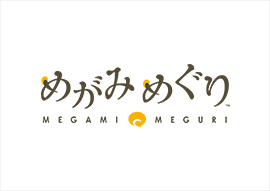 System: Nintendo 3DS series
Release / distribution date: Thursday 8th December 2016 (scheduled)
Price:
- Collector's package: 5,800 yen + tax
- e-CAPCOM limited copy COMPLETE EDITION: 9,800 yen + Tax
Basic play: Free (*Please note: there is a fee for additional items)
Genre: Talking communication game
Number of players: 1
CERO rating: A (for all age groups)
Official website:
http://www.capcom.co.jp/megami/
Introduction:

An en encounter with "Tsukumo"
One day the fresh-faced "Tsukumogami" Tsukumo happened to be in your IC travel card.
Her wish...
To become a fabulous fully-fledged "Megami" (Goddess) that shines for people like the sun.
The small Tsukumo will grow through the long-lasting, profound love that she receives from her owner; to realize her dream, your journey with her across Japan is about to begin.
©CAPCOM CO., LTD. 2016 ALL RIGHTS RESERVED.
Related Articles
External Links