Interview Now - Ryozo Tsujimoto, Shintaro Kojima & Yasunori Ichinose [CAPCOM] -(1/3)

"Monster Hunter Festa' 16" was a massive event that gave visitors a first-hand experience of the world that gamers enter when playing "Monster Hunter," a series which receives huge waves of support from its many fans throughout the world. The Fukuoka leg was held in Kitakyushu City, Fukuoka Prefecture on February 7th 2016. "MH" series producer Ryozo Tsujimoto, "MHX" producer Shintaro Kojima and director Yasunori Ichinose spoke to us about a range of topics, including what aspects of the new release they are most excited about. We also have signed cards, which they have added cute little illustrations to, that a few lucky readers can get their hands on. Make sure to keep reading and not to miss-out!

* Monster Hunter X: The latest installment in the "Monster Hunter" series went on sale in Japan on November 28th 2015.
* The terms and explanations used in describing "Monster Hunter X" are translations from the Japanese version. Please note that titles and names may differ in the official English language version of the game.
Developing so much action and content for the game is really challenging.
asianbeat (hereafter referred to as ab): What kind of feedback have you had so far for "Monster Hunter X (MHX)," the latest release from the series?

Producer Ryozo Tsujimoto: In this edition we've introduced new aspects to the game, such as "Kari-waza (Hunter Arts)" and "Shuryo (Hunting) Styles" (which were not in previous installments). So when we say "find your own hunting style," there really are a lots of styles of gameplay and different hunting techniques for people to choose from and enjoy. The feedback we've received has been really positive.

* "狩技 (Hunter Arts)": The bold techniques/actions that can be performed by drawing on the hunter's inner strength.
* "狩猟スタイル (Hunting Styles)": Hunters basic actions/combinations are divided and specialized into 4 styles.
ab: From beginners all the way up to experts, there is a wide range of people playing the game right now. How do you create a game that accommodate both, were there any points that you were adamant about including?

Tsujimoto: Something that we're always thinking about is creating a game that beginners can more or less figure out as they play. Every time we create a game, we always think about newcomers and first time players. But this is an action game, so to some extent you do have to get stuck in, explore, hone your skill and overcome obstacles, we want gamers to be able to gain a sense of achievement from playing. So we developed it while thinking about how to create a game that fits that mold.

This game essentially doesn't have any notion of "levels," you improve through the actions that you take and add to your equipment by acquiring new things along the way. While designing the game we really strove to create something that you could play and enjoy in this kind of way.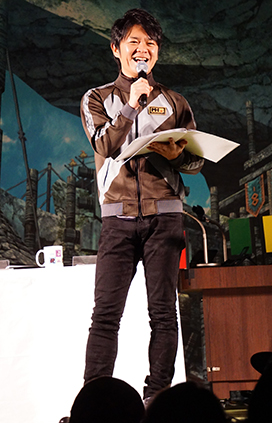 Producer Ryozo Tsujimoto
ab: Wasn't it hard striking that kind of balance? Tsujimoto
: Throughout the series, the concept for each game has remained "communication" and "action." For first time players, one of the real charms of this game is that playing it gives you that feeling of "Yes! I did it!" or "I've finally cleared that section that I couldn't do before!" And we really think about how to inject this kind of feeling into it when we're designing the game. This game is also really big in terms of scale and the quests are really packed full of content for people who have experience with the game. Creating that balance was tough, but when it comes to an action game, you have to put a lot of work in.
ab: For each release in the series the amount of new elements being introduced, as well as the contents of the games have been increasing. What is the most challenging aspect on the development side of things? Tsujimoto
: Developing so much action and content for the game is really challenging. And of course there's the "hunting styles" that we've added to this edition, and a lot is dependent on the "style" that gamers choose. Within the game there's many different scenarios that can occur based on the "style" you are using and the monster that you encounter. Once we had created a new "hunting style" we had to make sure that it was compatible with the monsters in the game, we really had to keep an eye on everything. So yes, there's the issues of action and balance, then there's creating volume and depth to the game. As you do this, you have to also check everything, and this can be really difficult.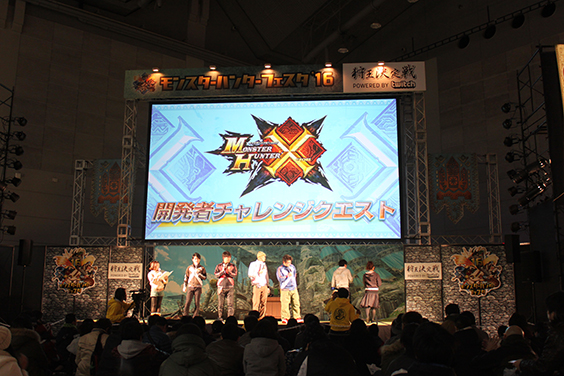 I really feel that these events connect all kinds of people
ab: You've been involved with creating the "Monster Hunter" series for quite a few years, is there anything you feel has been particularly worthwhile or felt a real sense of satisfaction having done? Tsujimoto
: Well, for a start, these kinds of events. This is the 11th year of the game, but more opportunities are being created where you can actually meet other players. And I feel like with each time we host one of these, the age range of players/visitors is getting wider and wider. I really feel that these events connect all kinds of people, and seeing them playing this series gives me a great sense of achievement and inspires us to keep moving forward.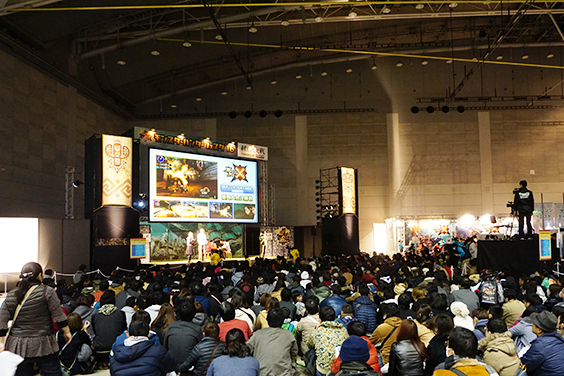 The huge audience were gripped by the main stage program at "Monster Hunter Festa'16" Fukuoka Tournament
ab: On a personal level, what are the sources of your inspiration and what kinds of things do you find enjoyable?

Tsujimoto: I love drinking sake. But nothing beats talking with people. I often have the chance to travel and go out, which gives me the opportunities to see and speak to all kinds of people. I'm curious about what other people are thinking and how I can bring them some enjoyment. Basically, I really love observing people.

When I go abroad, if I have a spare 2 hours, I'll just pop out and take a casual stroll through the streets. These days, you can collect data from the internet, but I think what is important is hidden behind this data. When there is data that I have to process and analyze, I think there are simply some things, such as detailed information and people's personal experiences, that cannot be accurately recorded. So I've always liked to watch and observe people.

ab: The "Monster Hunter" series is entering its eleventh year, what are your plans and expectations looking forward?

Tsujimoto: Well, I guess it's precisely because we are celebrating our 10 year anniversary and moving forward into our 11th year, that there is a lot of stuff going on. The concept of "MHX" has a kind of celebratory feeling to it. And that's the kind of theme that we wanted to create. And furthermore, this year we are working on creating an RPG (Role Playing Game) called "Monster Hunter Stories." Going beyond our 11th year, I hope we can make more people aware of the "Monster Hunter" world and take actions towards achieving that. But, ultimately with regards to "Monster Hunter" as an action game, looking forward, I am sure that we will continue creating new games based on the concepts of "action" and "communication," which we have remained unwavering towards in our commitment.