Hello…Steamed Meat Bun!?

Character Collaborations on the Rise!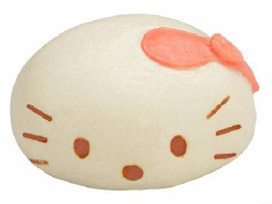 Kitty-chan Nikuman: "The nikuman that's too cute to eat!" Circle K to sell 1.5 million "Hello Kitty Nikuman" nationwide.
The "Hello Kitty Nikuman" as seen in this photo will go on sale from October 16th (Wed.) 2012, to coincide with Kitty's birthday which is November 1st. One Kitty Nikuman will set you back 150 Yen ($2) and there are already plans for a new flavor to be released on November 6th (Tues).
A custard flavor "Hello Kitty-man" did actually appear in circulation in January this year but they proved such a hit that the 400,000 batch of the limited time only product sold out in one week. However, this time around they're preparing a batch of 1.5 million units, so their well prepared for another wave of Hello Kitty frenzy. "Hello Kitty Nikuman" are also bound to be a big hit with foreign visitors. Seeing all those plump, white Hello Kitty heads staring back at you from the nikuman case in the convenience store will prompt just about anyone to buy one.
Speaking of nikuman character collaborations though, last year Family Mart released "Slime Nikuman," based on the character, Slime, from the Dragon Quest series. Looking at a list of popular search words of late and "Slime aji" (Slime flavor) happened to catch my eye. I looked into it and found that it referred to a flavor of "Fit's MAGIC" brand chewing gum that went on sale on August 21st. Without delay I went and bought a box for myself to try. As it's written on the packaging, "slime flavor" is actually "sour lime with the texture of slime" by the way (lol).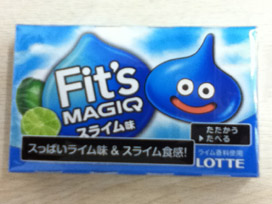 Limited edition products and character collaboration special edition items are hugely popular in Japan and each of the convenience stores here run their own individual campaigns of such products. Currently, Lawson is running an Evangelion promotion and Family Mart is doing a campaign with Hatsune Miku. On a visit to one of these stores I saw a group of high school boys who had apparently come specifically in search of these character goods and were talking rather excitedly in front of the product stand. Seems these tie-up promotions really do have a lot of selling power.
I went to Family Mart to try a
"Hatsune Miku Nikuman"
(in Japanese) for myself but when I got there they had already sold out. These kinds of collaborations aren't just about the products though; each of the companies put out commercials, run their own website campaigns, and even hold online popularity votes to determine the songs played in store during the promotion period. Family Mart released a series of commercials to promote their tie-up with character Hatsune Miku and they even went as far as to create "out take" version! Check it out for yourself!
Editorial Dep't. - Yamashita
。