Popular Light Novel Series "Mahōka Kōkō no Rettōsei" to Receive Anime Adaptation

Popular Light Novel Series "Mahōka Kōkō no Rettōsei (The irregular at magic high school)" to Receive Anime Adaptation
It has been announced that the popular Japanese light novel series, "Mahōka Kōkō no Rettōsei," written by Satō Tsutomu, will be made into an anime. The series first began as an online serialization in October 2008 and the website that hosted the series received more than 55 million hits. The series was then made into a light novel series in 2011, published under ASCII Media Work's Dengeki Bunko imprint. So far, a total of 2.9 million copies of the books have been published.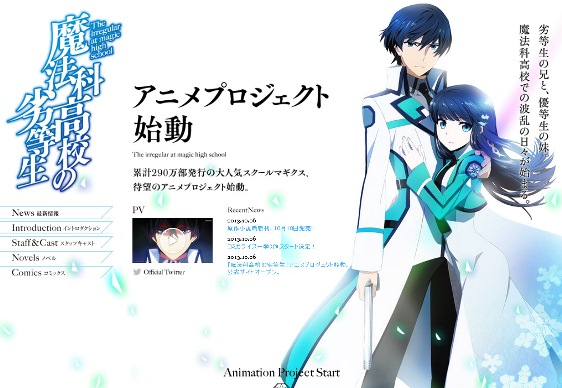 Coinciding with the announcement of the anime adaptation, an official website for the anime series has already been launched. Some information on the production staff working on the series and the voice over cast has already been revealed. The promo clip is also available for viewing.
Director for the series will be Ono Manabu of "Horizon in the Middle of Nowhere" and the "Saki" series, and character design will be lead by Ishida Kana, who is also the illustrator for the "Mahōka Kōkō no Rettōsei" light novels. Madhouse Inc. is heading the production.
Playing the lead role of Shiba Tatsuya is Nakamura Yuichi, and heroine Shiba Miyuki will be played by Hayami Saori.
The 12th and latest installment in the light novel series of "Mahōka Kōkō no Rettōsei" went on sale on the 10th of October.
Official website:
http://mahouka.jp/
Related Articles