Momochi Cosplay Party – Report!

Momochi Cosplay Party – Report!
On the 30th and 31st of July, Momochi (in Fukuoka, Japan) played host to the "Moeyo! Momochi Cosplay Party." Asianbeat was also there, manning a booth and playing cameraman for the event. This report is from the first day, July 30, when editorial department members, Mikey, Shimacho, and myself, were put in charge of the booth for the day. We decided to attend in Evangellion (seifuku version) cosplay as we were there predominately to hand out information on the "World Seifuku Project," but it just so happens that it was Mikey's first ever cosplay experience and maybe just a little embarrassed (lol).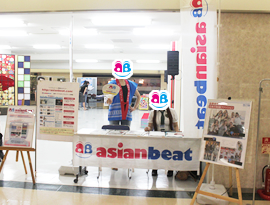 The Asianbeat booth.
At the event there was an area set up where you could try on costumes for free, and by the look of it there were than a few first time cosplayers there. Even if you're a bit shy at first when you're in that kind of environment you get used to it pretty quickly and it just becomes a lot of fun. Of course there were appearances by many of the more die-hard cosplayers and we also got to catch up with some of the contestants from the "Cos-doll Asia No.1 Tournament" that was held last year. It just so happens that they have entered into the upcoming "Vocaloid Asia No.1 Tournament" for this year so we're looking forward to seeing them again in the not too distant future!

Groups of yurukyra ('yurui' characters, vis-à-vis mascots) also converged on the event and hoards of children also turned up to see the anime song mini live performance that included the theme songs from Kamen Rider, Power Rangers and Pokemon. During the live performance the audience was given a short how-to demo on "otagei" (synchronized dance and cheer gestures performed by otaku fans during performances by idol groups/singers) and we learned the move referred to as "romance."

We hope all the guests and party goers had as much fun as we had! Stay tuned for snaps from day 2 of the party!

Article by Asami – Editorial Dept.