Thai students from Bangkok stopped by the asianbeat office to pay a visit!

Thai students visited the companies and schools responsible for creating innovative digital content in Fukuoka prefecture!
On Monday 1 June, 6 Thai students, who are studying digital content in Bangkok, arrived in Fukuoka, and on their first day stopped by Kokusai Hiroba to pay a visit! Fukuoka and Bangkok signed a friendship agreement with each other in 2006 and since then the number of exchanges taking place between the 2 cities has been steadily increasing.

For this program, during their 6 day stay, the 6 students visited various companies, universities and vocational schools of higher learning that have been creating cutting-edge digital content in Fukuoka prefecture.
They visited and toured the sites of the likes of CyberConnect2 Co., Ltd., Good Luck 3, and MontBlancPictures, who produce high-quality work utilizing 3DCG animation. The group was also scheduled to carry out various exchange activities, and get involved in productions with students from Kyushu University Graduate School of Design and Aso College.

At Kokusai Hiroba, two Thai students who are currently studying and living in Fukuoka came along to meet the group of students, explain why they decided to come to Fukuoka to study and give a brief lecture about life in the city.
They were a great group of students and listened intently as the asianbeat editorial staff members spoke about how we operate and run a multilingual website.

Finally we asked the students what they want to do during their stay in Fukuoka. 21 year-old Kookai answered that she wanted to study animation. Then there was 18 year-old Nokyoong, who told us in Japanese that she wants to return to Thailand having learnt about Japanese culture and lifestyle.

I had been expecting answers along the lines of "I want to eat ramen," so was highly impressed by such elegant, thoughtful responses, that were brimming with ambition and enthusiasm. We hope that they were able to create some great memories during their time in Fukuoka, and after returning to Thailand wish them the all-the-best, whether that be in their travels, studies abroad, or job-hunting. And we look forward to seeing them again in Fukuoka in the not too distant future. (Editorial Dept.: Yamashita)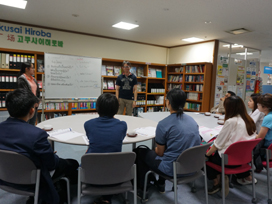 Thai students currently living in Fukuoka gave a talk about student life in Japan!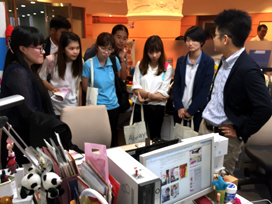 The group also had a look around the office where the asianbeat website is created!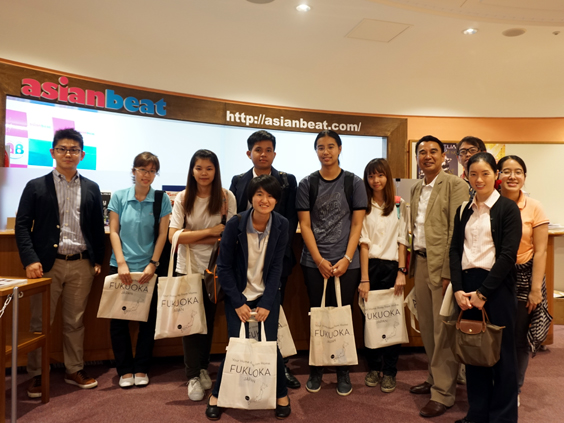 We had time to gather together for a commemorative photo outside the asianbeat office. We hope they stop by again in the future!