This weekend the "Kitakyushu Pop Culture Festival 2015" finally returns! asianbeat joins in with the fun!

All kinds of events and excitement are on offer at this year's "Kitakyushu Pop Culture Festival!" Including an appearance of the "Love Live! Nebuta"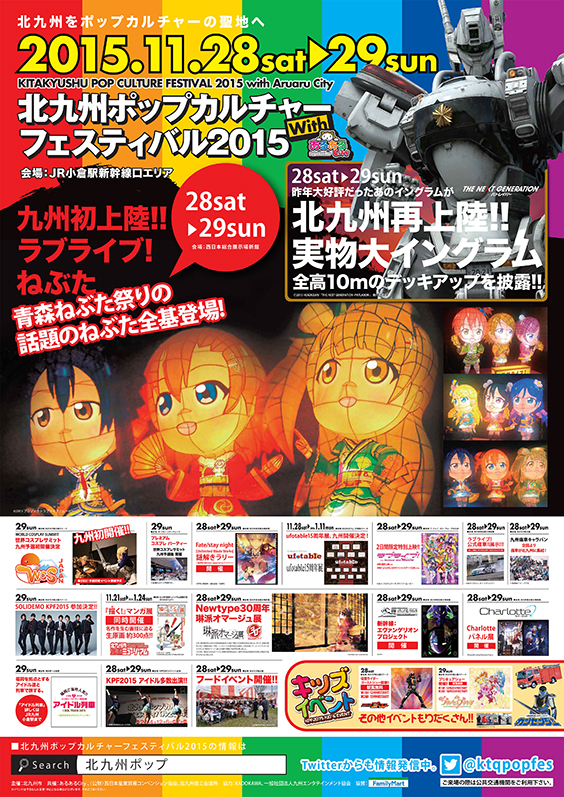 The "Kitakyushu Pop Culture Festival," a huge event put on by Kitakyushu City in collaboration with "Aruaru City" is finally here, and will be held this weekend on 28th (Saturday) and 29th (Sunday) November!
Last year's inaugural festival was a roaring success! Around 170,000 visitors were recorded as attending, making the event a hot topic of discussion. This year sees it return with even more attractions and excitement!
One of the highlights of this year's event is sure to be the "Love Live! Nebuta, (a Love Live! illuminated festival float)." One of the most-hyped features of this summer's "Aomori Nebuta Matsuri," this is the first time it has made the trip to Kyushu!
Starting from 13:00 on 28th November (Saturday), in addition to the illuminations, a life-size replica of the robot Ingram, which was one of the most popular features from last years festival, will be back for another appearance! This really is a sight to behold, and lets fans can check-out Ingram in deck-up position. Once the statue is upright it stands tall and proud at 10 meters in height, towering over the crowds!
This year's "Kitakyushu Pop Culture Festival" marks the first time a Kyushu qualifying round has been held for the World Cosplay Summit, and there will also be a special "Red Carpet Walkway" taking place in the plaza outside the West Japan General Exhibition Center!
To make sure you don't miss out on any the events taking place be sure to check out the full schedule on the
official website, by clicking here! (*Japanese Information only)
asianbeat will be at the event both days, running a booth inside the West Japan General Exhibition Center Annex. We have some presents to give away to visitors who fill in our questionnaires, so please stop by and say hello! (Please note, gifts are subject to availability.)
Jam-packed full of excitement and events across 2 days, make sure you get to Kitakyushu to experience a mecca of pop-culture!
Kitakyushu Pop-Culture Festival 2015 (Event Outline)
Dates: 28th and 29th November (Saturday and Sunday), 2015
Location: Kitakyushu JR Kokura Station, Shinkansen Exit, Aruaru City, West Japan General Exhibition Center, and Asano Shiokaze Park).
Organizer: Kitakyushu City
Co-Organizer: Aruaru City, West Japan Industry and Trade Convention Association and The Kitakyushu Chamber of Commerce and Industry
In cooperation with: KADOKAWA
With support from: Family Mart, d Anime Store
External Links