The "Japan Heritage 'Western Capital of Ancient Japan' Dazaifu" is an app available in 4 different languages, which gives you a taste of Japan Heritage Dazaifu!

Enjoy the "Japan Heritage 'The Western Capital of Ancient Japan' Dazaifu" app!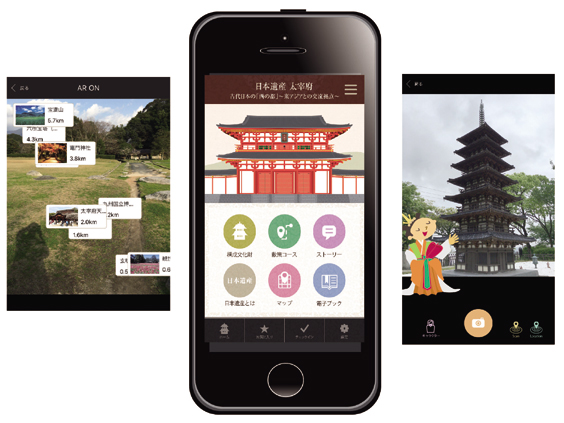 Dazaifu is home to numerous famous spots and historical locations, such as the site of the Dazaifu Government Office Ruins, Mizuki Fortress Ruins, Kanzeon-ji Temple and the Dazaifu Tenmangu Shrine, all of which are steeped in history. Every year the city welcomes over 8.2 million tourists, with visitors coming from from both inside and outside of Japan. In April 2015, the fascinating story of Dazaifu's history was officially recognized, along with the city's 19 historical sites and cultural properties, as a Japan Heritage under the name of "The Western Capital of Ancient Japan - Exchange Hub with East Asia-."
There is now a fun app that can be downloaded for free on smarpthones, tablets and PCs in 4 different languages (Japanese, Chinese, Korean, as well as English), which allows visitors to really experience the alluring charm that Dazaifu has to offer! Just search for "西の都 (Nishi no Miyako)" or "Japan Heritage 'The Western Capital of Ancient Japan' Dazaifu" in English and download the app now!
For people visiting Dazaifu, this app is a great tool that is not only enjoyable to use, but can also really help visitors experience the Dazaifu. With its numerous functions it can also provide walking routes and nifty directions to the historical and cultural assets that are scattered throughout the city. It is also offers support to visitors with its easy-to-understand on-site photos and descriptions. As you stroll through the local area, you will notice that there are so many features to enjoy on the app, such as characters, video footage and special limited edition video clips.
Don't miss out on this great app! Explore the local area and experience Dazaifu, "The Western Capital of Ancient Japan," a Japan Heritage. (Editorial Dept.: Sassy)
External Links