The Kyushu Grand Sumo Tournament starts in Fukuoka on 12th November!

Galvanizing fans a head of the Kyushu Sumo Tournament!
In early November it is quite common to see sumo wrestlers walking around the streets of Fukuoka. This is definitely a sign that we have entered the Autumn months! The stable master Sakaigawa paid a visit to the Fukuoka Prefectural offices on 31st October alongside big name wrestlers Harumafuji, Kisenosato, and Goeido in order to promote the upcoming Kyushu Grand Sumo Tournament.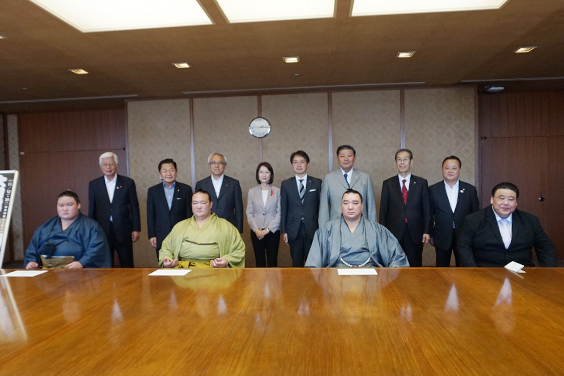 Vice Governor of Fukuoka Oomagari shared her thoughts with the visiting delegation. During her encouraging remarks she said, "All Fukuoka residents are feeling very excited, we can't wait for all the action that the Kyushu Sumo Tournament delivers. I am sure that the venue will be packed for all 15 days of the competition." Vice Governor Oomagari also expressed her gratitude to the master of the Kataonami Stable for volunteering at the end of October in the recovery efforts that have been taking place in the areas affected by the torrential rainfall that hit northern Kyushu this summer.
Vice-Chairman Moriya spoke on behalf of the Fukuoka Prefectural Assembly; he said "We would like to warmly welcome you all to Fukuoka from the bottom of our hearts. We would like to wish you the best for the upcoming tournament and hope that you will also secure some big victories. We also want to see our local wrestlers do well and will be hoping for their success. We are so thankful that you will be travelling to Nogata and Kitakyushu in December for one of sumo organization's provincial tour events. It will definitely bring locals together and provide a great opportunity for exchange."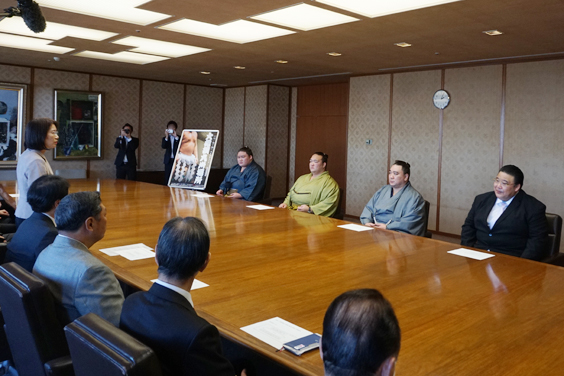 The three visiting sumo wrestlers each had a chance to say a few words. Harumafuji said, "I'm determine to give it all I've got. I hope that will give the spectators a bit of joy and excitement!" Kisenosato shared his experience, commenting "The Kyushu Tournament is the place where I was promoted to the makuuchi division (the top division of professional sumo). It is also the event where I was awarded the title of Ozeki (the second highest rank in sumo). So I feel like it is a venue that brings me good luck. Once again, I will be giving it my all!" Goeido enthusiastically stated "I want to compete in a way that gets sumo fans in Kyushu excited and really gives them something to shout about."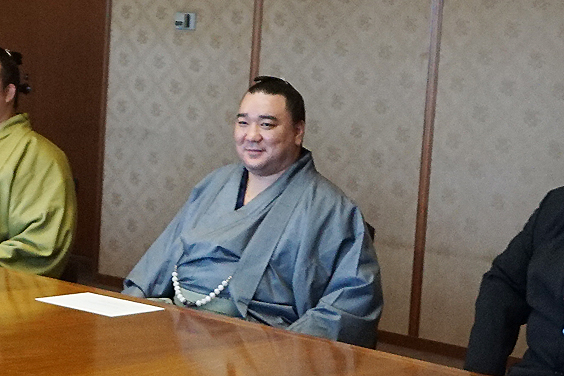 YOKOZUNA | 日馬富士関 (Harumafuji)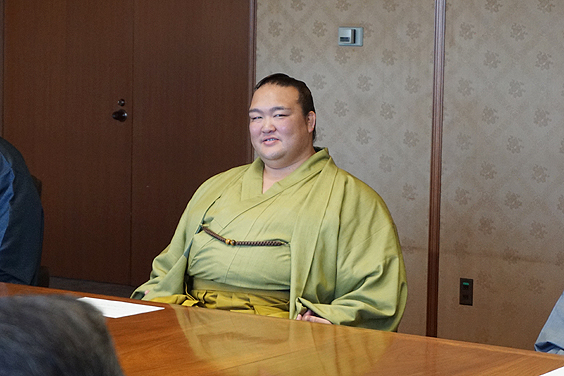 YOKOZUNA | 稀勢の里関 (Kisenosato)
OZEKI | 豪栄道 (Goeido)
Sumo has recently seen something of a resurgence, gaining large numbers of new fans in the process. In the last couple of years organizers have been devising new ways for to attract spectators to sumo events, including the creation of a "Kimono Day," which is an initiative that sees kimono-clad spectators inside the venue receive special gifts. Free original clear paper files have also been given away to visitors who have registered on the official LINE account. And that's not all... New seating areas have been devised, giving people the chance to sit together while they enjoy the action seated at a small table. This option has proved particularly popular with couples and international tourists. Many people have the perception that going to a sumo bout is expensive, but that doesn't have to be the case. Tickets for the Kyushu Tournament are available from as little as 2,000 yen! If you have not been to watch sumo live, why not check-it-out this time round?
There will also be a regional tour event held in Nogata on the 6th, and in Kitakyushu on the 11th December. The competitions will take place as part of a wider tour of local areas in Japan. They are sure to have a great atmosphere and will give people the chance to enjoy top class wrestling action outside one of the main sumo venues! (Editorial Dept.: Nene)
The Kyushu Grand Sumo Tournament 2017
Schedule: Sunday 12th November to Sunday 26th November 2017
Times: The venue will open from 08:10 and close at 18:00
Venue: Fukuoka Kokusai Center (Fukuoka Convention Center)
Address: 2-2 Chikkohonmachi, Hakata-ku, Fukuoka-shi, Fukuoka-ken
Access: Approximately 11 minutes by bus from JR Hakata Station, or 8 minutes by bus from Tenjin Solaria Stage
Nihon Sumo Kyokai Official Websites:
http://www.sumo.or.jp/En/
Fukuoka Kokusai Center Official Website:
http://www.marinemesse.or.jp/kokusai/
External Links