"Yusuke Yoshigaki Exhibition of Original Illustrations - The Art of Little Witch Academia -" hosted by TRIGGER Inc. starts on 13th Dec. in Fukuoka, Japan!

The display will feature everything... From original drawings created for popular anime to more private pieces, such as sketches and postcards!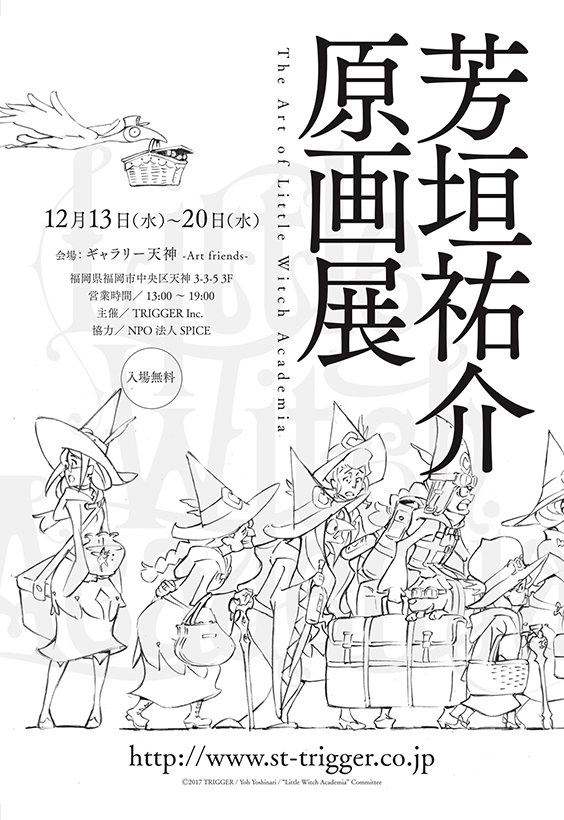 A series of original illustrations by Yusuke Yoshigaki are set to go on display for the first time at the Gallery Tenjin in Fukuoka City this December. Yoshigaki is a well-established animator attached to TRIGGER Inc., the studio behind numerous titles that have garnered attention from all over the world, such as "Little Witch Academia" and "KILL la KILL!"

This exhibition of illustrations features a series of Yusuke Yoshigaki's original illustrations, including poster designs and initial sub-character outlines for titles such as "Little Witch Academia." Yoshigaki's sketches and postcards will also be on display, providing visitors with insight into his everyday life. Guests will not just get the chance to witness the level of skill and technique that goes into creating an anime, but also get a better understanding of how professional animators sketch out ideas. The exhibition also promises to be a real treat for fans of TRIGGER studio productions, and those who are interested in becoming an animator in the future. The show lasts from Wednesday 13th to Wednesday 20th December, which means you will only have a weeklong window to check-out what is on display! Admission is free, so make sure to head over there! TRIGGER Inc. has a studio in Fukuoka, so we will be sure to keep an eye out for any productions they release in the future! (Editorial Dept .: Gon)
芳垣祐介 (Yusuke Yoshigaki) Original Illustrations Exhibition - The Art of Little Witch Academia -
- Date: Wednesday 13th December to Wednesday 20th December
- Venue: Gallery Tenjin - Art friends - (3F, 3-3-5 Tenjin, Chuo-ku, Fukuoka-shi)
- Opening Hours: 13:00 - 19:00
- Organized by: TRIGGER Inc.
- In corporation with:NPO SPICE
*Admission: free
- TRIGGER Official Webstite (Information about the exhibition of original illustrations):
http://www.st-trigger.co.jp/news/889/
External Links