Back for its 10th installment! The "Fukuoka Asia Collection 2018 SPRING-SUMMER" is coming soon!

FACo 2018 promises to be more exciting than ever!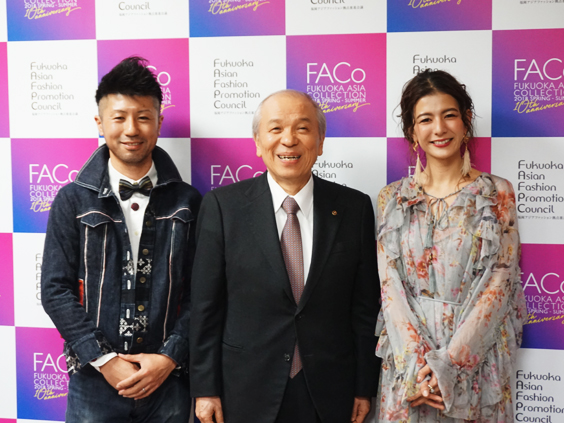 (From left) Seiji Amamoto (designer for Fukuoka brand "ALL MY LOVING"), Shigetaka Enomoto (Fukuoka Asia Collection Executive Committee Chairperson), Suzanne
The Fukuoka Asia Collection (FACo) started back in 2009, meaning that the upcoming edition will mark the tenth time that the event has been held! The Fukuoka Kokusai Center will serve as the venue for the show, which is scheduled to take place on Sunday 25th March 2018! Details about the collection were made public at a press conference on Monday 18th December! The theme for 2018 event will be "REBORN!" The show will provide a look back at the 10-year history of FACo, while also carving out a new path for the next phase of their development!
Fukuoka Asia Collection Executive Committee Chairperson Enomoto greeted those in attendance and shared a few thoughts about the show. He said, "FACo is an important Spring time event. We will be setting up a special "10th Anniversary STAGE" at the upcoming collection to celebrate the past decade. There will be a screen projecting footage of previous FACo shows, as well as appearances from models who have appeared in the collection over the last ten years. Various artists and designers will also be featured. The event will zoom in and shine a light on a range of fashion brands. And it goes without saying that visitors can expect to see Fukuoka-based manufacturers and designers making an appearance. I am really looking forward to bringing some fabulous fashion to Fukuoka this coming March."
The popular TV personality Suzanne, who has appeared at the last nine FACo shows, was also at the press conference. She encouraged fans to attend the collection, saying "The 2018 installment of FACo sees the event move into its tenth year! What a fantastic milestone! There are a few surprises in store, so please come along and enjoy the show! We are looking forward to seeing you there!"
In addition, information has been revealed about the content of what promises to be a very exciting show. The program is unique to Fukuoka, an area that is striving to become a hub for Asian fashion. News about the collaboration between asianbeat and FACo has also been announced.The "2018 asianbeat · FACo Kawaii Ambassador Contest" will give people from across Asia the chance to appear at the event and walk down runway! (*For more info., please check>>
2018 asianbeat・FACo Kawaii Ambassador Contest
* Available in Japanese)
Popular models and talents (TV stars) have already been confirmed as FACo performers! The likes of Miyuu Ikeda, Suzanne, and Niki are scheduled to make guest appearances! More great names are sure to be added to the line-up shortly! Anticipation ahead of the show is starting to mount! FACo 2018 promises to be more exciting than ever! (Editorial Dept .: kurocco)
"Fukuoka Asia Collection 2018 SPRING-SUMMER"
Related Articles
External Links