Enjoy a weekend of curry! The 6th ASIAN CURRY PICNIC is just round the corner!

Experience a fascinating array of spices! Savor the taste of delicious curry!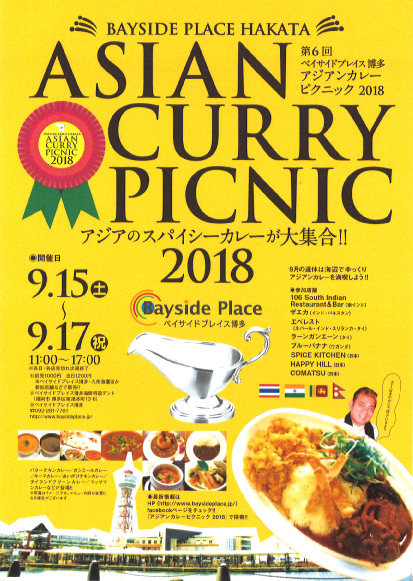 This event brings together a variety of wonderfully aromatic curries! Your sense of smell is sure to be stirred by the range of spices on display! The 2018 edition of the annual "ASIAN CURRY PICNIC" festival will take place at BAYSIDE PLACE HAKATA from Saturday 15th to Monday 17th September 2018! All of the participating restaurants will be serving carefully selected dishes. Each stand's unique fusion of delightful spices is sure to whet your appetite. There will be a wide range of curries on the menu, including keema, butter chicken, and green!

The event will use a ticket system. Simply hand in your slip and choose three kinds of curry. A total of eight popular Fukuoka-based eateries are scheduled to participate at the event, meaning that there will be a great selection of curries on offer! This festival promises to be a celebration of the ethnic cuisine that is available in Fukuoka! Check-out any food stand that catches your eye! This is going to be a great opportunity to sample variety of curries! (Editorial Dept.: Gon)
The 6th ASIAN CURRY PICNIC
Date: Saturday 15th September to Monday 17th September 2018
Time: 11:00 - 17:00 *Or until each stand sells out.
Venue: BAYSIDE PLACE HAKATA (event space at the seaside)
Food & drink ticket *Refunds are not available for tickets purchased in advance or on the day.
- Advanced ticket: 1,000 yen (*Tickets can be purchased at BAYSIDE PLACE HAKATA or at any of the participating food restaurants)
- Tickets at the door: 1,200 yen
Restaurants scheduled to participate:
- 106 South Indian Restaurant& Bar
- ZAEKA
- Jamaican Curry XAYMACA
- RAAN GAN EEN
- BLUE BANANA
- SPICEKITCHEN
- HAPPYHILL
- COMATSU
BAYSIDE PLACE HAKATA Official Website (*event info.) >>
Click here
!
Inquiries: BAYSIDE PLACE HAKATA
TEL: 092-281-7701
External Links