Fun and Fascinating Fukuoka Part 2: Yanagawa Boat Cruises, Okawa, and the Yame Doll Hall(2/3)
Okawa and the Conception of Nodame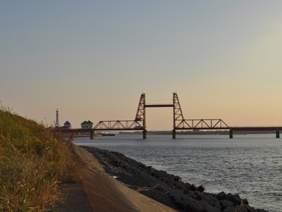 Next up we will be going to the home of the Okawa River, and a town whose trees have long been nurtured by this magnificent stream. Okawa has recently found sudden popularity among young people both abroad and locally. The widely acclaimed manga 'Nodame Cantabile' and its heroine, Megumi Noda's (also known as Nodame) conception was based off of this small town and is one of the reasons Okawa has gained such recognition. Volume 9 of this series exemplifies this fact, as its main storyline finds basis in this heroine's home: Okawa. Real scenery from this town has also been carefully depicted throughout the series. The riverbed of Chikugo where she hugged a fellow hero (Shinichi Chiaki) has now become renowned not only for its 'Kug' (Okawa is famous for its furniture, 'kagu' in Japanese) but also as the scene of the Okawa 'Hug' (or 'hagu' in Japanese). This series has even been published and translated into the local languages of Taiwan, Korea, and Hong Kong.
If you take a brief walk, you're in Saga. The drama based off of the original manga was shot on a taxi driving out of Hakata, with main scenes being taken from areas between the borders of Fukuoka and Saga. We recommend this fun drive out of Fukuoka city for people of all ages.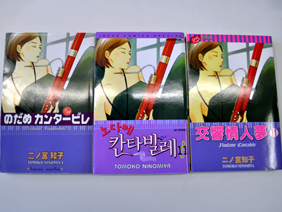 ● Left to right: the Japanese Edition, the Korean Edition, and the Traditional Chinese Edition.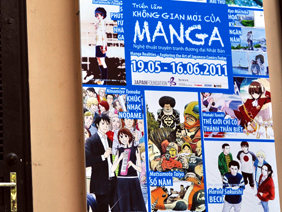 ● The 'Nodame Cantabile' series set out on display in Hanoi, Vietnam. (Sponsored by: The Japan Foundation)