Fun and Fascinating Fukuoka Part 2: Yanagawa Boat Cruises, Okawa, and the Yame Doll Hall(1/3)

CULTURE WATCH: New and exciting news from the editorial corner of asianbeat. From this October onward we will be launching articles on enjoyable places in Fukuoka for the youth of Asia for the first week of every month. 'Fun and Fascinating Fukuoka,' will be featuring the best of our pop culture hotspots and particularly enjoyable areas for travelers, locals, and people of all ages! 

Should a friend from overseas pop by for a visit and you're not entirely sure what to do or where to take them, with 'Fun and Fascinating Fukuoka' you need not worry any longer! From the ordinary to the extraordinary, we will be selecting some of the best spots that Fukuoka has to offer, some of which are from our very own experiences. This second installment will be featuring: Yanagawa, Okawa River, and the Chikugo area, including Yame.
Yanagawa ・ Boat Cruises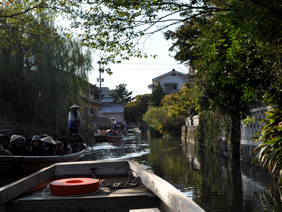 If you take the subway in from the Fukuoka Airport, get off at Tenjin, make your way to the Nishitetsu Fukuoka Station, and then catch the limited express (tokyu) train, you will find yourself in the enchanting riverside hometown of the late poet Kitahara Hakushuu after about 45 minutes. Yanagawa is full of sights to see and foods to try, such as its famous steamed eel. This area is well-known for its literary monuments, including the formal Yanagawa daimyo Tachibanaya's second home and the 'Ohana' villa. Its most popular attractions, however, are the downstream ferry rides and pond cruises. While the ferryman skillfully steers the boat, it travels slowly down the river rocking back and forth for an hour as customers take in the exquisite surrounding scenery.
At asianbeat we have already written about these exciting Yanagawa cruises on three separate occasions and it has as a matter of fact, become the object of much attention.
■Experience cruising the Yanagawa in kimono!
http://asianbeat.com/ja/feature/tif/ruru/5.html
(In Japanese)
Ruru-san, a Chinese exchange student wears a kimono that she rented from a local shop, as she reports on her Yanagawa boating experience. Having been a first, you can feel the waves of excitement rolling off of her as she tells us about her experience. There was also a 'Sagemon Festival' being held at the time of this interview, and as a result many of our snaps feature various dolls (Hina-ningyo) and decorations, with Ruru-san looking stunning in her kimono.
■A pilgrimage to secenes from ".hack//Beyond the World"
http://asianbeat.com/ja/feature/issue_anime/_hack/report.html
(In Japanese)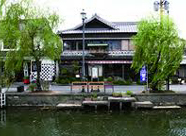 A report with Yo Matsuyama, the director of the 3D animation movie ".hack//Beyond the World," based upon the popular anime, game and manga series ".hack," shows us how some of the Yanagawa scenery was adapted to parts of the film. Some of these exact spots can be seen from the boat as you cruise downstream and you can see the areas in which the world of animation and reality collide. Follow the link for the full report. (In Japanese only)
■The Fukuoka Expert, Ms. Hari Kyoko on the Yanagawa Boat Tour
http://asianbeat.com/ct/fukuokatravel/kyoko0604.html
(Traditional Chinese)
http://asianbeat.com/cs/fukuokatravel/kyoko0604.html
(Simplified Chinese)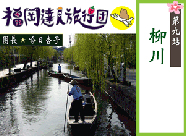 Ms. Hari Kyoko who was one of the primary people to initiate the Japan craze in Taiwan also had the pleasure of joining in on the river cruise experience. She has even introduced the Yanagawa scenery and atmosphere of this very tour in Chinese. Each picture of the boat ride has been decorated, making it look surreally picturesque. This soft, pleasant world is definitely an impressive one and worth taking a look at. Unique to Taiwanese taste, this is a very popular topic among Chinese-speaking youngsters.