The latest "Detective Conan" movie will be released simultaneously in 22 countries and regions around the world on 16 April (Friday)!

Full of impressive action scenes and fun contents! And also Conan's charisma!!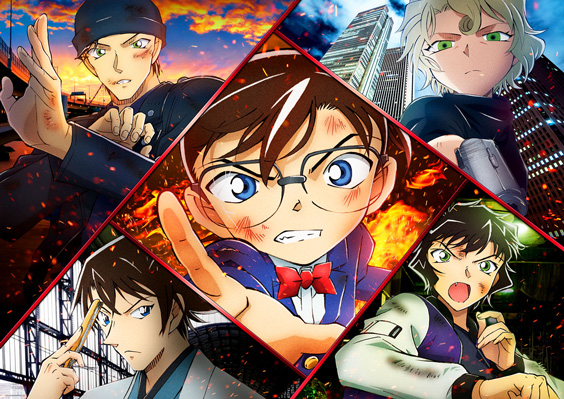 Since the serialization began in 1994, the manga and anime series "Detective Conan" has accumulated numerous fans across the world. Its latest movie "Detective Conan: The Scarlet Bullet" will be released in Japan on 16 April (Friday)! This long-awaited movie was delayed for a year due to the outbreak of COVID-19. And now we are here to share our thoughts after the preview, and it was full of exciting action scenes and fun contents!

The story takes place in Japan, where the world's largest sports festival is going to be celebrated. During the glamorous opening ceremony of the "Vacuum Superconducting Magnetic Linear Train" that is boasted with a speed of 1000km/h, a bizarre serial abductions aiming top executives of companies occurred. Despite being caught up in such an abnormal and serious situation, Conan and his friends, the young detectives club, do not fail to make everyone laugh by their cute actions and and funny conversations!

The key to this case is the similar incident happened in the United States 15 years ago, as well as the dangerous and mysterious "Akai Family". Many fans might have been waiting for them, but I was actually shaking by the first voice of Ikeda Shuichi, the voice-over of the eldest son Akai Shuichi!
The thrilling strategy battle against the criminals and impressive action scenes create a great tension that you would forget to breathe. You definitely shall see it in the cinema, with the big screen and powerful sound effects♪ (Editorial Dept.: Mofer)
Theatrical Version "Detective Conan: The Scarlet Bullet"
劇場版『名探偵コナン 緋色の弾丸』
- Written by: Aoyama Gosho
- Director: Nagaoka Chika
- Cast: Edogawa Conan / Takayama Minami, Mouri Ran / Yamazaki Wakana, Mouri Kogoro / Koyama Rikiya, Akai Shuichi / Ikeda Shuichi. special guest / Hamabe Minami
- Distributed by: TOHO CO., LTD.
- Official Website:
https://www.conan-movie.jp/
- Twitter:
@conan_movie
- Facebook:
@detective.conan.movie
- YouTube (Global Opening Movie):
HERE
!