The movie "xxxHOLiC" will be released on Friday 29th April 2022! Witness the world of CLAMP come to life on the big screen!

Welcome to the world of Ninagawa Mika! A director known for mysterious and bewitching creations filled with gorgeous, rich colors!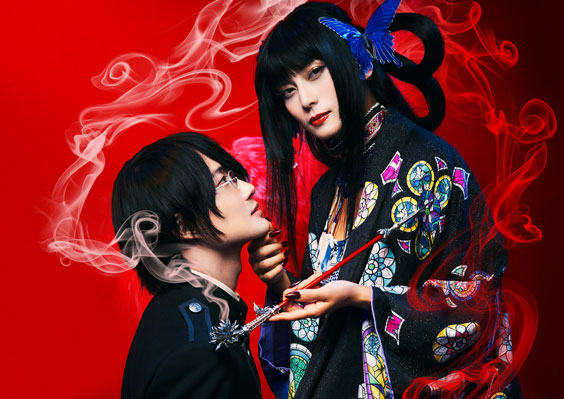 The hugely popular "xxxHOLiC" series, which was created by the manga artist group "CLAMP," has been turned into a live-action film for the first time! The much anticipated "xxxHOLiC" movie will be released in Japan on Friday 29th April 2022! Photographer and creator Ninagawa Mika served as director for the project and assumed the responsibility of building a wonderfully unique world based on the original story. Ninagawa's artistic sensibilities coupled with her love of vivid colors align perfectly with the captivating world that exists in "HOLiC." With all these elements falling into place, it's easy to understand why there is so much excitement surrounding the upcoming release of the film! We managed to get a sneak peek at the movie and were totally blown away!

The plot revolves around a lonely high school student called Watanuki who is able to see "ayakashi" spirits. The story begins when Watanuki stumbles into a store that grants wishes. He is unsure about what lies ahead but hopes that this mysterious place might be able to answer his prayers as he no longer wants to see and be burdened by these troublesome ayakashi. Yuko, the enigmatic owner of store, reveals that she can make his dreams come true but that her help comes at a heavy price. During their first meeting, Yuko whispers into Watanuki's ear that "you must give up something valuable!" Yuko delivers so many wonderfully iconic lines throughout the series, including "There's no such thing as a coincidence in this world. What does exist is only the inevitable." These kinds of scenes instantly capture your imagination and transport you into the xxxHOLiC world!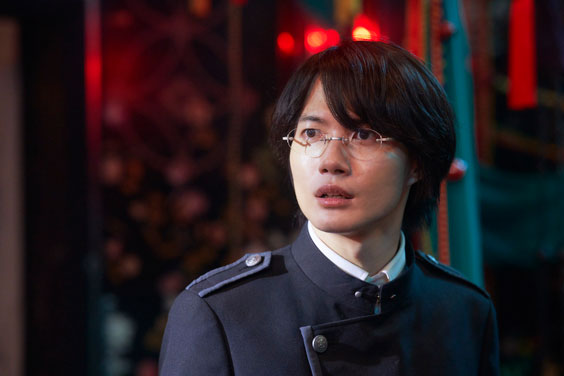 Kamiki Ryunosuke plays the role of Watanuki, who has the unusual ability to attract "ayakashi" spirits.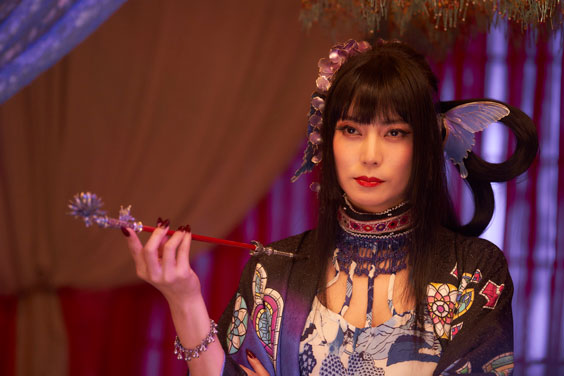 Yuko is played by Shibasaki Ko. The character has an otherworldly quality. She is truly mesmerizing!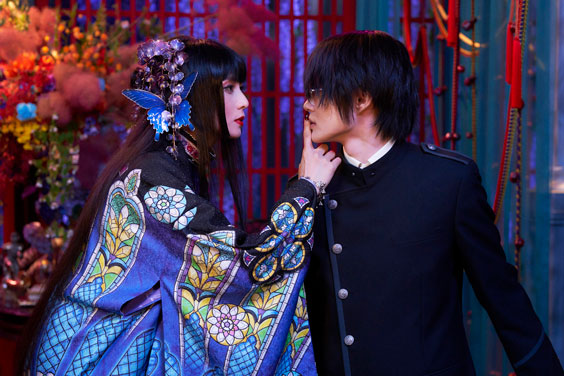 Ninagawa is a director known for her use of rich, dazzling colors. She even manages to weave dynamic color schemes into the background.
You might be wondering who plays Doumeki, a classmate of Watanuki who belongs to the school's kyudo (Japanese arechery) club. Well you don't need to wait any longer! We can reveal that Matsumura Hokuto from SixTONES was chosen to take on the role. Don't miss the scene where Doumeki bravely draws his bow. You are going to love it! Yoshioka Riho does a wonderful job portraying Jorougumo or Spider Lady. The tumultuous confrontations that feature this character are incredible to witness. The scenes that depict the internal change that takes place within Watanuki are startling. The viewer gets a real sense that Watanuki is a person who is willing to sacrifice himself. As the plot unfolds, you then get the chance to see how he slowly changes as he meets various people. This character development is a real highlight in the movie! Make sure to check out the film if you want to find out what fate has in store for all these dynamic, richly drawn individuals. What lies ahead? "Only the inevitable!" (Editorial Dept.: Nika)

"xxxHOLiC"
『ホリック xxxHOLiC』
- Director: Ninagawa Mika 
- Cast: Kamiki Ryunosuke, Shibasaki Ko, Matsumura Hokuto, Tamashiro Tina, Isomura Hayato, Yoshioka Riho
- Original Story: CLAMP "xxxHOLiC" (Serialized in Kodansha's "YOUNG MAGAZINE")
- Music: Shibuya Keiichiro
- Main theme song: SEKAI NO OWARI "Habit" (UNIVERSAL MUSIC)
- Distributed by: SHOCHIKU Co.,Ltd. ASMIK ACE, INC.
- Official Website:
https://xxxholic-movie.asmik-ace.co.jp/
- Twitter:
@xxxHOLiC_movie
- Instagram:
@holic_movie.official
©2022映画「ホリック」製作委員会 ©CLAMP・ShigatsuTsuitachi CO.,LTD./講談社