[Yanagawa City] 椛島氷菓 (Kabashima Hyouka)

Simple, cute ice lollies served in a retro Japanese setting!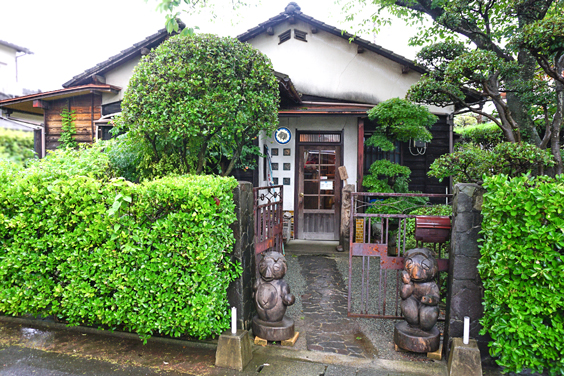 This former private residence, which has a traditional Japanese atmosphere, is surrounded by lush trees and bushes. Your eyes will definitely be drawn to the cute hippo that is featured on their sign. Inside you will find "椛島氷菓" (Kabashima Hyouka) ... A popular establishment that is known for their homemade popsicles. Their tasty treats are made with home-grown mangoes and Amaou strawberries from Yanagawa, etc. "Kabashima Hyouka" gives visitors the chance to experience a tatami room and wooden veranda... A truly traditional Japanese-space!

Enjoy a cup of tea as you take in the traditional Yanagawa "sagemon" (hanging ornaments) and the store's trademark hippo sculpture! The store is located along one of the city's back streets, which is where you can discover a number of delightful sightseeing spots. It is the perfect place to go for a stroll! Shiki decided to stop for a break in this chilled, relaxed part of the local area.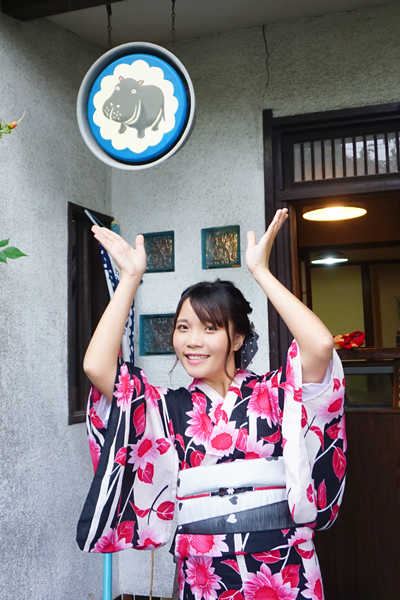 This sign hangs at the store's entrance. Their logo is a hippo!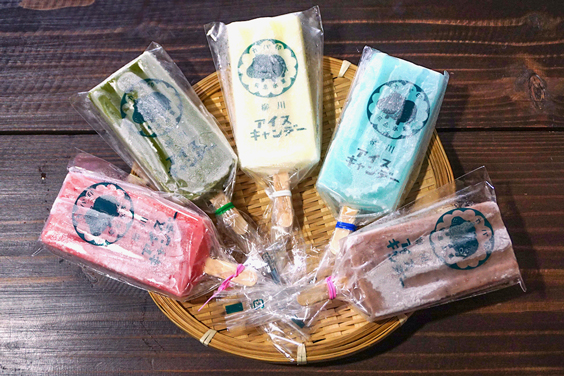 The store sells over 10 different flavors of popsicle. Visitors are really spoiled for choice!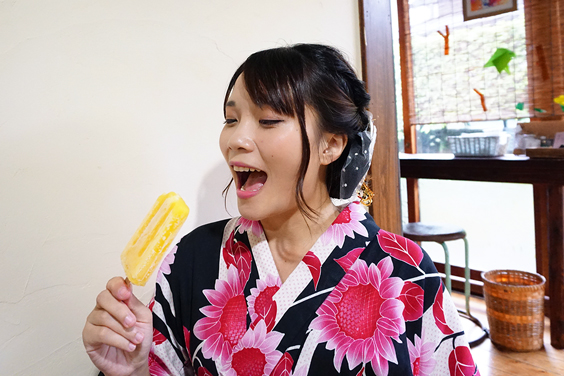 Shiki: The popsicles were so delicious! The building used to be a traditional private lodging, but it has since been renovated and refurbishment. I have seen a lot of old-fashioned Japanese facilities and lodgings in manga, so I was excited to visit the building. The Kabashima Hyouka manager was so kind. All the people I met on my trip to Yanagawa were very welcoming♪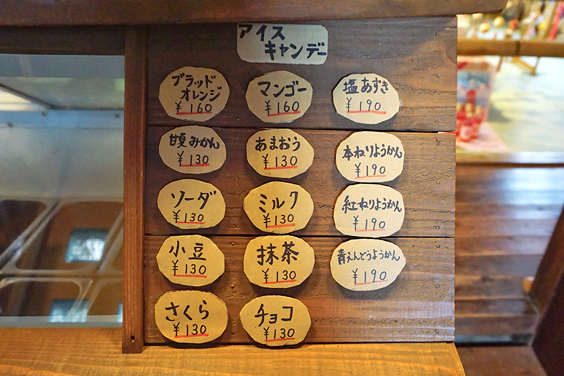 "Sakura" (cherry blossom) and "Ao-endo Yokan" (green pea flavored jelly desert) are just some of the unique flavors that are available! (*Please be aware that the menu and prices might have changed since this article was written.)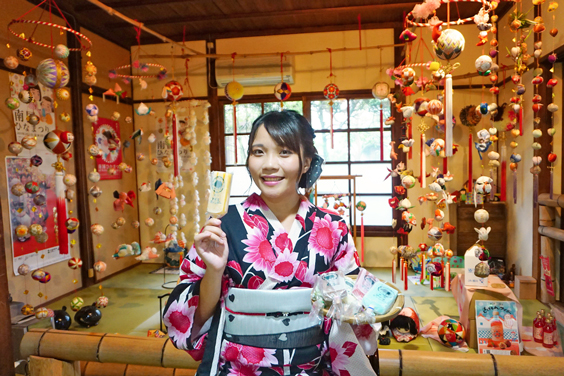 The shop is full of kawaii "sagemon!" You can find the gorgeous spherical hanging ornaments in almost ever corner!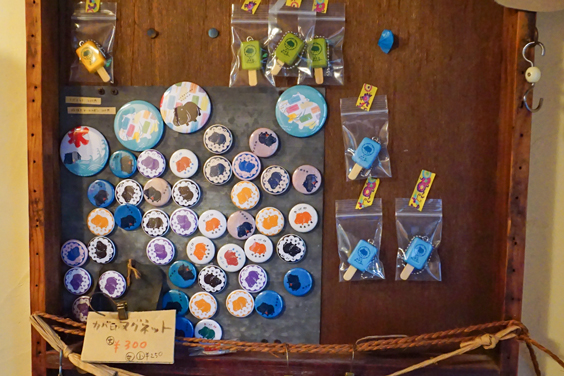 The store sells all kinds of cool hippo-themed goods, including badges and key chains!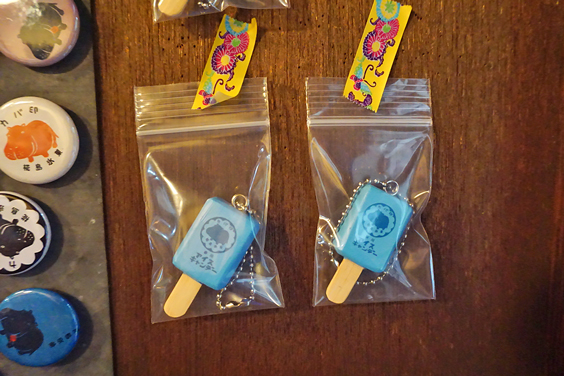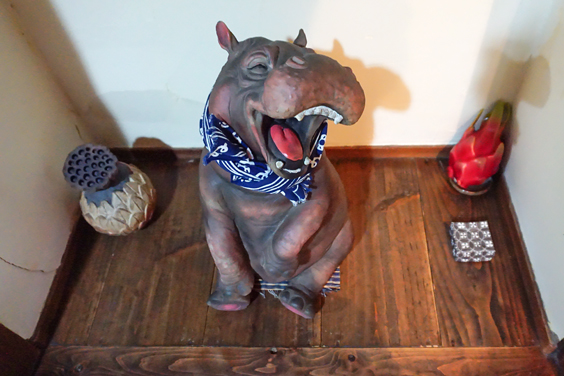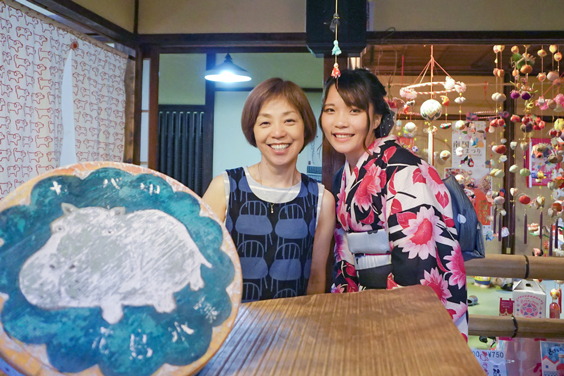 Here is Shiki taking a photo with the store manager! What an unforgettable day!
椛島氷菓 (Kabashima Hyouka)
Address: 53-2 Honjo-machi, Yanagawa-shi, Fukuoka-ken JAPAN
Official Website:
http://www.kabajirushi.com/
* All information correct as of July 2019.
PROFILE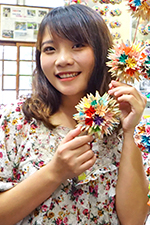 Hi! My name is Shiki! I am a member of the Vietnamese idol group called "POLARIS"! On this trip, I was able to visit some of the sightseeing spots that I included in the tour plan that I put together. It was so much fun! I hope that I can help bridge the gap between Japan and Vietnam in the future!
■Hobby: Manga, idol, and music
Suggestion: Manga, idols, and music
■Favorite Manga: "幽☆遊☆白書" (Yu Yu Hakusho), "ガラスの仮面" (Glass Mask), "美少女戦士セーラームーン" (Pretty Guardian Sailor Moon)
■Favorite Japanese Idols: ももいろクローバーZ (Momoiro Clover Z), Hey! Say! JUMP
■Reasons I fell in love with Japan: I was kind of obsessed with "Yu Yu Hakusho" when I was in junior high school! I really wanted to meet 冨樫義博 (Togashi Yoshihiro) san, the manga artists who created "Yu Yu Hakusho." I started studying Japanese really hard with that in mind. I then went to study in Japan! It might not be much of a surprise for you, but I did not get the chance to meet him (lol)!
---
POLARIS★ポラリス
A six piece idol group based in Hanoi City, Vietnam. The members are Shiki, Rei, Rin, Hikari, Chiju, and Ryo. Their goal is not to be number one, but they are working hard to bring people joy, smiles, and energy.
■Official Website:
https://www.polaris.3www.co.jp/
■Facebook:
https://www.facebook.com/polaris.idolgroup/
Related Articles