Sushi Kappo Tatsuki(1/2)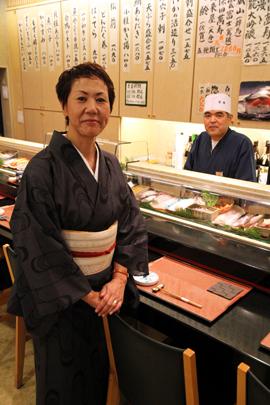 Sure-fire & Satisfying Sushi
Mikiko Kojima greets customers with a smile as they cross the threshold of Sushi Kappo Tatsuki in Meinohama. The restaurant is built on the same site her family home once stood, next door to where the business was originally established forty-four years ago. Mikiko has been working at this popular neighborhood sushi restaurant since she started helping out as a small girl. When asked what's special about Tatsuki she laughs and replies "nothing, really." She's being modest, of course. What she really means is that there's nothing trendy here; it's a well-established, full-service sushi restaurant offering friendly service and great value for money.
Seating options cater to different party sizes and customer moods. The counter is ideal for those who like to watch the chefs slice, dice and prepare their decorative fare. Table seating offers more privacy and elbowroom but if you feel like really stretching out, head upstairs to the spacious tatami floor room. Next, flip through the menu and order what takes your fancy. Can't read Japanese? Relax, menus with clear photos are available in English, Chinese and Korean. If you still do not know what to order, try the omakase sushi set pictured here. It includes fifteen different seasonal selections of sushi, a bowl of miso shiru and chawanmushi (egg and seafood custard). Recommended side orders include kobashira kakiage ¥840 (small deep-frieds scallops), Choshu akatori ¥940 (grilled red chicken), chasoba salad ¥1,050 (green tea noodle salad), and tempura (ten seasonal items, battered and deep-fried). There's plenty more both on and off the menu. If you're still not sure or perhaps feeling a bit experimental, speak with sushi chef Kazuaki Kojima, Mikiko's brother-in-law, who worked in a sushi shop in Los Angeles for twelve years. He speaks fluent English and has a great sense of humor. Ask him for a sake suggestion, as nothing compliments the taste of sushi and sashimi like some good nihon-shu.




PRESENTS
All the info. on asianbeat's present campaign!