Interview Now - GARNiDELiA -(2/3)

"This is something that could connect Japan and the world." "I'm happy we can play our part in it."
Q. It's a few months since your major debut. As time goes on your popular anime work and tie-ins will continue but what are your current feelings?

MARiA: I keep thinking "It hasn't even been a year" while every day is packed. I also think "Wow, we've made three releases already" and "We're releasing so much" among other things.

toku: It's like "Wow, we're really busy doing GARNiDEliA"

MARiA: There are so many fans who spread the word through their circles and that feels great. When they come to our events and I heard their powerful voices I'm so happy! So next year I want to try even harder!

toku: We do concerts abroad as well as in Japan and everyone can sing our songs in Japanese, it feels like Japan's anime scene is incredibly popular.

MARiA: Recently when we performed in Indonesia around 4000 Indonesians formed a huge choir singing group for us. But they all sang it Japanese, it was amazing. We were representing a part of Japanese culture and something that could connect Japanese people and people abroad. Something that could overcome national borders and bring different people together and I think that's one point I think is wonderful.

toku: I'm very happy to be a part of this kind of culture.

MARiA: I'm very glad too. Young people that like music and anime can come and be friendly, even if their governments or adults have different ideas it doesn't matter. We also do weibo in China and I'm happy to say we have had lots of fans telling us how much they like us. I think countries can have better relations through music. When we did a concert in Shanghai, China the atmosphere was amazing and I'd really love to go again.
"We were in constant contact with producer, Tomino" "I think we've produced a sound like nothing we've done before"
Q.Do you usually produce your songs as a pair? And is there anything that sticks out about the production of your third single BLAZING, which is the opening theme for "Gundam Reconguista in G" and marks 35 years of the popular series MOBILE SUIT GUNDAM?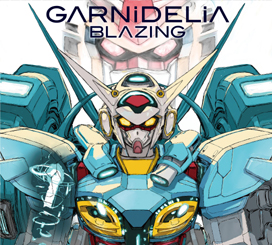 MARiA: Most of our tracks are just the two of us. For the ones we've made up until now we usually read the script and then produce a sound that fits the story. We put some of the story into our lyrics and write it as a collaboration.

toku: It's common knowledge but this version of GUNDAM was a little irregular. With other anime we usually meet the producer after production, but here we met Tomino before to hear what he had to say.
MARiA:That's right, it was the first time we met a producer before starting writing of the song.

toku:A life first!

MARiA:It was wasn't it. But I was so nervous because it was Tomino. The fact that he chose us after sifting through so many entries in the competition and listening to the other artists samples before finally saying "Let's go with GARNiDELiA" is why I felt like that. Then we met. We talked about our interest in classical music.

toku:Tomino had just got really sucked into it then.

MARiA:toku was a classical singer so he's steeped in classical music, for sure. The melodies for GARNiDELiA definitely feel grounded in this. So, he'd often say he wants to do an even more classical sound than we've done before. As for the words for the opening song we spent about a month going back and forth directly with the producer Tomino working together. We'd send him a pdf of the lyrics and it'd come back with "Use a slightly different word here" or "Make this ending a little stronger", really small directions, written on it in red pen.

toku:Line by line there was that red pen.

MARiA:It gave me a feeling of "Oh no, not again. But we can't give up". We were desperate to take on Tomino's advice as it came. It felt like a real struggle between artists. After a month of back and forth we finally had one chorus finished. The second chorus came out very quickly. It was just that one chorus that took so long.

toku: That's the longest one we've had.

MARiA: Out of all the songs we've written I think BLAZING is probably the one that has taken the longest.

toku: Even without the words, just from listening you can decide what it's about, and when you see the lyrics the meaning comes across.

MARiA: It's a piece aimed at children who will inherit the future, so Tomino asked us to make it easy for children to understand and to use simple language. We were very conscious of this and tried our best not to write it ambiguously.

Q. So the major difficulty was your communications with your producer, Tomino?
MARiA: That's right. He got really close to pieces that just the two of us had produced, and that was unusual. But more than just a difficulty...

toku: ...it's what got us to where we are today!

MARiA: It was a valuable experience having Tomino on board for that piece. We were able to produce a new feeling that we haven't done up until now.
PRESENTS
All the info. on asianbeat's present campaign!