Interview Now - GARNiDELiA -(3/3)

"Performing abroad is really fun!"
Q.Maria, you're also working as a model. Tell us a bit about your fashion choices. Do your outfits in the video reflect your personal ideas about fashion?


MARiA: I decided all the designs and fashion concepts right from our debut work "ambiguous". I met with the designers and the stylists and chose the palettes we would produce together. I'm obsessed with GARNiDELiA's visual outlook and worked hard to come up with ideas. GARNiDELiA has a digital feeling and I was aiming at a near future vibe with this theme so I turned it into clothes with a cyber feel and geometric patterns.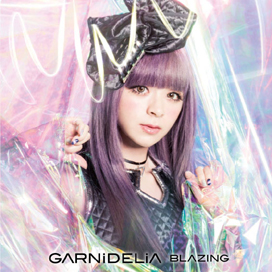 Q. What fashion style do you usually wear?
MARiA: Usually I'm very colorful. Lots of colors and lots of patterns (lol)

toku: It's like an information overload.

MARiA: I love hats so I'm always wearing one. In the summer I wear caps and in the winter berets, knitted hats, all sorts.

Q.Where do you do your shopping?
MARiA: I go to Shibuya and Harajuku a lot. Today I'm wearing a brand called Galaxxxy that's popular abroad too. I model for this brand and collaborate on making some of the clothes. It's a very poppy, cybery brand. Of course there are lots of fans in Japan as well as abroad.

Q.You've been performing around the world recently. Can you tell us about any episodes that occurred while you were staying abroad?
MARiA: Indonesia was so hot, but inside it was very cold, like winter cold. Because of the air conditioner the green room was like a refridgerator, so actually I spent time outside.

toku: Yeah, it actually felt better outside in the 35 degree heat.

MARiA: The people were so warm though, seeing their reaction was really fun! They really got into it.

toku: The concerts were especially fun.

MARiA: Of course, everyone singing with us in Japanese left an impression. I didn't even have to say "Everyone let's sing together" they just sang with us.

toku: I was really surprised!

MARiA: I'm so glad everyone there listened to our music. Performing abroad is really great. Next we're going to be doing a concert in December in Singapore at the Anime Festival Asia. I just want to go abroad more and more, and it'd be great if I could take some fashion and anime with me to other countries.
Their image of Fukuoka: "A delicious city"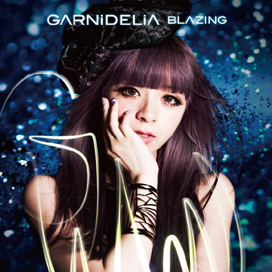 Q.What are your favourite anime shows?

MARiA: I just love Naruto! I've got the whole series! I'm so sad it's already finished. But it will live on in my heart, so it's ok: Believe and live on!

toku: Of course I like Macross Frontier. It was the turning point that started me off in music.

Q.Have you been to Fukuoka before?

Both: This is our second time.
Q.So what do you think of Fukuoka?

toku: It's a delicious city.

MARiA: We both really love Fukuoka's cuisine. Eating is a way of life for us, and we love it so much we'd live here. Last time we had motsunabe (a type of stew featuring offal) and it was super tasty!

toku: Everything's great! The rice, everything.

MARiA: I like the slightly strong flavors they use in Fukuoka.

toku: Yeah, it's nice to have with a drink.

MARiA: Fukuoka's a great place.


"It's wonderful how through the media of anime our crosses oceans."
Q.What challenge do you want to take on next?

MARiA: It's wonderful how through the media of anime our crosses oceans. Also, girls abroad have great fashion sense so I really want to hang out with them some more.
Q.What is your message for the readers of asianbeat?

MARiA: Next year on January 21 our first full album goes on sale!

toku: All of our singles haven't been on sale abroad up until now.

MARiA: I'm so glad our fans abroad can now enjoy our music. We have dance music, rock, ballads, a wide range of different genres so please take a listen.
GARNiDELiA
toku, who has experience as a sound producer and arranger for various artists, composes and MARiA, a female vocalist, originally came together and formed the group in 2010.
They have caught the attention of various fields and made a major debut in March 2014 with their song "ambiguous", the second opening theme of the TV anime "
Kill la Kill
". They continued with a 2nd single "grilletto" which catapulted them into startdom as it featured as the second opening theme to "
The Irregular at Magic High School
". Now they are producing the theme to "
Gundam Reconguista in G
", as seen in the interview above. Their first full album Linkage Ring is set to go on sale January 21 2015.
Official Website (Japanese):
garnidelia.com
GARNiDELiA autographed cards and a poster Present Campaign!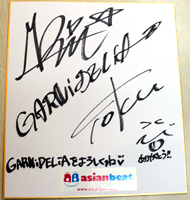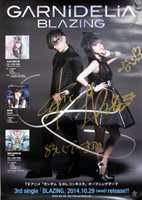 THREE lucky readers
of asianbeat have the chance to win a card autographed by GARNiDELiA: MARiA and toku! In addition,
ONE lucky reader
has a chance to win an autographed poster!! Don't miss this chance to win!
The application period is now over. Thank you!
The Three lucky autographed cards' winners are...
MUSiKATT san
Oscar san
YingChunChin sanThe one lucky autographed poster winner is...
りょー。 san   ......Congratulations!!
(asianbeat will contact the winners directly.)
External Links
PRESENTS
All the info. on asianbeat's present campaign!