Interview Now - GARNiDELiA -(1/3)

GARNiDELiA just released their third single on 29th October. It attracted a lot of popularity with its track for "Gundam Reconguista in G" opening, celebrating the 35th anniversary of MOBILE SUIT GUNDAM. The duo have come to Fukuoka and told us all about the secrets of their meeting, how they produced BLAZING as well as their thoughts on music abroad.
From a collaboration with a single vocalist, GARNiDELiA was born
Q.(asianbeat) Can you tell us about where the band name "GARNiDELiA" comes from and what gave you the idea? Did you think it up toku?

toku: Yeah, I did. I was going for something where the letters and the sound was cool and powerful. As for the meaning, it's a combination of "the place where MARiA sings" and a star called "Cordelia". I wonder what people in Asia think when they hear it, and what people think abroad.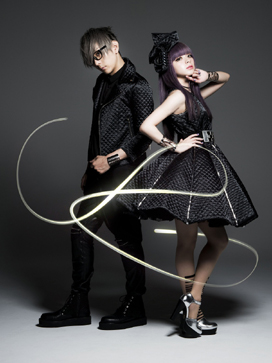 Q.What are the details and secrets behind how you two got together?

MARiA: It started off when toku was looking for a female vocalist so we came together with toku taking the lead.

toku: I talked to lots of people about how I wanted to do a project involving music I had written myself. I was an arranger and MARiA was a singer so a producer we had worked with previously introduced us.

Q. What was your first impression when you were introduced to each other?

toku: When we first met we only talked music so I had no idea at all what she was like.

MARiA: From what I'd heard he'd written some really great songs. I thought it'd be great if we could work together so we had a meeting.
toku: At the start I was looking for someone with a clear singing voice and I was wondering what kind of person it would be. And then a pop singer, MARiA turned up (lol)

Q. Has it always been a pop-music vibe since you started?
MARiA: At the time I had just graduated from high school so it was even more poppish (lol). Lots of people say they think our songs are more grown up and so they're surprised by how I look. Toku was surprised too. And he was surprised by how short I was too.

Q.In your music videos, MARiA you're always at the front and toku is set way back so it's hard to tell.
MARiA: Yeah! Because of the perspective I don't look too small but really but actually there's a big big difference (lol).

toku: There were lots of surprises.

MARiA: That's right, there was quite a gap since we met having only heard each other.

Q.Were there any surprises for you MARiA?
MARiA: There were! He makes such a solid sound with digital tones that's really cool so I thought he'd be a really intense person. Actually he was laid back and easy going.

toku: like a some really casual person had turned up...

MARiA: Yeah, I felt like there was a gap there.

toku: People often tell me that my CD album cover doesn't fit my image.

Q.Compared to the impression we get from your music videos, it's clear that there's a bit of a gap between that and real life!
MARiA: Totally. Lots of people think our videos are scary and they don't think they could be made by two quiet people. And actually we get pretty chatty on the radio, so that's another surprise.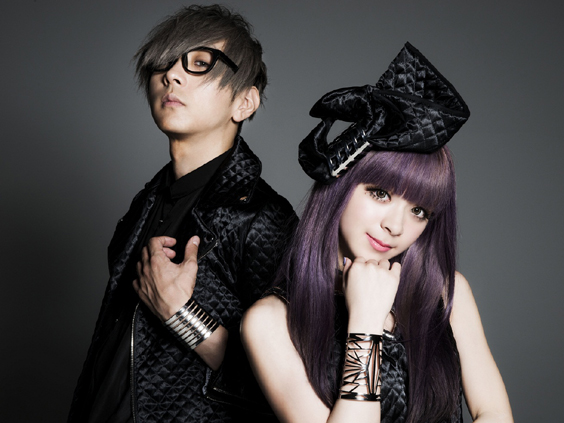 Q.We've found out about how you two have had an interest in music for a long time, but what got you into it initially?
MARiA: I had piano lessons in kindergarten and lower elementary school. My teacher also wanted to be a singer. That's when I realised it could be fun to sing songs and perform on stage in concerts. So I decided that I wanted to be a singer. I've been following that dream since I was in first grade and I made my debut in fifth grade so it feels like I've been working with music since then. I performed with a group as well as doing various anime theme tunes solo. The producer connection we talked about earlier was a producer from these anime theme songs. He introduced me to toku making what we have now. I think that meeting was extremely lucky for me.

toku: In middle school and high school my school had a really good choir which I was in, that's where I was introduced to music. Since then I wanted to make music my work. Originally I wanted to be an opera singer.

MARiA: That's unusual isn't it? (lol)

toku: It didn't work out and I switched to trying to be a composer and arranger. I studied as a composer and arranger for two years. And then I became a real arranger.

MARiA: You were working from when you were twenty right?

toku: That's right. I was interested in anime music because of things like Macross Frontier and that's when I started making Hatsune Miku vocaloid songs for the site Nico Nico Douga. And that's how the producer that connected us up got in touch with me. I had always sung songs so I wanted to do that as well. And I liked female vocals. As an arranger I did work for Angela Aki and others. Even making vocaloids sing with programming reflects some of your own thoughts, doesn't it? That's when I decided to try getting a vocalist and GARNiDELiA was born.

Q.What made you want to leave entrust MARiA with this role?
toku: The moment I heard the demo tape I thought "That's it!".

MARiA: It's a big responsibility (lol).

toku: I think she has a beautiful, characteristic voice and thinking about her high-level performances as well I wanted to work together.

MARiA: Oh stop, it's embarrassing!