Interview Now - Yuthana Boonorm & Violette Wautier -(1/3)

Our exclusive interview with music festival promoter Yuthana Boonorm (TED) and singer and model Violette Wautier who came from Thailand for being guests at the Fukuoka Asian Picks, Aisan Music Exchange Event! We asked them about their event participation and their time in Fukuoka!
It was hard to pick the best cause their all good on their own way.
asianbeat (ab):TED, how was being a Judge at Fukuoka Asian Picks?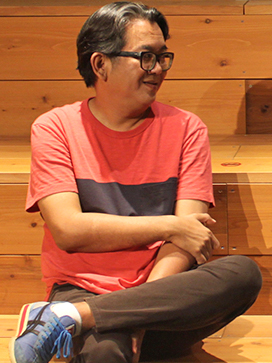 Yuthana Boonorm (TED)
TED:Yes, it was exciting, during this past two years I spent a lot of time being a commentator on many TV vocal shows, so I have had some experience. Then to help out or pick one band to represent Japanese music industry in South by Southwest (SXWS) kind of like "why, why me" (laughs)

ab:At what perspective did you judge from?

TED:So then I tried to act as an outsider of Japan and pick one band that I like as a foreigner. So that's why the band I pick was not the one that won in the end. Maybe because I have a different point of view from the Japanese and maybe because I know less depth about the real Japanese music industry. That one band was I picked was very Japanese, because I love many Japanese rock band, so this band sounded like most Japanese band. I pick that one because they represent how Japanese rock band sounds but then other Japanese might say that no that's not the thing now.
ab:What were your thoughts after judging this event?

TED:This was really fun and those five bands are good enough in their own way, so it was hard to pick the best cause their all good on their own way.
I'm sure I'm going to have a lot of new songs and it'll be more fun!
ab:Violette, unfortunately with the typhoon and such, your original planned show got cancelled but you still got to perform at a different venue, so how did you feel performing here in Fukuoka?

Violette Wautier (Violette): It was my first time playing abroad ever. (laughs)
ab:Wait, really?

Violette:Yeah, my first time to perform outside of Thailand and it was a lot of pressure for me, because I don't have my full band. I only come with my pianist. Performing in front of a lot of people (in this circumstance) I was like "oh my! How am I going to handle this." (laughs) But at the end, coming here and performing an acoustic session felt more comfortable. It was chill session. I was a little sad that I couldn't get to perform at the event originally due to the typhoon but I'm actually happy that I performed in a smaller session. I got so much less pressure.

ab:Would you like to come back and perform again?

Violette:Yeah! Right after I finished our show, my pianist and I were talking like "okay we NEED to do this again!" It would be very nice if I can come back to perform again. I'm sure I'm going to have a lot of new songs and it'll be more fun!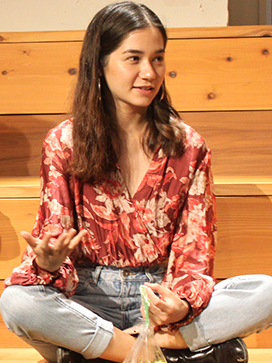 Violette Wautier