Interview Now - 山口勝平 (Kappei Yamaguchi), 伊藤美来 (Miku Ito) -(1/3)

The legendary robot–themed anime and manga series "MAZINGER Z" first started in 1972. Since then the work has gone on to gain tremendous support both in Japan and throughout the world. Around 45 years after its initial release, the much-loved fan favorite has been turned into a movie. We got the chance to speak with two members of the film's cast, Kappei Yamaguchi (who plays Mucha) and Miku Ito (who voices one of the Mazingirls) during their appearance as special guests at the massive subculture event known as the "Kitakyushu Pop Culture Festival 2017!" The producer of "Theatrical Version: MAZINGER Z / INFINITY" Yu Kanemaru also participated in the interview as a late addition! The movie's world premiere in Rome was one of the topics that came up during the discussion! We also have some great gifts from Yamaguchi and Ito to give away to a couple of our readers! Read on to find-out more!
I was so happy to be involved in the production!
asianbeat (hereafter referred to as ab): The movie version of "MAZINGER Z," a title that is widely regarded as one of the founders of the robot anime genre, will be released next January in Japan. How are you feeling about the film?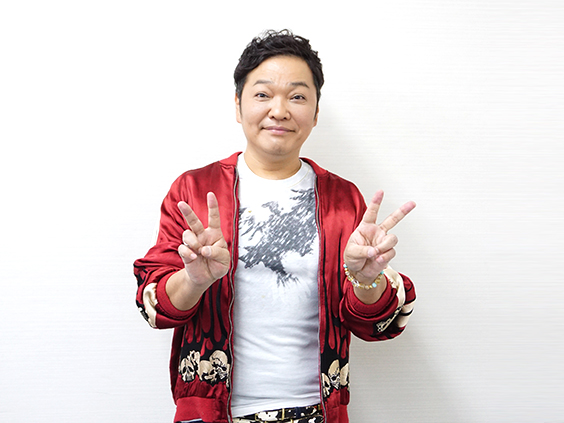 Kappei Yamaguchi Kappei Yamaguchi
Kappei Yamaguchi (Yamaguchi)
: "MAZINGER Z" started when I was seven years old, I was part of the generation that was totally obsessed with series. So, I was pretty excited when I heard that they were making a movies version of "MAZINGER Z."  I was so happy to be involved in the production! I'm pretty sure that Miku wasn't even born when the series first began (lol)!
Miku Ito (Ito)
: My parents might not have even met at that point!
Yamaguchi
: Wow, it was as long ago as that!
Ito
: It's true, the TV series was probably first broadcast around that kind of time (lol). I did not see it when it was shown on television, but I knew about it as it's such a famous work, and I had seen it featured in all kinds of variety programs on TV. I also knew about the songs that Ichiro Mizuki contributed to "MAZINGER Z" and how cool the robots were that appeared in the stories. My parents were thrilled when they heard that I was doing one of the voices for the film. They were like "Oh, wow! You're going to be in "MAZINGER Z!" I was so happy when I saw their reaction! It made me realize just how much people love this title.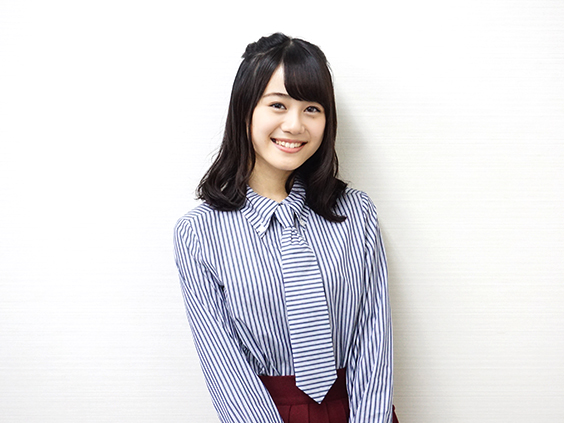 Miku Ito
ab: In terms of your characters for the "Theatrical Version: MAZINGER Z / INFINITY," Yamaguchi-san, you play the role of Mucha (one of Boss' underlings) and Ito-san, you provide the voice for one of the Mazingirls, an idol group who fight in combat. From your own perspectives, what do you think are the highlights of the film?

Ito
: "Mazingirls" are an idol group that belong to the unified military unit. As we have come to expect, they are depicted in a pretty and cute manner, but I think what is really attractive about them is their incredible strength! I am so excited to see how that strength manifests and what kind of skills they have! It's my job to convey the charm and glamour that exists in the story! I hope I have been successful and that you get a sense of the Mazingirl's alluring appeal!
Yamaguchi
: I think that Boss, Mucha, and Nuke are the three individuals in the "MAZINGER Z" series responsible for providing the comedy. And they also take on a similar role in this film. Everyone in the story is fighting for the survival of humankind, but as always these three characters offer a bit of comic relief and appear in some funny situations. Even though times have changed, in this production I feel that the essence of the characters has stayed the same. I had such a great time making the film.
ab: Before being released in Japan, the movie had its world premiere at the "Rome International Film Festival" in October, right?

Yamaguchi
: "MAZINGER Z" is really popular abroad!
Producer Yu Kanemaru (Kanemaru)
: The series is massive in Europe. It went on air over there about 10 years after it was first broadcast in Japan, which means that the fan base overseas is usually slightly younger. The first generation of fans in Japan tend to be in their 40s or 50s, while in Europe they're generally in their 30s or 40s, which means that their children are also bit younger. I could see that the fans had taken their kids to the venue. There were whole families there together enjoying themselves!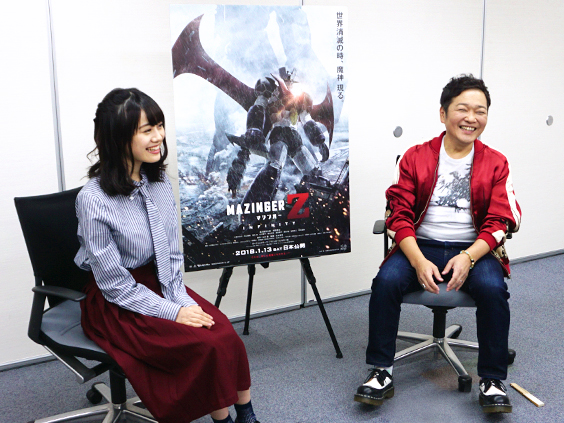 Click the image and it will automatically go to the next.