Interview Now - Niki -(2/2)

I'm sure you will be happy that you went! Please join us!
ab: Are there any fashion-styles, clothes, or accessories that have grabbed your attention recently? What kind of look do you usually go for?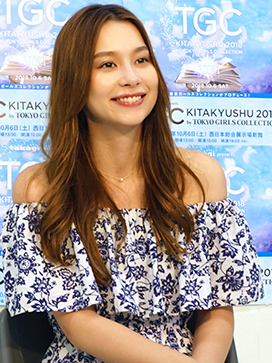 NiKi
: I like simple, basic fashion. I came here wearing denim today. I like to wear casual kinds of clothes all the time. If you wear something unusual, people might think that you are wearing it again. So I tend to buy simple, casual clothes that you can match with almost anything. Even though I usually buy these types of clothes, but I also sometimes buy fast fashion brands. I usually buy good, simple items, and then use them for a long time. I also love denim! I really like the denim jeans! Oh, and I'm into denim jackets, too! I really am a big fan of denim!
ab: Niki, you've been posting photos of denim clothes on Instagram recently! Some of the pieces have a simple, classic look, but it seems like they often also feature fun, playful elements!

NiKi
: Yeah, definitely! I always like to include a bit of color in the outfits that I wear. The designs are usually quite simple, but I think it's nice to also incorporate some colors and a few patterns.
ab: What are you into right now?

NiKi
: I absolutely love acai bowls! They are awesome (lol)! And it feels like you are eating a dessert! Sometimes if I don't feel too hungry I'll even have one for lunch! I've been eating them quite a lot recently. It's easy to go into a restaurant alone and have one to yourself!
ab: Really? You just go in by yourself and order (lol)! Your first photo album was released last October. That was shot in Hawaii, right? Did you get a chance to pick-up an acai bowl while you were there?

NiKi
: Yes, I did (lol)! I often get them in Tokyo, but I really wanted to try one in Hawaii! I posted a photo of an axai bowl in a separate stylebook!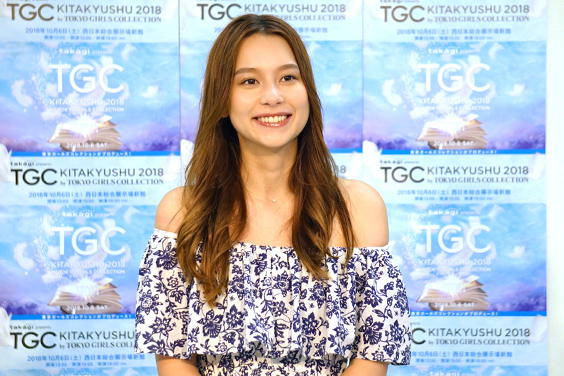 ab: It is bringing together things that are beneficial for your health and appearance!

NiKi
: Yes, that's true! But I think taste is also important! If you are trying to maintain your personal health, it can be difficult if the food you are eating is not tasty. That's why its important to find dishes that are particularly delicious! Acai bowls are healthy and can be good for a beauty regime, but I think the best thing about them is that they taste fantastic!
ab: "TGC Kitakyushu 2018" has a been gaining a great deal of attention. It seems like there will be visitors attending from outside the prefecture! Do you have a message for all the people out there who are looking forward to attending "TGC Kitakyushu 2018?"

NiKi
: You'll definitely have a great time if you come along. From start to finish, I hope everyone really enjoys themselves. It would be lovely if people get the chance to make some great memories during the event. I'm sure you will be happy that you went! Please join us!
PRESENT!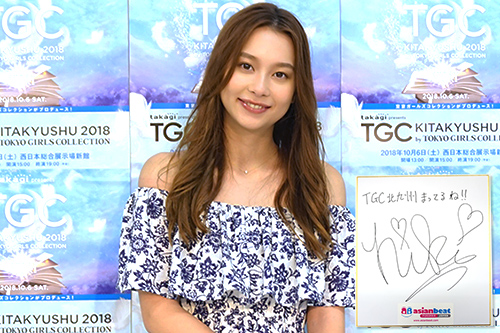 We have a card signed by Niki to giveaway to ONE lucky asianbeat reader! Don't miss-out!
[Application period]
Wednesday 29th August 2018 to Sunday 7th October 2018
[Winner to be announced on]
Wednesday 10th October 2018
The application period is now over. Thank you!
The lucky winner is ...lala san
(Please note, winners will receive an email directly from asianbeat. If you don not reply with a confirmation message within a week, you application will become invalid and you will not be able to claim your prize.)
PROFILE
Niki
Born on 15th October 1996 in Hyogo Prefecture. The 21 year old has an American father. Entered the entertainment industry after entering the "TOKYO GIRLS AUDITION 2014 AUTUMN / WINTER." The event was held in 2014 in an effort to try to discover the next generation of top models and artists. Has worked as an in-house model for the magazine "JELLY" since 2015. Active in the modelling world as well as other fields. Has appeared on a number of variety (entertainment) TV shows and at many events in Japan.
-Official Blog:
https://ameblo.jp/niki-22/
-Twitter:
@i__am_niki
-Instagram:
@__niki22
takagi presents TGC KITAKYUSHU 2018 by TOKYO GIRLS COLLECTION
[Date] Saturday 6th October 2018 - Open 13:00 Start 15:00 Close 19:00
* Please note: Times listed above are subject to change.
[Venue] West Japan General Exhibition Center Annex, 3-8-1 Asano, Kokurakita-ku, Kitakyushu-shi, Fukuoka-ken
[Official Website]
http://tgc.st/kitakyushu/
[Ticket information]
-Reserved seating (advanced booking): 10,000 yen (tax included) Standard: 10,500 yen (tax included) / Special novelty item and LUMICA light included.
-Standing (advanced bookings): 7,000 yen (tax included) Standard: 7,500 yen (tax included) (LUMICA light included)
*For more ticket information, please visit the official website (available in Japanese):
[Hosted by] The Executive Committee of Tokyo Girls Collection
[Co-hosted by] Kitakyushu City, Fukuoka Prefecture, 北九州市都心集客推進委員会 (lit. Kitakyushu City Urban Center Promotion Committee)
[In co-operation with] The Kitakyushu Chamber of Commerce and Industry, 小倉中央商業連合会 (lit. Kokura Central Commerce Federation), 花あふれるふくおか推進協議会 (lit. Hana Afureru Fukuoka Promotion Council), i6 CONSULTING GROUP, BEA, etc.
[Platinum Partner] TAKAGI Co., Ltd.
[Official Media]
http://girlswalker.com/
[Directed by] DRUMCAN
[Planning / Production] W TOKYO Inc.
Related Articles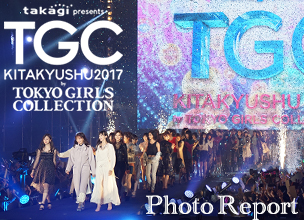 *This report is available in Japanese.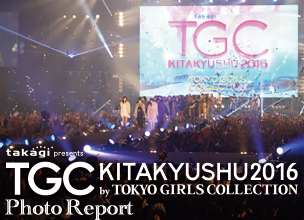 *This report is available in Japanese.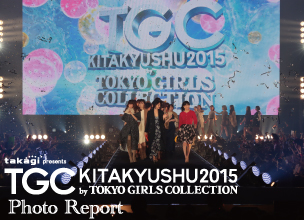 External Links