Interview Now ~ 神谷明 (Akira Kamiya)、古川登志夫 (Toshio Furukawa) ~(1/2)

On the first day of "Kitakyushu Pop Culture Festival (KPF) 2018" (Saturday 10th November 2018), Akira Kamiya (famous works include: "Fist of the North Star" as Kenshiro, "Kinnikuman" as Kinniku Suguru, etc.) and Toshio Furukawa (famous works: "Urusei Yatsura" as Ataru Moroboshi, "ONE PIECE" as Portgas D. Ace, etc.) visited Fukuoka! Check out our interview with Kamiya and Furukawa! We've also got a report about a talk called "Legend Kamiya Akira to Furukawa Toshio ga YATTEKURU!!!"
The venue was thrilled to hear these two actors recite some of their character's quotes!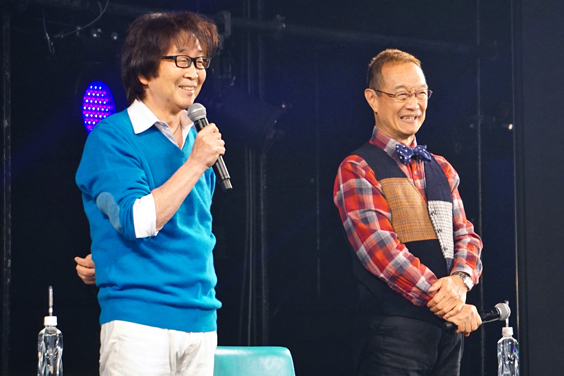 (From left) Toshio Furukawa, Akira Kamiya
The event featured two legends, who have often appeared in the same work as rival characters. The program was completely jam packed! As soon as Furukawa, who is known for voicing Piccolo in the "Dragon Ball" series, appeared on stage, he delivered several famous Piccolo quotes, such as "Sorry to keep you waiting!" and the signature move "Makankōsappō!!!" (Special Beam Cannon). The entire venue was filled with excitement! Kamiya and Furukawa have known each other for more than 45 years. They are like two sides of the same coin, during the talk they shared lots of interesting stories from their younger days and spoke about what goes behind the scenes in the world of voice acting.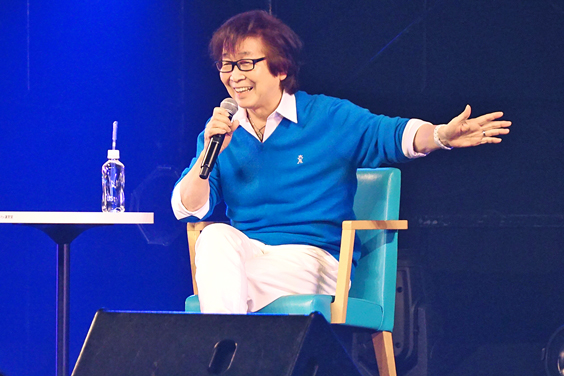 Furukawa told a story about a challenge he faced while working as a voice actor on "Lupin III: The Fuma Consipracy." He wanted to offer something a little bit different to Yasuo Yamada, who played the role of Lupin for a long time. However, every time he tried to deliver the "Fuu~jiko chaa~n♪" part, it always sounded very similar to Yamada's portrayal. Furukawa revealed that the criticism aimed at him during that time was harsh. Furukawa added, "That's one of the reasons I don't really like being the second generation."
One of the most enjoyable moments was when Kamiya did his signature "scream" while they were acting out some famous scenes live on stage. Alongside a big, muscular image of Kenshiro, and inspiration from Bruce Lee, he delivered the trademark scream "(uoooo) wataaaa!" with large amounts of energy. The audience responded with a huge round of applause!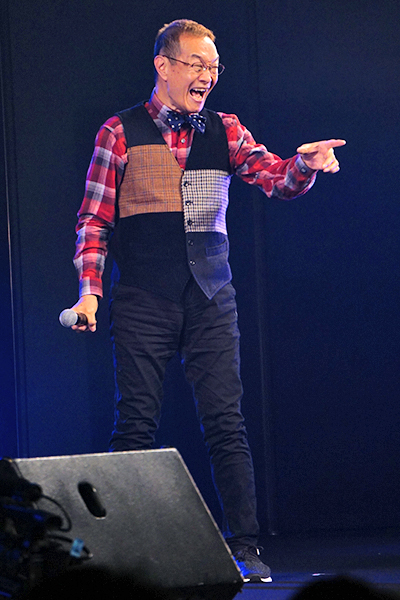 With or without mic, he acted with loud voice, performing the "wataaaa!" scream
Although Furukawa failed the audition for Kenshiro (Kamiya got the role), he also trained hard to play Kenshiro at that time. Furukawa said, "this is KPF, so it's special!" and then performed Kenshiro's signature "uoooo, atatatatataaa, wataaaa!" Furukawa is a fan of the memorable scene where Kenshiro mourned for Shin, so he put in a special request for it. Kamiya recited the dialogue with that famous, unique voice. He called out "同じ女を愛した男だから" (lit.: Because, he loved the same woman.) The venue was thrilled to hear these two actors deliver some of their character's most popular quotes!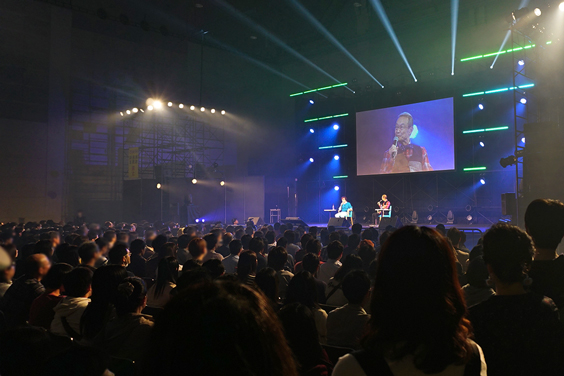 These two legends have been rivals since their younger days. They continue to learn and have now firmly established their positions in the world voice acting. The program featured famous quotes, an explanation of where the signature "scream" originated from, and various other interesting stories. New fans and long-term devotees were engrossed from beginning to end!!