About the ".hack" series

The ".hack" series revolves around the fictitious networking game "The World." A very distinctive feature of this series is that the story-line moves chronologically through a variety of media, such as games, manga, and anime. It's the reason why ".hack" has such a large fan base from such different backgrounds. For those of you who don't know it, we'd like to give you a brief overview of the series.
The Game: at the heart of the storyline and project

The manga and anime series by the same name are popular in their own right, but much of the storyline and popularity of it as a whole can be attributed to the ".hack" game. Between 2002 and 2010, a total of nine have been released for both the PS2 and PS3. Over three million copies have been sold, including outside of Japan, and is thought to be an extremely prominent action-based RPG. While for some -- especially those outside of Japan -- fantasy-oriented games are not as widely accepted as their reality-based counterparts, the fact that ".hack" pays such attention to the finer details and is easy to relate to because of its sober outlook is likely what contributes to the appeal it holds.
The same world view: amine, short stories, and manga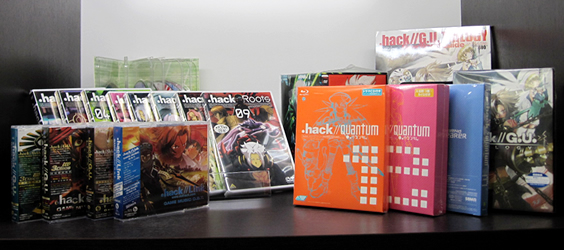 Yoshiyuki Sadamoto, the man behind the character designs for ".hack," is also well-known for his work on the animated series "Neon Genesis Evangelion." The script, however was drafted by Kazunori Ito who has done a lot of work on "Mobile Police Patlabor." The DVD animation, which depicts real-world events that were happening at the time, were sold as a set with the game. Not only can you enjoy playing, but this series now has an anime version that you can watch on TV.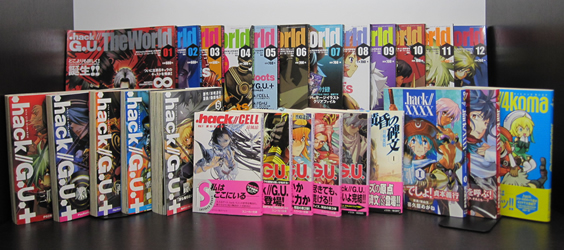 Aside from the game and anime, also widely distributed are the manga and light novel versions.
And now for the theater release!

Distributed though a wide variety of media is the ".hack" series. There are probably those of you out there thinking, "With such a large range to choose from, why not give it a try?" For you I would recommend none other than ".hack//The Movie."
The main protagonist of the movie is a junior high school girl named Sora Yuki who knows nothing about games, having never played, and is a perfect watch even for those who are not gamers. Then again, as per the nature of ".hack," some of the finer details that only hardcore fans will pick up on are scattered through the film and is a must-see for those following this series. I can say with certainty that I will be following the progress of the ".hack" series more closely than ever before.
The original text of this article was written in Japanese in 2012.