Pokémon is Taking Over the World. Not Just a Monster in Your Pocket!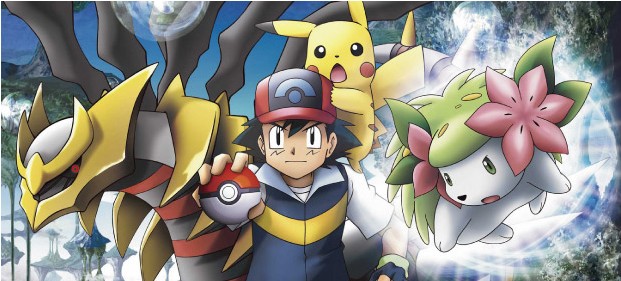 Not Just a Monster in Your Pocket, Pokémon is Taking Over the World
Everyone has heard of Pokémon, the Japanese game that is known in America, Europe, Korea and throughout the world. The character Pikachu has also become recognized as the world's most famous Pokémon.
Pokémon 101 It all started from Game Boy.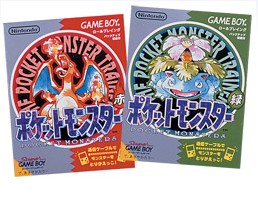 On February 27 1996 Pokémon first went on sale as game software for Nintendo's Game Boy as Pokémon Red and Pokémon Green in Japan. Word got around school kids and it soon became a hit. The story is pretty simple: it's a game where players train creatures called Pokémon and have them take each other on in their own world in a Pokémon Battle, aiming to make their way to the top. Their rivals and the evil mafia gang called Team Rocket appear, and make the story more interesting.
It benefited from the popularity of role playing games such as Dragon Quest and Final Fantasy, but added the ability to nurture a character on a mobile game consol. The fusion of these factors made it a world-wide hit.
Making the most of the "progressive game-play" factor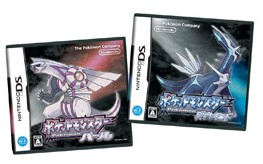 The first Pokémon "Aka" (red) and "Midori" (green) to go on sale had a total of 150 monsters (151 to be precise). Yes, the Pokémon in Aka and Midori were different. The only way to collect them all was to play against others. Two Game Boys would be connected by a cable and data transferred. An occasional user could enjoy Pokémon, but those who wanted to go all the way and raise all the Pokémon, the progressive game-play factor was there right from the start.
When the hardware updated from Game Boy Advance to Nintendo DS the methods of nurturing each Pokémon became more fun, and users from around the world could exchange data. Rare Pokémon such as Densetsu no Pokémon (Legendary Pokémon) and Maboroshi no Pokémon (Mirage Pokémon) appeared, making it even more popular.
Animation and Media Mix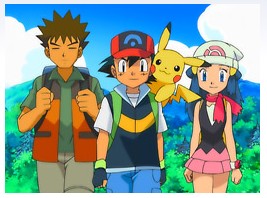 The TV Tokyo network began broadcast of the anime "Pokémon" in 1997. This started the phenomena of the TV series feeding the popularity of the game. In the earlier games Pikachu was just one of low-level Pokémon creatures but it grew into the main character which represented the Pokémon line via TV. Not only games, but a media mix of anime, cinema, trading cards, manga, stuffed toys etc., one after the other became big sellers. It became the forerunner for a new formula for marketing hit game/anime.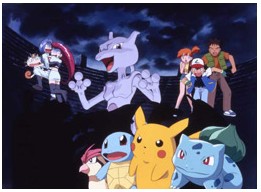 PokémonIn America in 2000 Dragonball and The Super Dimension Fortress Macross (Chō Jikū Yōsai Makurosu) were being broadcast in America. In France Dragonball and Sailor Moon were gaining popularity. And in the beginning of the twenty first century the big news was the Pokémon boom in America. At that time, there have been cases where if someone heard you were Japanese, kids would come up to you and say "Pokémon is fantastic".
Some may think that it is a bit strange - that the so-called "Japanimation" was for adults or Japanophiles. Of course some adults found it appealing – but they were from the age of video software. The anime that were hits overseas were Dragonball and Yugioh, which were born of original manga, and above all, Pokémon!
Then the movie Mewtwo no Gyakushu (Mewtwo Strikes Back) became a US box office number one. Pikachu made the Guinness Book of Records as the world's fastest million seller.
Pokémon and Pikachu were no longer a domestic Japanese brand – they had carved their name in the world's consciousness for years to come.
PokémonMovie News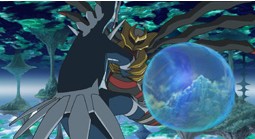 The latest Pokémon movie Pokémon Diamond, Pearl the Movie: Giratina and the Sky's Bouquet will be in cinemas
throughout Japan on July 19, 2008.
Director Kunihiko Yuyama,
Voices: Rika Matsumoto, Ikue Otani, Yuji Ueda,
Distribution: Toho.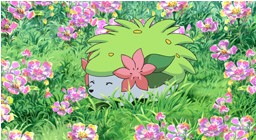 The storyline is that Ash and Pikachu come across unknown Pokémon Shaymin nicknamed Hana Hakobi. The key to the story lies with this cute but cheeky Shaymin, who they join in an adventure. Giratina and Dialga take on the giant Pokémon Regigigas, who sleeps at the back of a giant glacier. There movie rises to a miraculous climax.
And for game players the Pokémon Shaymin is available only through wireless transmission at the cinema - another gimmick to make sure Pokémon is a hit!
http://www.pokemon-movie.jp
©2006 Pokémon. ©1995-2006 Nintendo/Creatures Inc./GAME FREAK inc.
©Nintendo・Creatures・GAME FREAK・TV Tokyo・ShoPro・JR Kikaku ©Pokémon