Having Fun at the Game Center!
Often referred to as the gateway to Kyushu, JR Hakata Station is a place where everyday a lot of people come and go. With all the shopping districts and places to eat, not only is it convenient but also a great place to do a bit of sightseeing. This time I was able to visit Hakata district's one of the largest game centers, "namco Hakata Bus Terminal Branch" which is right next to the Hakata station. I had a lot of fun!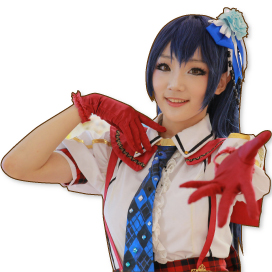 The latest photo booth, "PLATINUM BALANCE" try-out!
In Korean game centers at most we will have about 5 photo booths but here in Japan there are so many photo booths and they're all different types. You can choose the booth you like best and take a bunch of pictures and I think that's amazing. Even by just taking one picture, I feel you've made the trip all the more memorable just in doing that. "PLATINUM BALANCE!" was the newest machine available and I took a pass at it. PLATNIUM BLANACE is all about fixing blemishes rather than covering them up! I really like how the pictures came out!
Click the photo to go to Photo Gallery.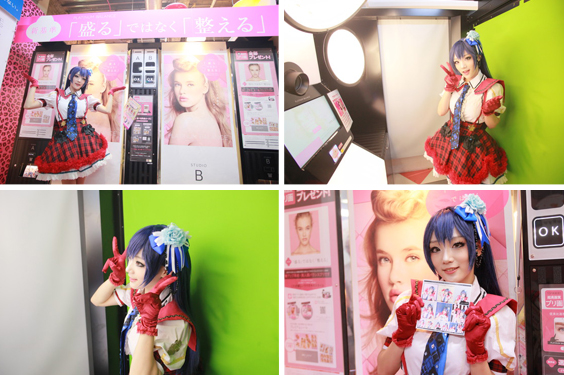 (C)BANDAI NAMCO Games Inc.
I had a go at the popular music game "Taiko no Tatsujin (The Drum-master)"!
I tried a lot of different games at the game center. Among those that I tried was the "Taiko no Tatsujin," which is also popular in Korea. Even if you're a complete music game beginner it's something you can play casually. There are a lot of genres of music and many different levels to choose from. It was a lot of fun.
Click the photo to go to Photo Gallery.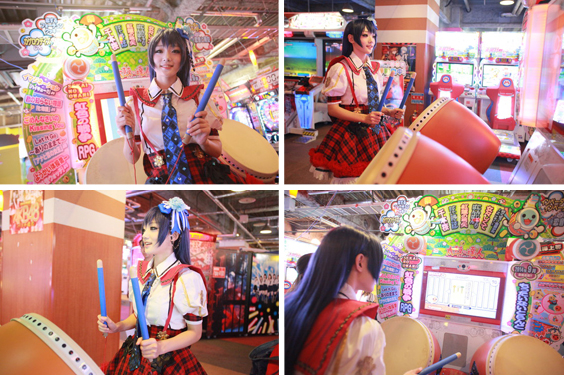 (C)BANDAI NAMCO Games Inc.
I want to go again!
* We got permission from these stores to conduct these photo shoots.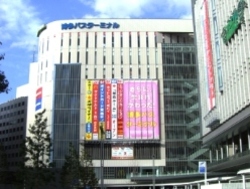 In cooperated with:namco Hakata Bus Terminal
Address: Hakata Bus Terminal 7F, 2-1 Hakataekichuogai, Hakata-ku, Fukuoka City, Fukuoka Prefecture
Access: 1-minute walk from JR Hakata Station(Hakata Gate)
Tel: 092-434-3721
Business Hours: 9:00 - 24:00 (Open daily except otherwise noticed)
Official Website: http://www.namco.co.jp/am/loc/hakata/