[Cosplayers Laboratory] - Japan - #011 Kuromitu

Check-out our eye-catching photographs of Japanese cosplayers who are active all over the world! In this installment, find out a little bit about them and enjoy the exciting world of cosplay in our photo gallery!!
Cosplayers No.11 Kuromitu (黒蜜)
In our 11th edition we bring to you Kuromitu, who has got cosplaying Ciel Phantomhive from "Black Butler" (Kuroshitsuji) down to a fine skill! Having created over 100 Ciel outfits up until now, follow the links below and you're sure to get a taste of Kuromitu's passion and love for the art of cosplay!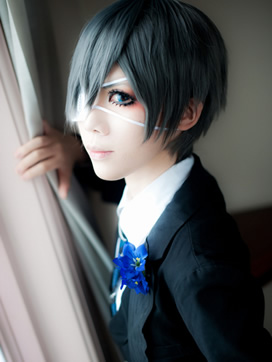 ■Profile
・Cos Name:Kuromitu
・Cosplay History:10 years
・Current Location:Tokyo
・Cosplay Career:Has previously appeared in magazines and various publications.
・Best Cos Character:Ciel Phantomhive from "Black Butler (Kuroshitsuji)"
・Cosplay Expenses(monthly average):Cosplay work comes in waves so it depends on the time of year. On average creates 2-5 costumes a month, with one outfit costing 5,000-10,000 yen. And if that's added to the cost of photo shoot, the total expense comes to around 30,000 yen.
■Link
ARCHIVE:
http://www.cosp.jp/prof.aspx?id=72447
Twitter:
https://twitter.com/kuromitu963232