Exlusive interview with "Monster Hunter 4G" Producer Tsujimoto and Director Fujioka

The "Monster Hunter Festa'15" Fukuoka tournament came to town! In this report, we'd like to bring you a special interview with Ryozo Tsujimoto, the series producer since "Monster Hunter Portable 2nd" and Kaname Fujioka, the director who has also
overseen the unique world view of the series since the very first "Monster Hunter"! They told us about "Monter Hunter Festa" as well as the enthralling world of "Monster Hunter 4G*," the latest in the series of the hand held action game, which has sold 3 million units worldwide since its release in October 2014 in Japan! (* The Western version of Japan's "Monster Hunter 4G" is "Monster Hunter 4 Ultimate.")
Q. (asianbeat): Here we are at the final regional tournament of "Monster Hunter Festa '15," what are your impressions of Fukuoka? And what do you think of the venue's atmosphere?

Producer Ryozo Tsujimoto (Tsujimoto): Well, at any rate the food here in Fukuoka is delicious! And the people are warm and friendly! Monster Hunter Festa comes to Fukuoka each time it is held. In fact, I think the first time we held Monster Hunter Festa, Fukuoka was the first venue that we came to.

Director Fujioka Kaname (Fujioka): Yes, you're right.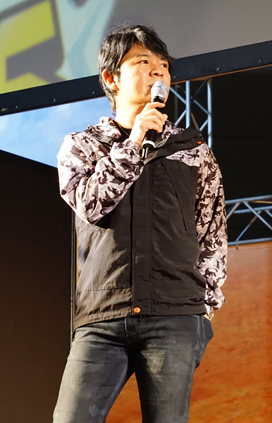 Producer Ryozo Tsujimoto
Tsujimoto: With each visit the user base has expanded. And as it is an event that has been held for several years, we can see those who participated in earlier events now coming with their children. It is our own history of Monster Hunter Festa. It is so great to feel the history of the people who come to the event.

Fujioka: In places like Tokyo and Osaka many people who love the game gather together, I feel like the game is well-established in these areas. But when it comes to local areas, we can get a clearer picture of how well its received if we hold an event like the festa.

So, when we held the Festa for the first time, we did not know how many people would come to the event. However I have felt that all the people have energetically participated with real enthusiasm and the community has grown even larger at each event. In the regions too, when you see this kind of community grow, you can really feel that it has spread gradually.
Holding these kind of events in areas such as Sapporo and Fukuoka is a good opportunity for us to grow and expand.

Q.:Compared to Tokyo and Osaka, it feels as if there are not so many large scale gaming events being held in regional areas.

Fujioka: Although we now can rent out a big place like this, the first time we held the event we really did not know how big the space needed to be. As it turned out, more people came than the capacity of the venue would allow and we had many people standing in order to watch!

Tsujimoto: The venue was around one fifth of the size of this place.

Q.:Compared to that time, in terms of both the venue and visitors, the festa has become a remarkably bigger event. The "Monster Hunter" series attracts many people, but please tell us about the appeal of "Monster Hunter 4G", which was released last year (in Japan).
Fujioka: As far as their titles go, "Monster Hunter 4" and "Monster Hunter 4G" are different, but as an extension of "4" and as the next in the gaming series, "4G" offers more action and compared with the Monster Hunter games up until now there is a little bit more room to adapt the gameplay to suit you.

The title, which establishes these elements of the game, really means that this release is a MAX (new and improved) version, that is to say that "4G" has been created so you enjoy the game right until the very end and I think that it is even hotter that "4" and has even more substance to it.

Tsujimoto: Well said. From the beginning, for us "communication" and "action" have been the two major points when it comes to "Monster Hunter," and we are always thinking about what course to follow towards that end.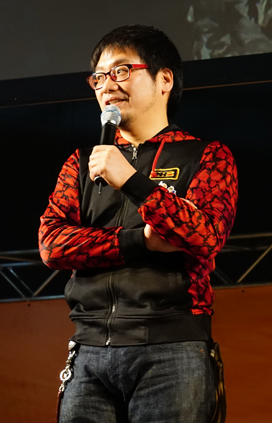 Director Kaname Fujioka
In this sense, we've worked a great deal on the "action" part in the title "Monster Hunter 4." We wanted the players to to have even more fun with the increased dynamic actions of the game, such as the newly added element, the vertical and lateral movements in the expanded view of the world.
Even if you look at the venue today, there are so many parents and children here. I can recognize that there are more instances than before of parents and children enjoying themselves. I feel like the title "Monster Hunter 4G" is indicative of the fact that the user base has grown.
Fujioka:
Specifically, the new aspects of "4G" have made it more convenient and easy to play with others. Also, as there are more fun elements of the game that you can enjoy with others, you can play with all kinds of people, so in this aspect "4G" is even more satisfying than "4." It does not matter if your friends live close by or far away. We want the players to play without thinking about where they are.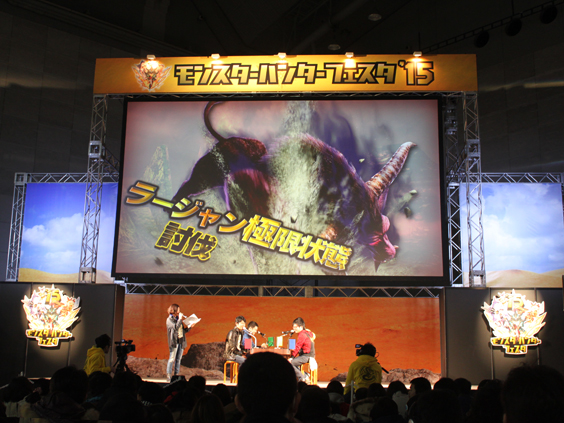 Q: I see. The "Developer Challenge Quest" has just started on the stage with a chilled out and friendly atmosphere! Today you challenged the Apex Rajang quest. Unfortunately you failed the first challenge but you carried on and cleared the quest in the end. You got your revenge! And the audience was laughing and cheering. How did you find the game?Fujioka:
Today's been so bad(lol)! We're always reflecting on went wrong.
Tsujimoto:
We always hold the "Developer Challenge Quest," its one of the constant features of the show and we think about the running of it beforehand. Also, without giving anything away to the members I had a few secrets planned for the event that this time they didn't work out.
Fujioka:
Basically, we just went with the flow(lol).
Tsujimoto:
Yes, I just went with the flow(lol). "Monster Hunter" has two extreme styles. First of all, there is a style of play in which the players compete in a time trial where every second counts, such as in the (King of Hunter) tournament that we'll hold today. On the other hand, there is also a playing style where the players can just enjoy themselves in the game, like the "Developer Challenge Quest." We want to show that there are different playing styles depending on who you are playing with and how you are playing with them. So as you can see, our "Developer Challenge Quest" is an extreme way to have fun(lol)! For each game, the loser had to do a forfeit(lol).
Fujioka:
Yap, we wanted to show that it's ok to have fun like this!
Tsujimoto:
No, but please do play seriously! Just enjoy our playing style as entertainment(lol).
Q: Just from looking at your play we can see how fun it is. So, previously you had to sell off the "Spider Web" item that you've been diligently saving for as a forfeit?Tsujimoto &Fujioka:
Yes, that's right!
Fujioka:
That was the worst! This time too, all of a sudden Producer Tsujimoto told us to "to create a USJ collaborationary piece of armor." This armor series is only available through a downloadable quest which had not been distributed yet, so I couldn't get help from anybody. The 4 of us (Producer Tsujimoto, Producer Kojima, Planner Tokuda and Director Fujioka who challenged the "Developer Challenge Quest") rarely get together, so me and Tokuda (planner) who I sit close to at work, play this quest just with each other and have been saying how difficult it is, the two of us finally managed to complete the mission, but in the end Tsujimoto told us that we had to sell it as part of the forfeit(lol)! You know... its as if Tsujimoto is always trying to ruin our plans...Oh, well!
Tsujimoto:
From yesterday lots of people were asking me "what today's forfeit will be," but I didn't tell anyone(lol)!
Q: It sounds like as soon as you had given the order to create the armor the forfeit had already begun(lol)! In terms of standard weapons, producer Tsujimoto is a "Hammer" and director Fujioka is a "Lance", right? Can you give us any tips for improving our play?Tsujimoto:
Well, in the game of "Monster Hunter," I think the most important point is not to be greedy and to watch your opponent moving.
Fujioka:
When you want to attack, let's say you want to attack 3 times, you should stop after your second attack and try to assume a better position, which will make it harder to receive damage. If you keep striking continuously, you will get attacked by the monster and you will have to spend a lot of time for recovery, it becomes a vicious cycle. If the monster is down, or stuck in a trap, that's the time you can cause a lot of damage to the monsters, so you should be patient, then gradually you will notice your improvement.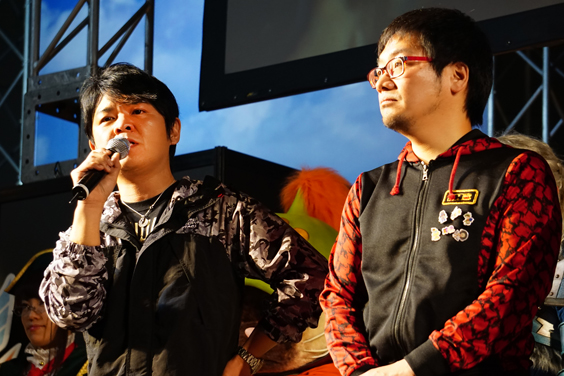 Q.:I see, I guess patience is also really important. After today's Fukuoka tournament, you will be getting ready for the Tournament Finals that take place on Sunday 12 April, could you please give us a comment looking towards the finals?Tsujimoto:
Thinking about Finals, well we don't actually have much to do.....
Fujioka:
No, no, we do, we do(lol)! Me and Tokuda have got to do lots of commentary and analysis!
Tsujimoto:
Oh, commentary! Of course you have to do that(lol)! At the finals, the competitors will be the stars of the show, what kind of play will they show us, we're looking forward to seeing them bring their best game to contest!
Fujioka:
Different from the relaxed kind of way that we play the game, the "King of the Hunters Tournament" that is touring the country, is determining the champion hunter from amongst the players competing against the clock, and then we will decide the top hunters in the country.
In a way, this Festa's "King of the Hunters Tournament" is one of the opportunities for the audience to see various playing styles. By watching the contestants' playing styles, you can learn how to get past the difficult parts of the game. I'm sure just watching their honed skills will make you want to play, and will make you a better player. The gameplay itself is not relaxed and loose, but what you can see is really impressive skills, and we are excited to see what kind of play will come out at the unscripted final.
Q.:Thank you so much! Finally "Monster Hunter 4G" is expanding overseas, do you have any message for your overseas fans?Fujioka:
Outside of Japan "Monster Hunter 4G" has been released as "Monster Hunter 4 Ultimate," the user base has been expanding and we hope it will continue to do so, if we have the chance we would like to go abroad and when we do let's enjoy Monster Hunter together!
Tsujimoto:
As "Monster Hunter 4" was not released outside of Japan, "Monster Hunter 4G" which was released overseas as "Monster Hunter 4 Ultimate" is the first time it is possible for international gamers to play online with a handheld device. So it would be great if veteran hunters help out with the beginners who have just started their hunting life online!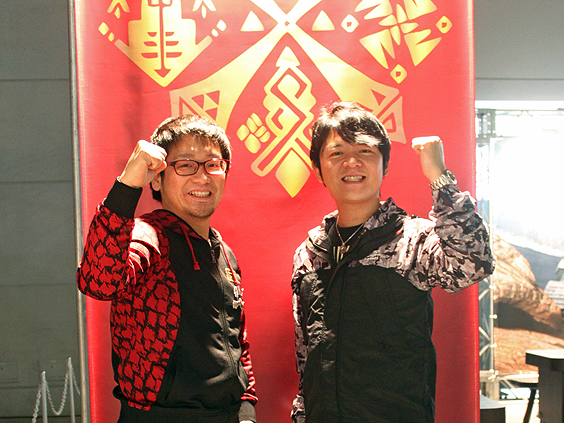 Director Kaname Fujioka (Left), Producer Ryozo Tsujimomo (Right)
[PROFILE]Ryozo Tsujimoto
"Monster Hunter" series producer
Involved as a planner in the development of arcade games and then in charge of game planning for a number of home video games. Series producer since "Monster Hunter Portable 2nd", which was released in 2007.
Kaname Fujioka
"Monster Hunter" series director
Initially joined as a designer. He has been mainly engaged in directing the "Monster Hunter" series since the very first title. Director of the latest "Monster Hunter 4G" and has been overseeing the unique world view of the game.