SUNSET LIVE 2018 DAY 1 - Instant Updates!(1/17)

The ever-enjoyable "Sunset Live" helped clear the rainy skies!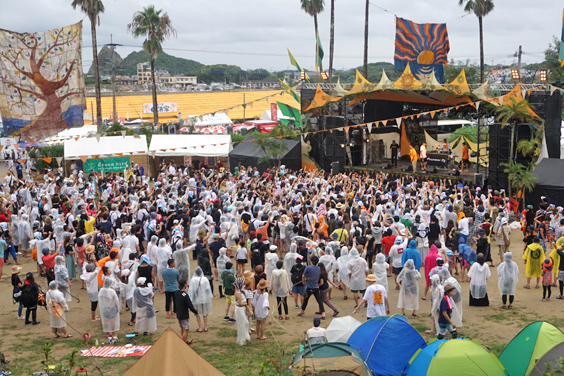 On The crowds were greeted by rain and strong winds upon their arrival at the venue. Any feelings of apprehension over the unstable weather conditions were quickly blown away once the audience started screaming with excitement when DJ Dienoji kicked things off on the Palm Stage!
A little later on in the day, we, asianbeat Editorial staff went over at the Beach Stage where we were treated to a performance by SANDII. The light, springy set was easy for the crowd to get into! Back at the Palm Stage, Razor Ramon RG performed an Itoshima-inspired track! The balance of great music with soft, laid-back lyrics generated huge smiles amongst the crowds.
Fukuoka-native Taichi Mukai made his first appearance at "Sunset Live" on the Mori Stage. He also took part in a LOVE FM public recording. He spoke about his excitement at hearing "okaeri!" (lit. welcome home) when he comes back to Fukuoka!
Sunset Dance Battle took place on the the newly established X Stage. The geeky dance crew Kadoxile treated the "Sunset Live" crowd to a fun-filled performance! On the Palm Stage., the Kyushu Danji Shinsengumi, who are associated to Kurume City, crew put on a fantastic show with one of the top break dance groups in Japan, "FOUND NATION." The spectators were stunned by the sharp, on-point dance routines that the performers put together.
Powerful sets by SANABAGUN. and FIREBALL not only raised the level of excitement inside the venue, but also appeared to help drive away the grey skies! YOKOYURE's wonderful voice managed to penetrate through the rain clouds that surrounded her and strike a chord in the hearts of everyone present. It wasn't possible to get around all of the stages, but you couldn't help but feel the power and enduring appeal of Sunset Live during the first day of the festival.
---
"SUNSET LIVE" continues to develop! Check-out the "SUNSET STYLE" web magazine!

Don't miss out on interviews with the artists who appeared at the festival, photos of the performers in action, and exclusives from behind the scenes!
A new web magazine called "SUNSET STYLE" has been launched! The online publication is run by the Sunset Group, the same body that organizes the festival. The magazine features all kinds of interesting content, including interviews with the performers! It gives the public an opportunity to get even more enjoyment out of the long-running and much-loved music event "SUNSET LIVE!" The management team also use the site to post information about the state of the venue!
■ Official Website:
https://sunsetstyle.jp/
■ Facebook:
@sunsetstyle.jp
■ Instagram:
@sunsetstyle.jp
■ YouTube:
https://www.youtube.com/channel/UCcADekz-1m_XbfAexqLUm6g
*Information available in Japanese.
External Links