SUNSET LIVE 2018 DAY 2 - Instant Updates!(1/17)

The second day of the festival was blessed with clear skies! It proved to be a huge success!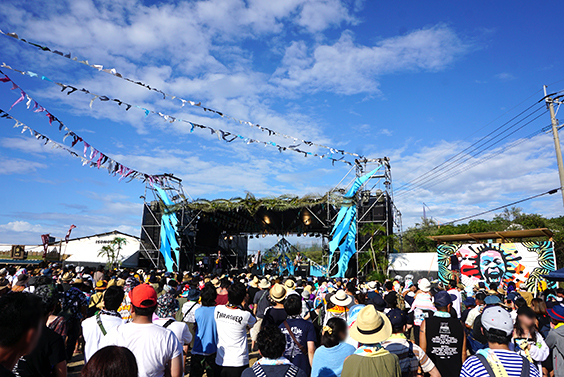 The second day of "Sunset Live" took place under blue skies. A refreshing breeze blow through the venue, marking a dramatic turnaround in the weather conditions. The crowds were bigger than the first day, so it was quite difficult to move around the various stages while the live performances were taking place. The excitement amongst the artists and spectators became increasingly palpable as the day progressed!
The asianbeat editorial department couldn't help but notice the effort made by all the volunteers and collaborators around the venue. Despite the hot weather, the "Sunset Live" support staff did an incredible job behind the scenes to ensure that the everything went to plan.
The charming candles that had been set-up all around the venue provided a beautiful source of light as the sun began to set and the surrounding area got darker. The final acts took to the stage before a fantastic fireworks display helped bring the second day to a close.
Seeing the audience and volunteer staff high-fiving each other at the end of the event with big smiles on their faces was a truly heartwarming sight! After witnessing the relationship between the organizers and participants, it is clear that this homegrown festival will continue for many more years to come! The 2018 edition of "Sunset Live" proved to be a massive success. We cant wait for next year's festival!
---
"SUNSET LIVE" continues to develop! Check-out the "SUNSET STYLE" web magazine!

Don't miss out on interviews with the artists who appeared at the festival, photos of the performers in action, and exclusives from behind the scenes!
A new web magazine called "SUNSET STYLE" has been launched! The online publication is run by the Sunset Group, the same body that organizes the festival. The magazine features all kinds of interesting content, including interviews with the performers! It gives the public an opportunity to get even more enjoyment out of the long-running and much-loved music event "SUNSET LIVE!" The management team also use the site to post information about the state of the venue!
■ Official Website:
https://sunsetstyle.jp/
■ Facebook:
@sunsetstyle.jp
■ Instagram:
@sunsetstyle.jp
■ YouTube:
https://www.youtube.com/channel/UCcADekz-1m_XbfAexqLUm6g
*Information available in Japanese.
External Links