【hida-ma】 brand - Collaboration between Ozaki Pleats and female creators -
Fukuoka's own 【hida-ma】 brand - Collaboration between the skilled craftsmen at Ozaki Pleats and female creators -

OZAKI PLEATS
is a garment store based in Fukuoka and every day they are working on developing different types of pleated garments. The development at this special pleated garment maker involves not only traditional pleating methods, but they also actively try new methods of design. Recently they have succeeded in pleating natural fabrics. Up until now only polyester fabrics were able to be pleated, however the new "MAX PLEATS" (International Patent Pending) process enables pleating of natural fabric such as cotton, hemp and silk. ( http://www.ozaki-pleat.com/pleats/index.html)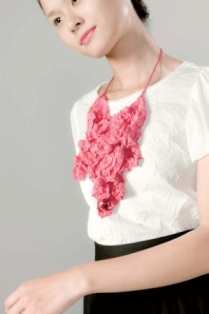 These specially manufactured pleats are not made by machine. Each garment is carefully folded into shape by craftsmen to the exact millimeter. The world's apparel industry has taken note of this advanced technology.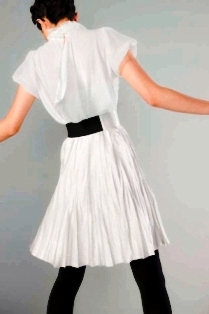 Through collaboration between the skilled craftsmen at Ozaki Pleats and female creators has produced Fukuoka's own 【
hida-ma
】 brand.
They are keen to bring this new style to the world. It would be great to see the pleats fluttering in the wind on street corners in many different countries. This idea has brought apparel designers, stylists, hat makers, and interior designers, creators at the forefront of their field to Fukuoka, where they have been exploring the possibilities of fashion and accessory design.
"hida-ma" is not made for the catwalks of the Paris Collection. They are for easy wearing, to pick you up when you are feeling down, for that special occasion, for women to feel feminine and make them feel happy and good about themselves.
Our dream is to make "
hida-ma
" become synonymous with pleats.
We dedicate our pleats, made by women for the women of the world.