Fukuoka City | GARB LEAVES

A stylish cafe and restaurant decorated with flowers and trees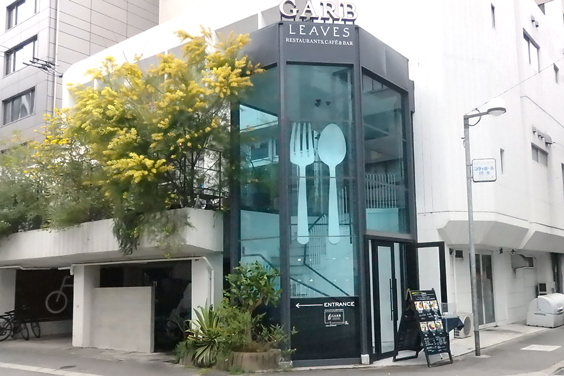 Located about an eight-minute walk from Hakata Station, "GARB LEAVES" is a cafe and restaurant with a bistro menu that makes lavish use of ingredients from Fukuoka and Kyushu. This time, the Chinese Kawaii Ambassadors, 王依君 (Wang Yijun) and 陽馨蘭 (Yang Xinlan) visited the venue and enjoyed the store's popular lunch! The place is surrounded by trees and plants and it was truly like a "city oasis"! On the first floor, other than the fancy tables and terrace seats, "kotatsu" (Japanese heated table) seats also make an appearance in the cold season! While soaking up warmth with the kotatsu, you can enjoy delicious food!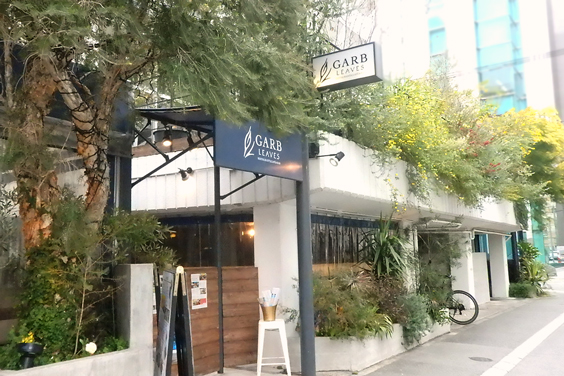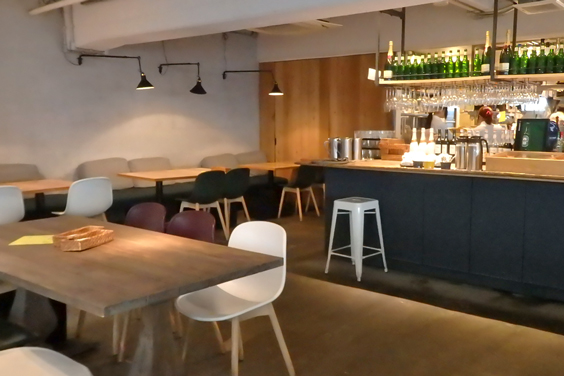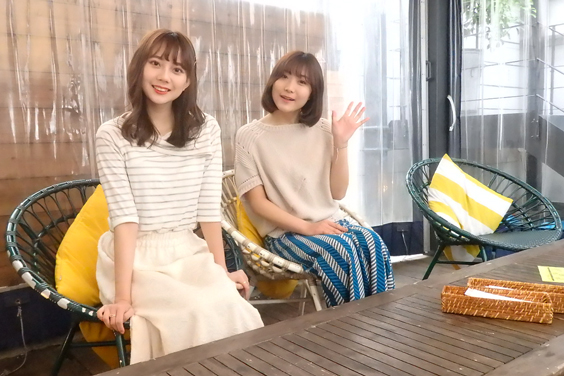 王依君 (Wang Yijun): I had really delicious "omu-rice" (rice omelet)! Here is a very comfortable restaurant! At night, I think it would be wonderful to have dinner whilst looking at the scenery from the terrace seats! In winter, there are also "kotatsu" available, so there is no need to worry about the cold! You can enjoy your meal as if you are relaxing at home!
On the second floor, there are many tables and chairs in a vast space. On the terrace outside, beautiful flowers and plants were set up close to the tables.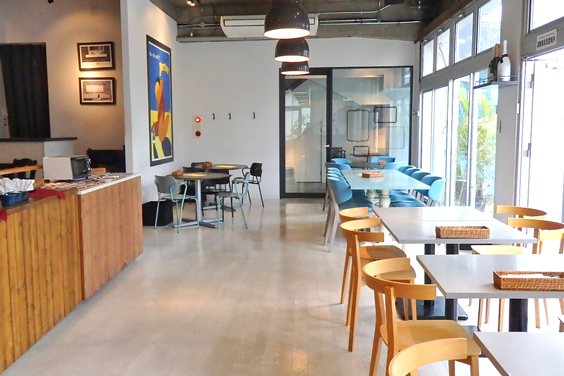 Three types of special drinks served at "GARB LEAVES". The pretty colors make the drinks very photogenic!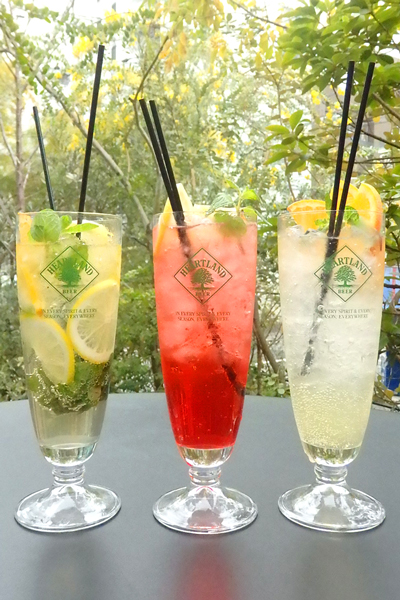 (From left) Lemonade ginger mojito, Italian soda strawberry and mango

陽馨蘭 (Yang Xinlan): It was a cool, two-storey cafe! The food was tasty, and it was stylish to the eye. Filming was coincidentally at noon, so visitors came one after another into the store for lunch! A spot perfect for lunch or for cafe time♪
The daily lunch special, which changes every day, was ample in serving size. It's popular amongst the people in the business district around the restaurant!
On the day of filming, the main dish for the daily lunch special was cheese hamburg steak with Italian sauce & salad!
The omu-rice, with its fluffy egg, was also popular!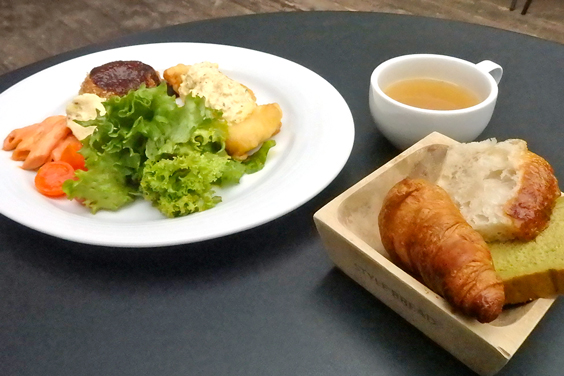 The "croquette and fritter lunch": croquettes made with creamy and thick porcino, and chicken breast strips fritters, drizzled with homemade tartare sauce.
The many trees and flowers made us forget that we were on an office street. We were also happy with the bottomless coffee and black tea that we ordered to go along with lunch!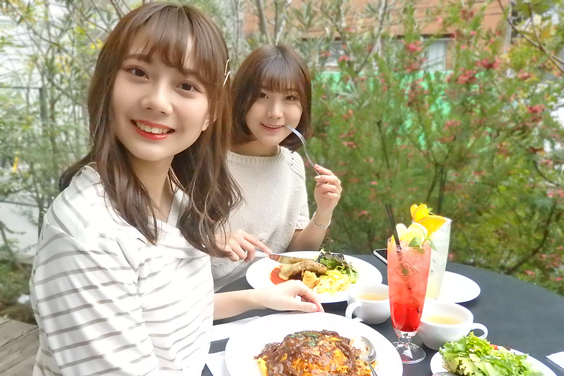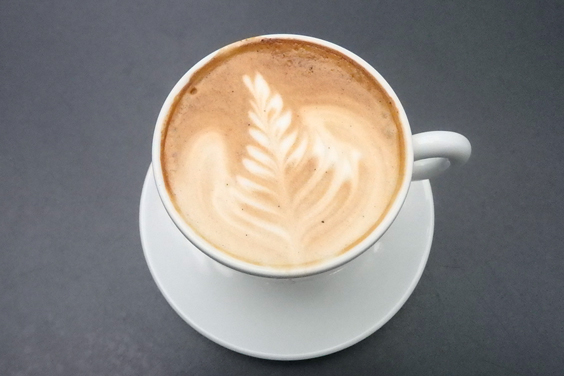 We also had lattes topped with lovely latte art♥ (* The lattes are not included in the lunch set.)
2019 asianbeat・FACo Kawaii Ambassador|Chinese Kawaii Ambassadors PROFILE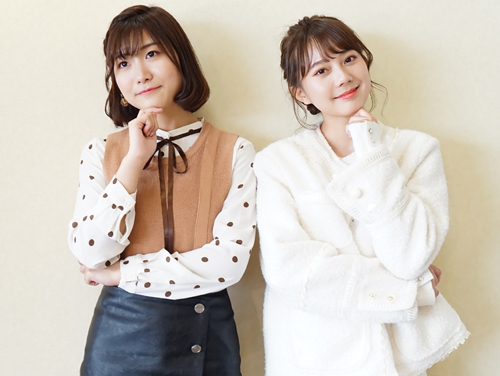 (From left) Chinese Kawaii Ambassadors: 王依君 (Wang Yijun) and 陽馨蘭 (Yang Xinlan)
The two who were selected as China's representatives in the "2019 asianbeat・FACo Kawaii Ambassadors Contest" toured around Fukuoka City! Introducing detailed information on the Kawaii Ambassadors in the pages of "[Feature] FACo2019"!
>>
here!Chinese Kawaii Ambassadors
■ Name: 王依君 (Wang Yijun)
■ Nickname: Yijun
■ Link:
Weibo
/
Twitter
■ Name: 陽馨蘭 (Yang Xinlan)
■ Nickname: Kei
■ Link:
Weibo
External Links