Misako Aoki's Lolita Column

In 2009 I was appointed cuteness ambassador by the Ministry for Foreign Affairs, took part in 16 different events in 10 different countries and worked to promote Japan through lolita fashion. Recently, there have been lots of opportunities to take part in events around Asia, especially in China where the popularity of lolita is just incredible! Whatever country you're in, you know that girls just want to be like a princess. This article is all about what's "now" in the lolita fashion world.
Lolita Fashion: The Epitome of Cute
During the last ten years, lolita fashion's popularity and visibility has risen, setting a trend worldwide. There were many events held abroad to introduce Japanese culture (traditional arts, manga, anime, cuisine, fashion and so on). One example is the annual Japan Expo based in Paris, France and held every July. Last year it saw 160,000 attendees! Many people see the lolita style and and say "Kawaii"(cute) giving lolita fashion a popularity abroad that is even higher than Japan. I've been to lolita tea parties in other countries, of course with an interpreter by my side, but the word "Kawaii" is always understood without translation. It looks like kawaii means the same thing where ever you go!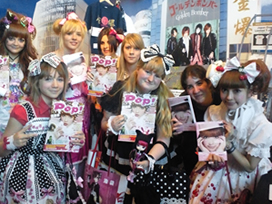 The Japan Expo in France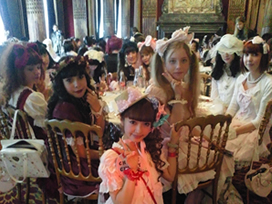 A tea party in France
Some fans from around Asian even go so far as to travel to Japan just to buy their lolita outfits and make their own makeup. In South America, many lolitas go without a blouse because of the heat, whereas in Japan we don't really show much skin, but it must feel cool! On the net, there are lots of fans of anime and manga with an interest in Japan who have stumbled across lolita fashion too. Whenever I say "I'm going to China!" on twitter or my blog fans are always waiting for me at the airport and the hotel to give me a warm welcome. They even give me letters written in Japanese!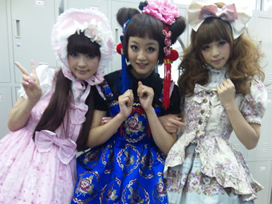 Shanghai World Fair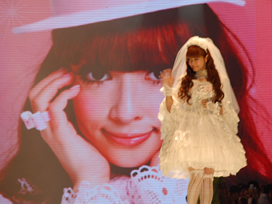 Walking the runway at FACo in Dalian, China
In September of 2011 and 2012 I walked the 30m runway at FACo in Dalian in China. Everyone in the audience cried out "Kawaii!" in Japanese, it was so much fun.
Lolita's Firmly Rooted Popularity in Japan
It's not just overseas, lolita events are booming in Japan too! Seven years ago the super popular movie Kamikaze Girls started off a new craze of people wearing lolita fashion and now, in 2011, a pilgrimage has been held with fans returning to the locations of the film in Shimotsuma and remembering their favorite scenes. This was a really really moving event for all the lolitas involved. In the future I want to go to as many tea parties and fashion shows around the world as I can, show people the appeal of lolita fashion and give them the opportunity to try it out for themselves.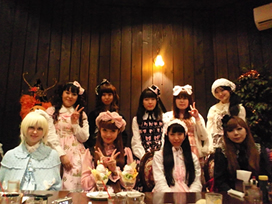 Forest Tea House in Shimotsuma, as featured in Kamikaze Girls (Formerly the Noble Forest)
Related Articles