A big change in Japan's club scene! A Female DJ. Interview with DJ HICO – leading the way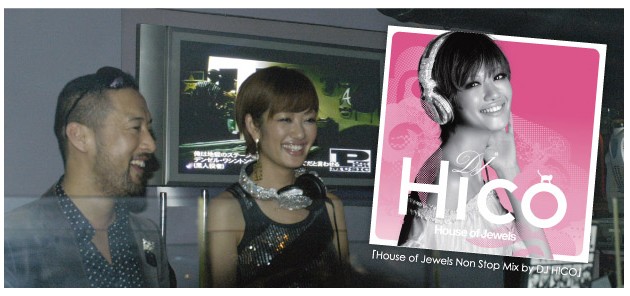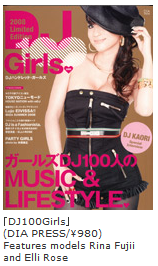 A big change in Japan's club scene! A Female DJ. Interview with DJ HICO – leading the way
The Japanese club movement gained momentum in the nineties, and has helped produce DJs, female R&B singers, as well as being a major influence on J-Pop and pop culture. Musical styles of clubs vary from place to place, and are closely linked with street culture, helping create the latest trends. The club DJ scene had been dominated by male DJs. However, five years ago female DJs, like DJ KAORI, have been making their mark on the DJ scene. Fashion models and celebrities have become DJs, and it has come to a point that there has even been a book released titled "DJ 100 Girls" *1). In reception parties for fashion brands the model/DJ will wear the brand while she spins the discs – linking the DJ with the event. Female DJs with "that something special" are a unique presence, and DJ HICO, who doubles as a model and a DJ is one of those.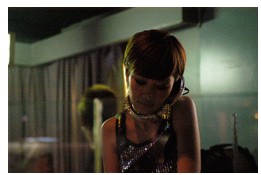 In September she released the CD "House of Jewels Non Stop Mix by DJ HICO", and has been in demand as a DJ fronting parties for companies such as Louis Vuitton, Prada, Armani, and Tiffany. We spoke to the multi-talented DJ HICO.
She started DJ-ing ten years ago, when she was mainly doing modeling work.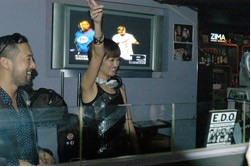 "Back in those days I had a lot of friends who were DJs, and I thought it was cool the way they would buy analog discs (records) – and after playing around I started up too. DJ-ing became my main gig about two years ago, and just when I thought I wanted to get into it I met TOWA TEI – and that led to my CD being released."
HICO spoke slowly and softly. She has a gentle feeling about her, but ten years ago, as is today, there were hardly any female DJs – it was a very much male dominated society. Then came the club scene. What does she think of the female DJ boom?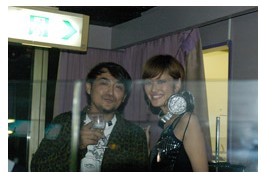 DJHICO"Even though there are more female DJs around today, there aren't many that have the technique you need. I think male DJs are better with the hardware and they are better at generating excitement. On the other hand, I think the female DJ's forte is their flair. When I am in the DJ booth I consider it as a stage, and I dress and use make up accordingly. A DJ can dress up and create the mood, in a fashion brand party I can wear their brand - something I think girls can do. And I think it's really great that girls that come get dressed up too."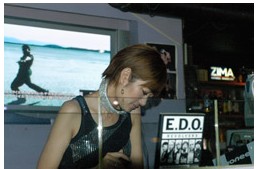 HICO comments that she has been able to integrate aspects of her modeling work into DJ-ing, and visa-versa, making a good symbiosis. And she has made it to the top in both pursuits. Was it difficult for her to develop the technique?
"I don't like doing things by halves. If I see a DJ who is better than me I feel beaten. So I keep on practicing until I can do as good – but it doesn't feel like I am grinding away, I love it. Nowadays not only analog discs but CDs are being used for DJ-ing, so I think you should just go for it."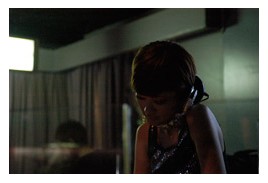 Recently the DJ is a familiar presence everywhere from the FUKUOKA GIRLS COLLECTION to fashion brand parties and even among those who are not familiar with clubs. But what about the club scene in other Asian countries? It seems there is a club boom in Hong Kong, Bangkok, Taiwan, Korea and a number of other Asian countries. DJ HICO visited Korea as a club DJ in autumn last year and again early this year. What was the vibe like?
"I went to Pusan and Seoul. Korean clubs are really hot. Everybody just keeps on dancing, they really get into it. Due to the club boom each venue is really big, and it is normal for 800 or 900 partygoers to gather in one place – people there really know how to party. At the place I went to the whole building was like a neon billboard, and one side had a huge photo of me – it was great!" *2)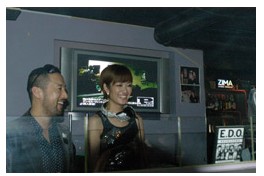 Next year HICO plans to release her own original CD, taking her musical career one step further. We look forward to her next big step.
Here at asianbeat we will keep our eye on the DJ club scene. Of course we will bring you more female DJs.
*1.DJ Hundred Girls / introduces 119 female DJs making their mark throughout the world.
*2.Check out HICO's Korean DJ event here
http://www.myspace.com/djhico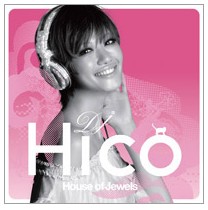 <Release>
「House of Jewels Non Stop Mix by DJ HICO」/V.A.
September 3, 2008
COCP-34895 ¥2,520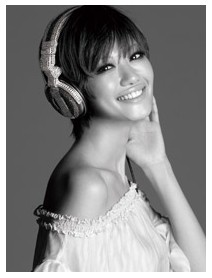 DJ HICO PROFILE
Model who has gained high acclaim as a female DJ. In September 2008 released her first CD mix "House of Jewels Non Stop Mix by DJ HICO" on T TOWA TEI's "Hug Columbia" label.