The FOODHALL(1/3)

Fulfill your appetite with the fresh local food and authentic foreign cuisine!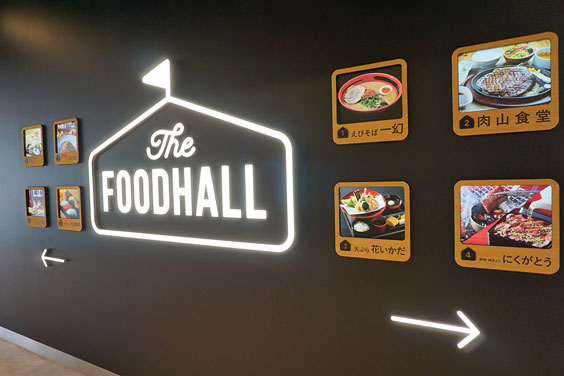 Located on the 3rd floor of BOSS E・ZO FUKUOKA, The FOODHALL creates a relaxed atmosphere with the chic interior with black as the base colour. It is made up of 8 restaurants that offer a wide variety of cuisine. 3 among them are new in Japan, which includes TRATTORIA IL LUPINO, an Italian restaurant managed by Wolfgang's Steakhouse. Besides, there are 2 restaurants new in Kyushu, one of them is a branch store of the Tokyo BBQ Restaurant - NIKUGATO, which serves high-quality lean meat. These rich selections will definitely give you new excitement! There are too many surprises so let us focus on 2 of which representing the local Fukuoka cuisine!
Kyushu Hakata Daikichi Sushi (九州 はかた 大吉寿司)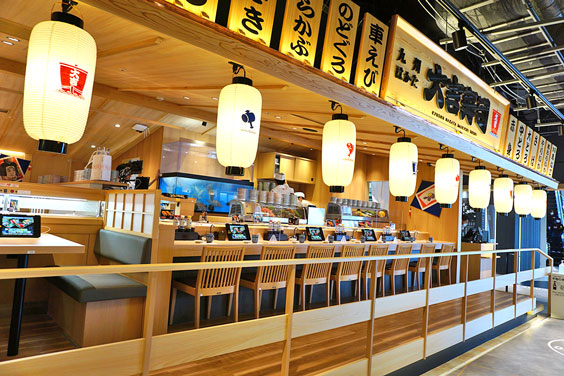 Kyushu Hakata Daikichi Sushi is an authentic Kaiten-zushi (conveyor belt sushi) restaurant developed by 2 long-established restaurants - Kawataro (famous for squid and other seafood) and Kawasho (sushi restaurant). They serve fresh seafood taken from the suburbs in Fukuoka or coastal areas around Kyushu. With a luxurious interior and spaciousness, this restaurant is very comfortable and easy to visit.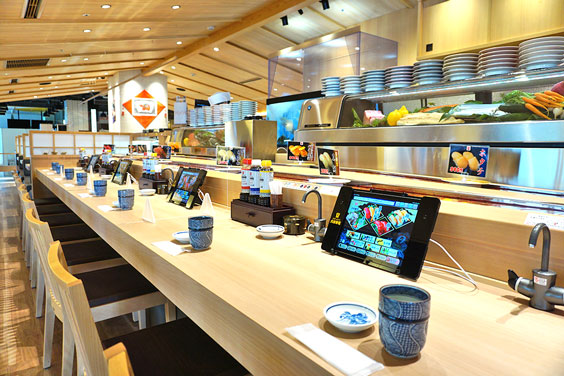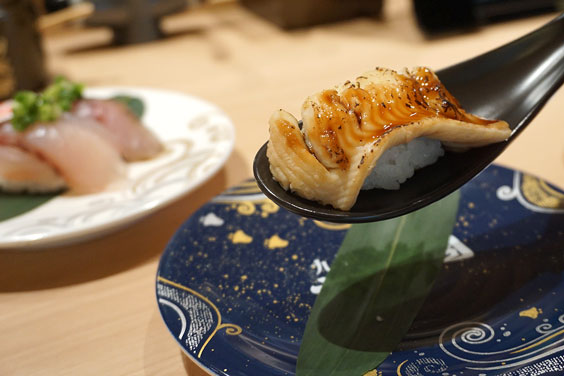 A popular dish from Kawasho "Fuwa Fuwa Mushi Anago (lit.: steamed conger eel)"! A new kind of fluffy texture, so delicious♪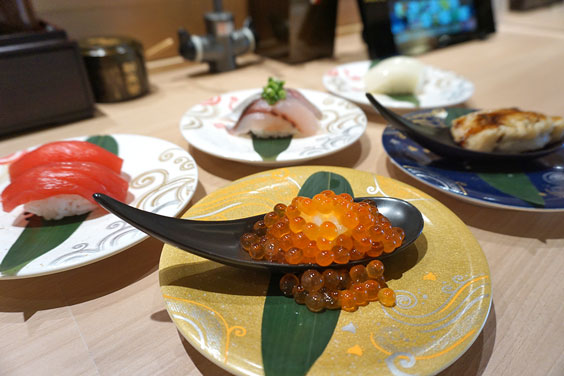 How lovely! Let's try this "Ikura Chikappa Mori (lit.: full of salmon roe)" luxuriously in one bite!!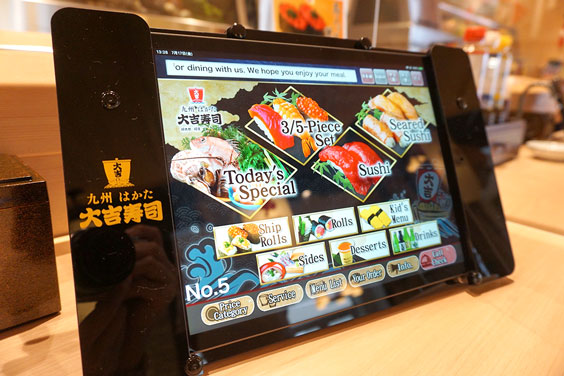 Select your meals by this tablet, the menu is available in multiple languages.
Nikuyama Shokudo (肉山食堂)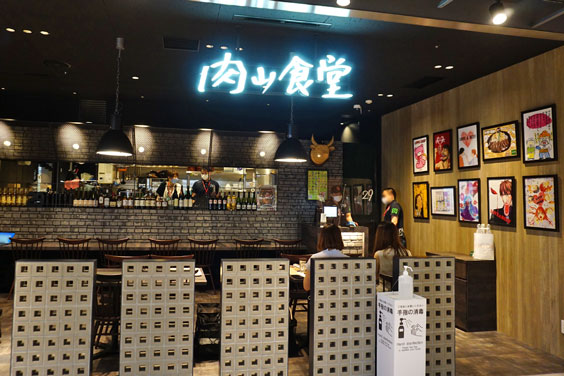 Specializing in meat dishes, Nikuyama (Kichijoji, Tokyo) is a famous restaurant that is difficult to book. Whereas here in Fukuoka, the former "Nikuyama Fukuoka" has been refurnished and reopened as "Nikuyama Shokudo"! Now you can enjoy set meals served with high-quality meat at a reasonable price for lunch or dinner!
Recommended by the store manager, "Nikuyama Sagari Steak set" is served in a hot iron plate, with a generous amount of 200g of meat!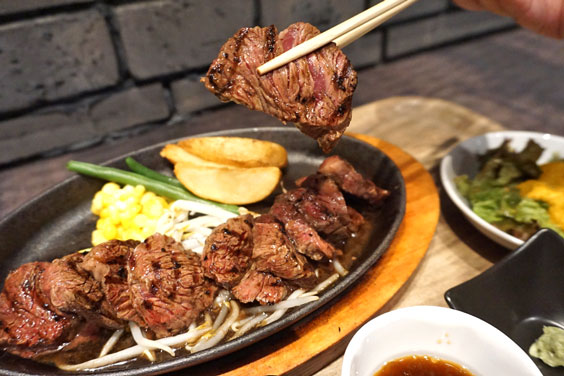 Meat lovers will sure be impressed by these juicy delicious meat! It goes well with wasabi too!!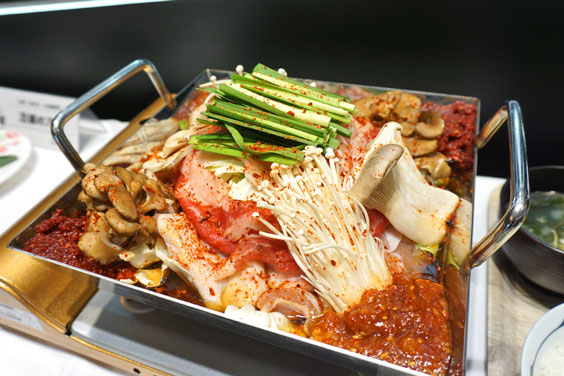 The "Kara-nabe (lit.: Spicy hotpot) course" filled with meat, mushrooms and vegetables is also a must-try♪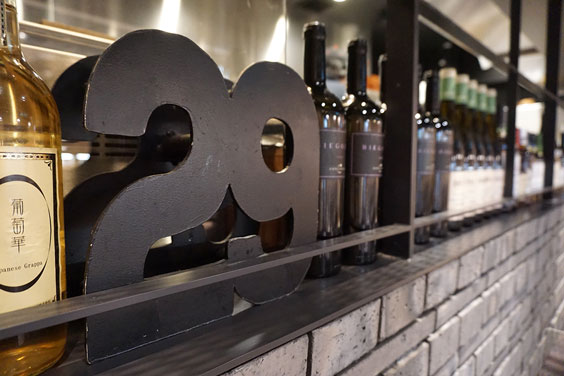 The casual atmosphere is one of the secrets of the restaurant's popularity!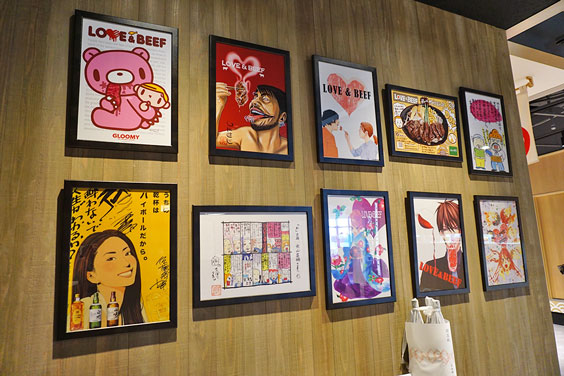 Don't miss out the artwork drawn by famous artists who are in love with "Nikuyama"!