[Feature] AKB48 Group

The "AKB48 Group" have grown into an idol group who are adored throughout the country, achieving an unprecedented level of success that is hard to match! The girls, who have been instrumental in creating an entire genre in the world of Japanese idol groups known as "Aini ikeru Idol (Idols who you can go and meet)," started out in December 2005, performing at the "AKB48 Gekijyo (AKB48 Theater)" in Akihabara, Tokyo. This year sees them celebrate their 10th anniversary!

In June, the AKB48 Sousenkyo (general election) was held in Fukuoka! So in this installment, we have many features about the AKB48 Group for you to check out! Please Enjoy!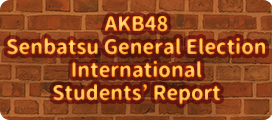 Related Articles