NYAI(1/2)

Can't get enough of the humour and the unique easy-going style!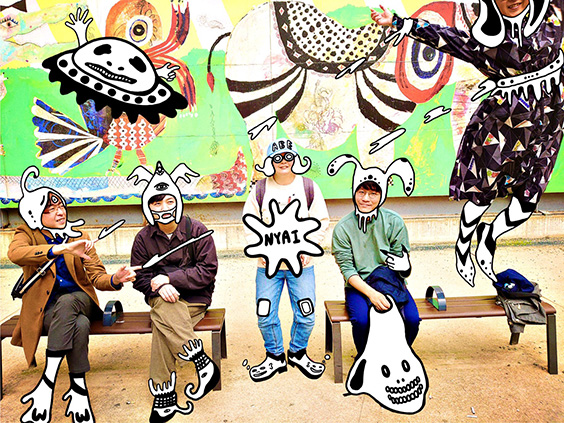 (From left) たにがわシュウヘイ (Tanigawa Shuhei / Bass), takuchan (Vocal & Guitar), ABE (Vocal & Keyboard), showhey (Guitar), and アヤノ・インティライミ (Ayano Inti Raymi / Drums)
"NYAI" - a 5-piece rock band with twin vocalists that is currently based in Fukuoka. Unlike other mainstream music, their strong personality of alternative rock carried out by the guitar sound, emotional lyrics and melodies, CD album cover with the artwork inspired by their unique senses, are what you just cannot get enough with! Their first full album released nationwide in 2016 "OLD AGE SYSTEMATIC" was recommended by the frontman of Spitz, Kusano Masamune, in the fan club newsletter. In addition, they had so far attracted many professionals in the music industry, especially after the release of their second full album "HAO" in July 2019, when the album was selected by Tower Records staff for the "TOWER RECOMEN" project that usually promotes new artists. Don't miss the chance to find out more about this awesome rock band who are highly expected to achieve a breakthrough in the future!