FUKUOKA OTAKU MAP ver."痛"(two): AKB48 CAFE&SHOP HAKATA(1/18)

Inside the store it's wall-to-wall AKB48!
The nationally renowned idol group AKB48 are adored throughout the country. This installment reports from the AKB48 CAFE&SHOP HAKATA, which deals in official AKB48 merchandise and goods!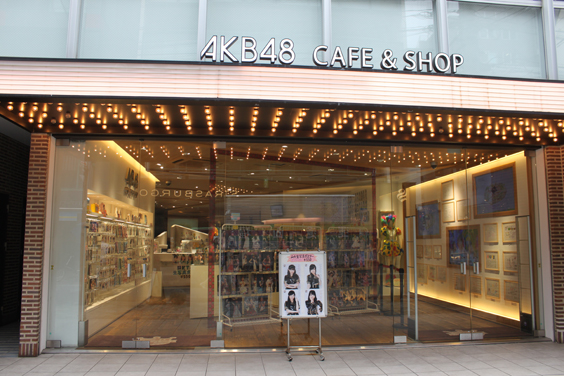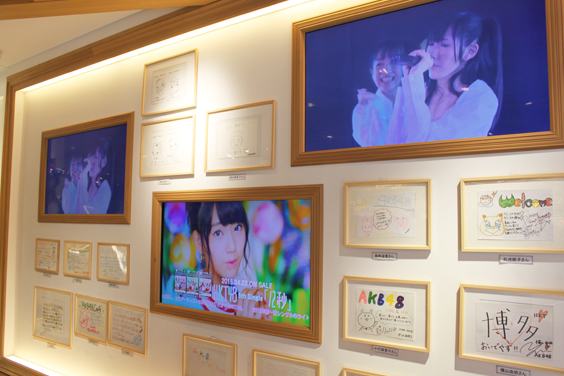 As soon as you enter the store, the first thing you notice are big screens showing the AKB48 group's music videos, as well as footage of their previous live performances! Since the wide selection of video clips are shown in any particular order, you might find yourself stuck at the entrance watching all the videos that are being shown! The interior is decorated with all kinds of handwritten messages from members of AKB48! Will you be able to find a message from your favorite group member?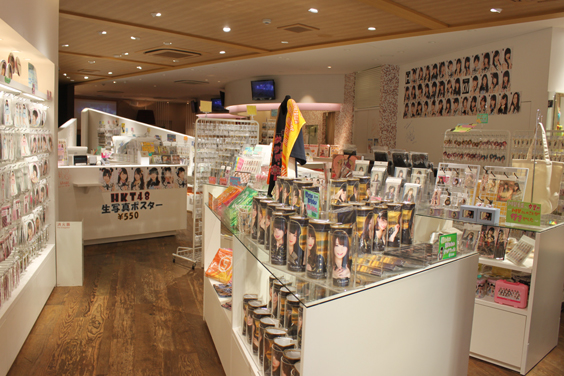 To the left hand side of the entrance there are all kinds of goods on sale, including merchandise from AKB48, as well as sister groups, such as SKE48, NMB48 and HKT48.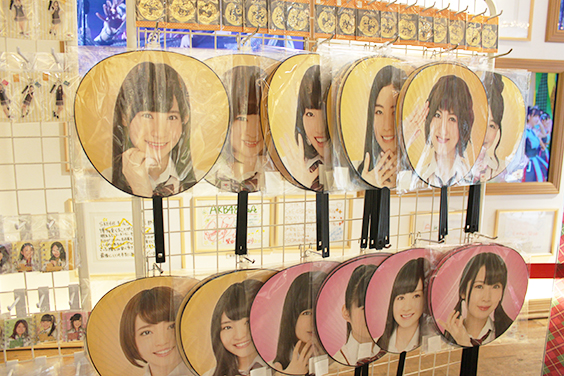 SKE48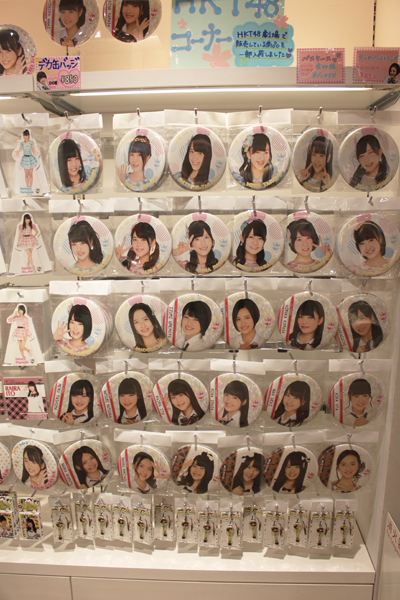 HKT48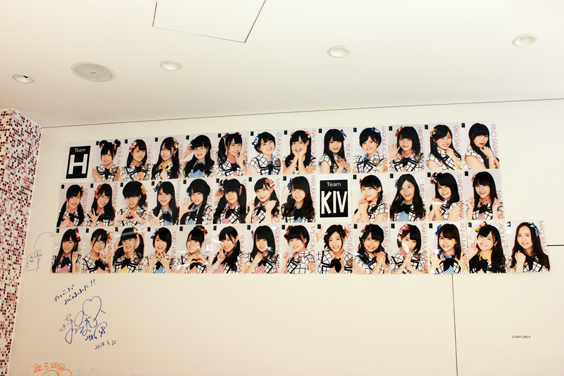 HKT48 posters!
These HKT48 posters are limited edition goods that can only be found in the Hakata store! The items are selling out one after another, so everybody really wants to get their hands on them.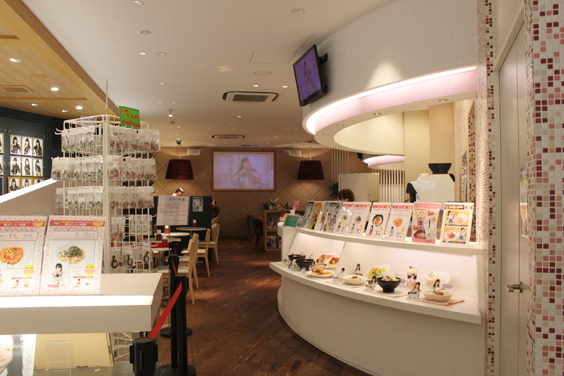 After coming through the entrance, if you continue to the right hand side you come to the large cafe area.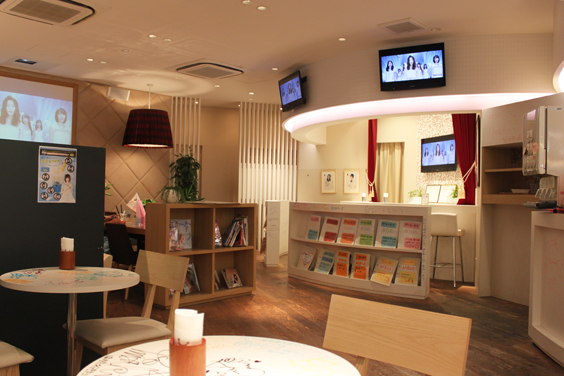 The screens and the monitors beside the entrance show footage from their live performances, so you can enjoy some delicious food while fully immersed in the world of AKB48.

Talking of the AKB48 cafe, we can't forget the cafe staff! They are all so kawaii, they look just like idols themselves!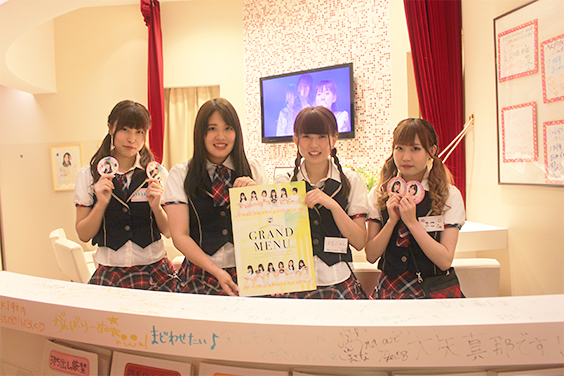 Here are all the cafe staff!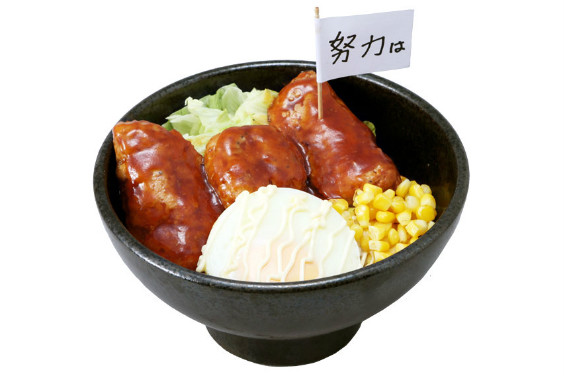 "Ribomoko-don"
In the cafe you can find food and drinks created by AKB48 group members, a grand menu and a special limited edition menu that changes every month.
One particularly popular dish is the "Ribomoko-don," which was created by the AKB48 group general director Minami Takahashi. Featuring a ribbon shaped hamburg steak, this kawaii dish is large in volume and a very satisfying meal!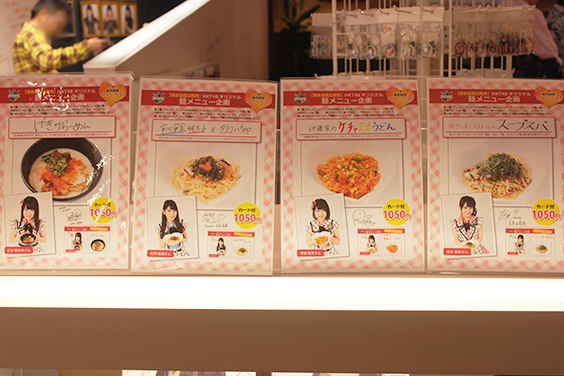 And they also offer menus that run for a limited time period only. From July 1st to the 31st last year the special menu included original noodle dishes devised by members from HKT48! Among them, Asuka Tomiyoshi's "Geki-kara Ramen (Super Spicy Ramen)" and Raira Ito's "Ito Family Ketcha-tama Udon (Ketchup and Egg Udon)" were some of the most popular with customers. As soon as one limited menu ends, it is replaced by a new one, so you'll surely be going back for more!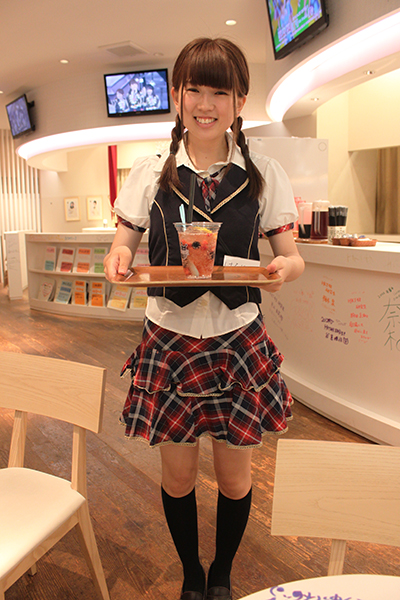 I was captivated by the unique menu, so I decided to order something!
I went for the "Tanoshimi (Fun) 120% Juice," which was the brainchild of HKT48 members Anna Murashige and Nao Ueki.
The cafe staff, Haru-nyan brought me my drink with a big smile on her face!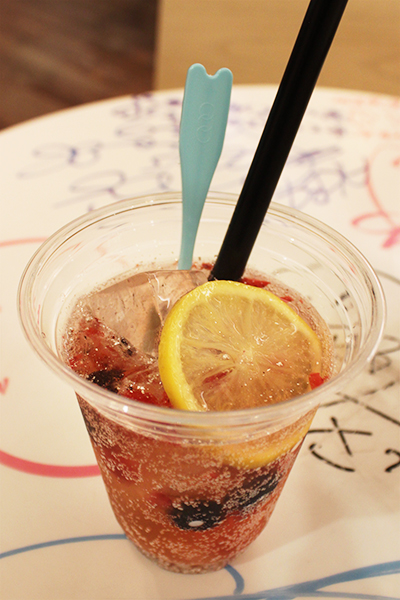 "Tanoshimi (Fun) 120% Juice" is a drink that was based on HKT48's 5th single "12 Seconds."
The 12 seconds in the song title is a reference to the length of a first kiss. As you sip the drink you can taste the ginger ale base, while the bittersweet combination of berry and lemon flavors will surely bring back memories of your first love. Inspired by some of the song's lyrics "Kuchibiru ni Fureta noha Yawarakana Diamond (The Touching of Lips is like a Soft Diamond)," the drink also has some silver candy beads inside. When you take a drink through the thick straw provided, you are hit by the slightly hard candy beads, the chewy tapioca and the berry fruit bits inside! This is a really special drink, which gives you all kinds of taste sensations!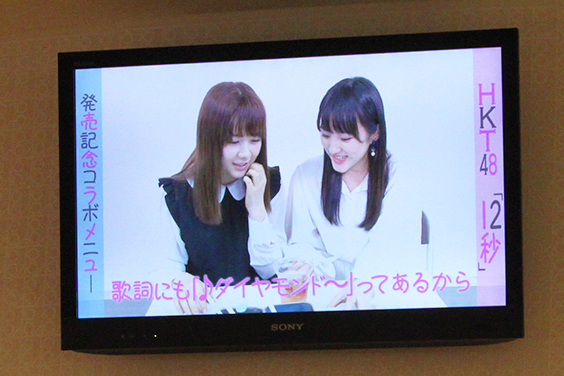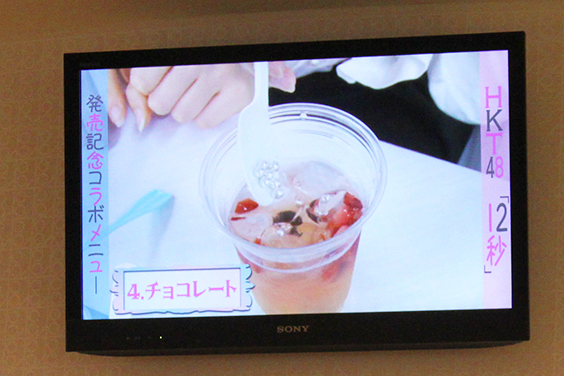 While I was sipping my "Tanoshimi (Fun) 120% Juice" drink, I was actually watching Anna Murashige and Nao Ueki creating the drink on screen.
Watching the members on the monitors as you are eating or drinking really makes you wonder how they came up with these unique dishes, and somehow makes what you order taste even more delicious!
We also made sure to ask the staff what items they would recommend!
Cafe staff Mi-chan and Mako-chan gave us some advice on what to pick-up!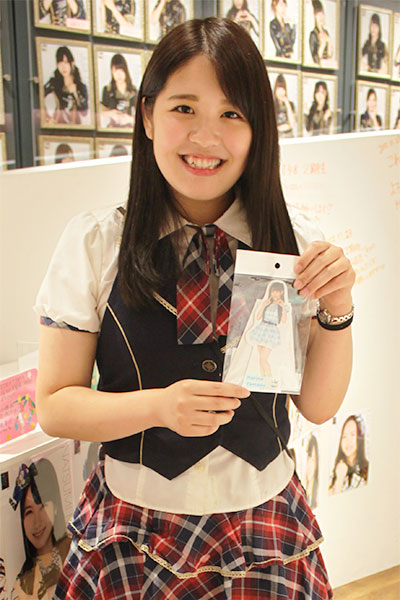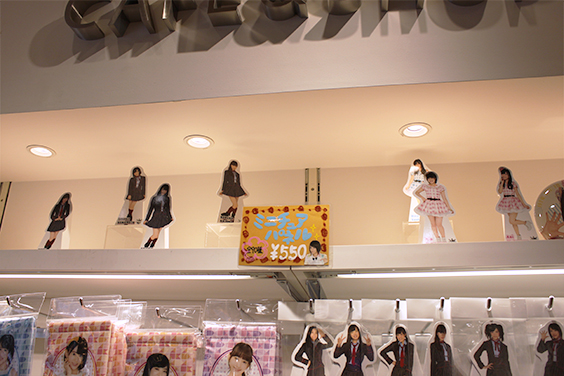 Mi-chan's favorite member is SKE48's Mina Oba and the item she recommended was of these miniature panel cut-outs!
After all, when you're tired from work or study, looking up at your favorite member on your desk is sure to give you a boost!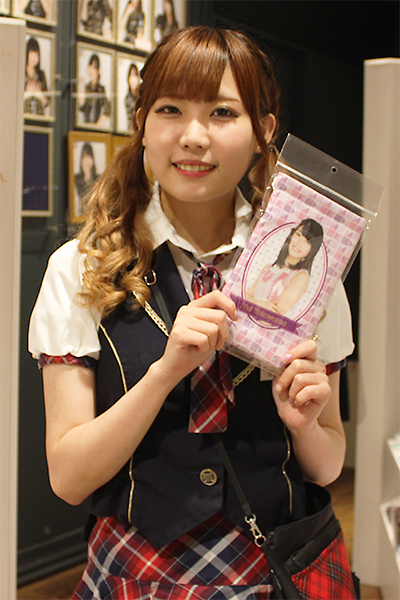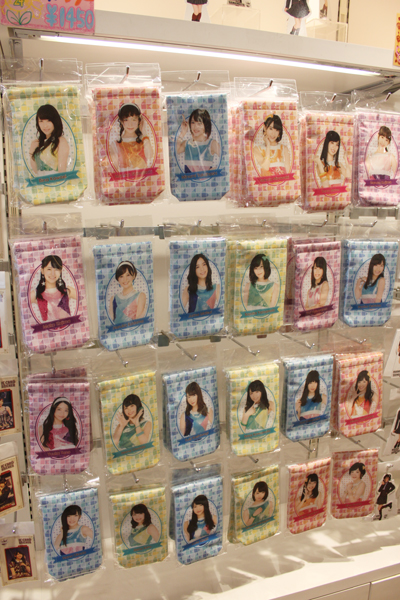 Mako-chan's favorite member is Yui Yokoyama who has been appointed as the group's next general director. The item she recommended were these plastic bottle holders!
Just as your'e about to head out you can put a bottle holder featuring your favorite member in your bag! How cool is that?
It's such a cozy, friendly environment that time passes by in the blink of an eye when your inside. The cafe staff are always posting updates on Twitter and on their blog, so you can keep up to date on any new items that have come out, or any changes to the menu!
Make sure to visit, you're bound to have a great time!

AKB48 CAFE&SHOP HAKATA is HERE!
AKB48 CAFE&SHOP HAKATA
- Items stocked/features/content: AKB48 group official goods, cafe, etc.
- Address:
NEO Daimyo I, 1-12-6, Daimyo, Chuo-ku, Fukuoka-shi
(*Closed down on January, 2017.)
- Website:
http://akb48cafeshops.com/hakata/
*All information correct as of September 2015