Fukuoka Otaku Map | Miniature & Dollhouse MARBLE CHOCO(1/8)

Text/Interview:トク(1093)
A store specializing in dollhouses that has over 3,000 items to choose from!
To mark the final installment in this series of Otaku Map, the spotlight falls on dollhouses, which not only have a long history, but are also loved by people all over the globe.
The focus of this edition is "MARBLE CHOCO," a store specializing in dollhouses that has over 3,000 items to choose from! As you pass between the NHK Fukuoka Broadcasting Station building and Ohori Senior High School and head towards Ropponmatsu, you will notice a chocolate sign on you left hand side. Located in a residential area, this charming shop is filled with handmade, stylish items and is very popular with female customers. "Marble Choco" grew out of its owner's interest in dollhouses. It's now been around for more than 15 years, and as only one of two shops in Fukuoka specializing in this kind of area, is something of a rarity. (information gathered by Fukuoka Otaku Map editor)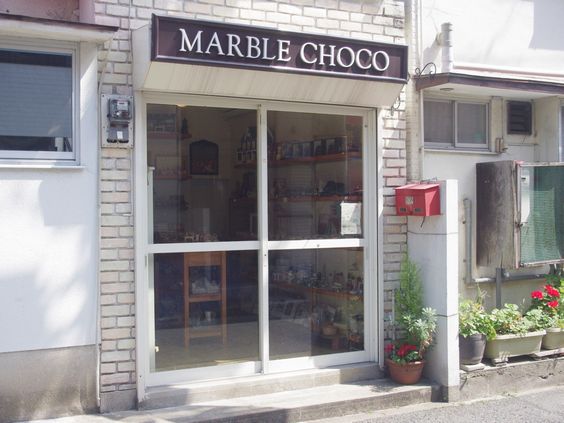 Their kawaii chocolate-colored sign outside the store is easy to recognize.
First, a little background to dollhouses. They are generally made on a 1:12 scale, recreating various scenarios and living spaces. You can find a great variety of items inside a dollhouse, including stylish pieces that are designed to match the general interior, as well as those that are filled with character and stories. They have origins in 19th century Europe, when there was competition amongst members of the nobility and aristocracy to see who could create the most sophisticated, elaborate pieces of miniature furniture. It is said that the shelves used for displaying these pieces developed into dollhouses.
They later went into mass production, becoming known as toy given to girls from middle class families. At the same time, an interest in intricate, stylish dollhouses also continued to develop. As a fun, playful form of art, they began to capture the hearts of adults, too. The dollhouse given to Queen Mary in May 1924 (known as Queen Mary's Dolls' House), which was made on a 1:12 (one inch to one foot) scale, has become a standard point of reference. A traditional European craft, dollhouses have fans all over the world and are said to have been introduced to Japan in the late 1970s. Collecting, making, or even viewing… There's lots of ways to enjoy dollhouses, which are said to be the culmination of various types of handicrafts. Of course the furniture and accessories, which have been faithfully and precisely scaled down to size, are used to fill spaces that cannot actually be lived in, but one of the great charms of this pastime, is how you can get absorbed and sucked into these pint-sized worlds.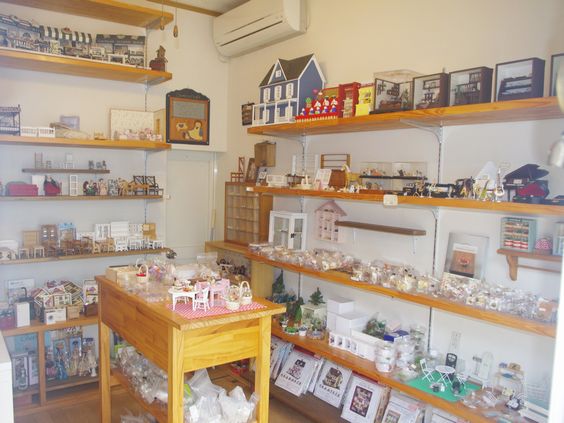 Inside is filled with an extensive array of dollhouse-related items.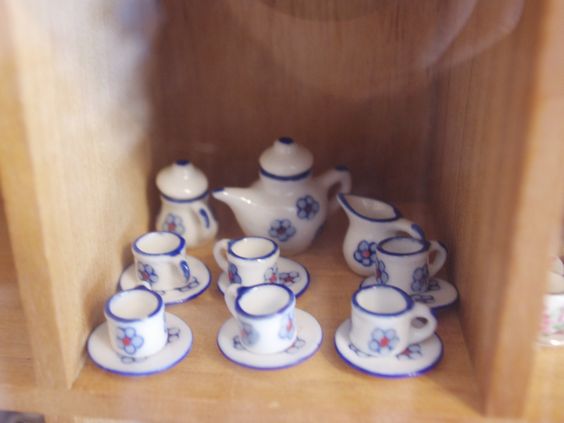 Fans of dollhouses tend to create a world in their own imagination, but aside from that there aren't any real trends. But one that does kind of stick out is an interest in European-style houses and food items. Marble Choco doesn't just deal with domestic and overseas-based toy makers, but also with individual craftspeople who create their own work. One thing they all say is "let's make a small vivid world that really feels alive." In order to make that happen, it seems that they have to come-up with so many bits of brilliant ingenuity.

When it comes to items like miniature plants, if you compare them to the real thing, you can see that the colors are exaggerated with brightly leaves becoming brighter and darker leaves becoming even darker. It might seem like a slight embellishment, but it is actually these kinds of details that give you the feeling that each doll house is home to its own living world. It's not just about depicting what you see, these much-loved tiny worlds that closely resemble our own existence also incorporate vitality and a sense of what it means to be alive. In doing so, they condense down a wealth of experience and skill that has been cultivated over many years. You might be thinking "is it expensive," but that's not something to worry about, Marble Choco has a huge range of stock, including items that children can buy, meaning that the dollhouse experience is open to everyone.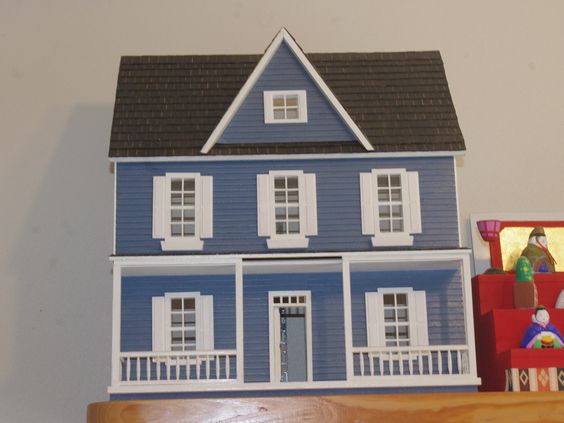 You could really make a dream life in this house.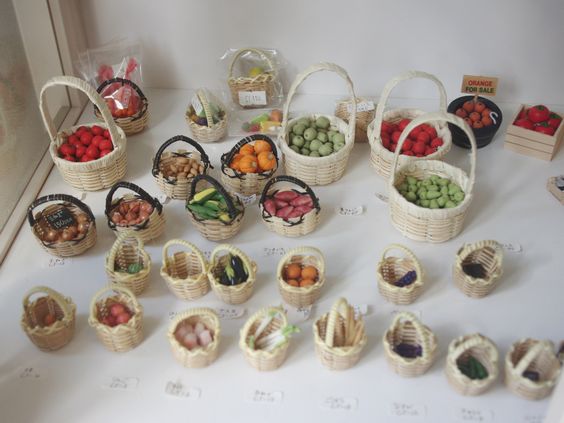 The vegetables look like they have come straight off a market stall.
It seems that the majority of fans are women, with those enthralled by dollhouses usually falling anywhere between the ages of 10 and 60. However, in recent years there has also been an increase in the number of fashionable, trendy men interested in dollhouses. Also, there are people who use miniature items, such as musical instruments and animals to decorate their rooms. Compared to before, there is much more information in books and online about dollhouses. Online sales are also on the up, meaning that it is now easier to get into this pastime.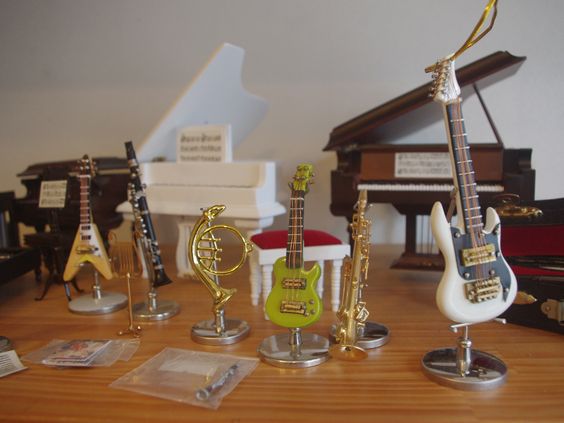 This level of quality and the incredible attention to detail is a sure sign that these items have been created by skilled craftspeople!!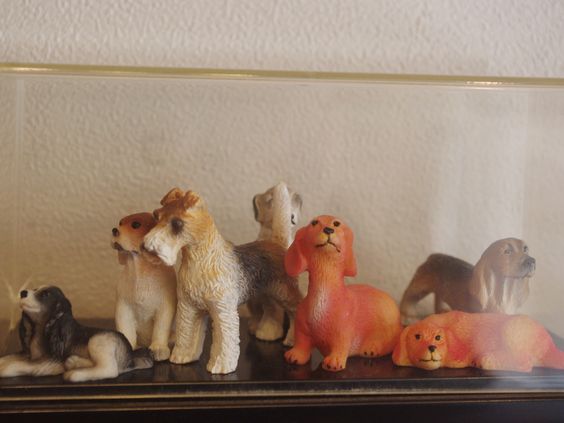 The miniature dog series seems to be popular among male customers.
The charming appeal of dollhouse goes beyond just making and decorating miniatures, isn't also about recreating the atmosphere and feeling of love that exists in our own homes? Making these types of dollhouses can put a smile on children's faces. Looking back at it in 10 to 20 years time, you can remember the fun you had playing with your kid and think about how life unfolded inside the world of the dollhouse. I felt that strongly through covering this store!
MARBLE CHOCO is HERE!
MARBLE CHOCO
Miniature & Dollhouse MARBLE CHOCO
- Products: Miniatures and dollhouses
- Address: 1-3-13, Ropponmatsu, Chuo-ku, Fukuoka-shi
- Website:
www.marble-choco.com
*All information correct as of May 2015.