Fukuoka Otaku Map #14 Model Gun Specialty Store – NEW MGC FUKUOKA(1/8)

Text/Interview:トク(1093)
Fukuoka's One-Stop Model Gun Shop for 50 Years (and Counting)
In what feels like almost no time at all, I've uncovered a third store of it's kind (lol) The shop I would like to introduce to you this time around relates to a world I think would be fair to say has enthralled boys everywhere at one stage in their lives or another: the world of model guns. It all starts with toy guns as children, then develops into a love of anime and movie character models, and later in life, turns into a passion for collecting replicas. It's the latter aspect of the long-spanding path of otakudom that I would like to touch on today. "NEW MGC FUKUOKA" is a one-stop model gun shop that has been operating now for roughly fifty years. Even amongst all of the other long-standing otaku stores that have been serving the people of Fukuoka for half a century, this one is legendary.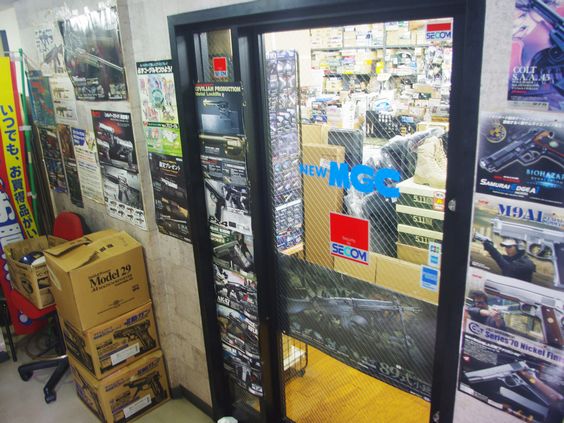 Contrary to appearances, the staff are very friendly
Model gun and air gun specialty stores stock products of around 50 different makers, including "TOKYO MARUI," "MARUSHINKOGYO," "TANAKA WORKS," and a range of foreign makers. Inside, there looks to be around 1000 items packed into the store (according to the manager there are so many that not even he knows exactly how many there are). Their customers are practically 100% male. Ages range from teenage and pre-teen boys to men in their 60s.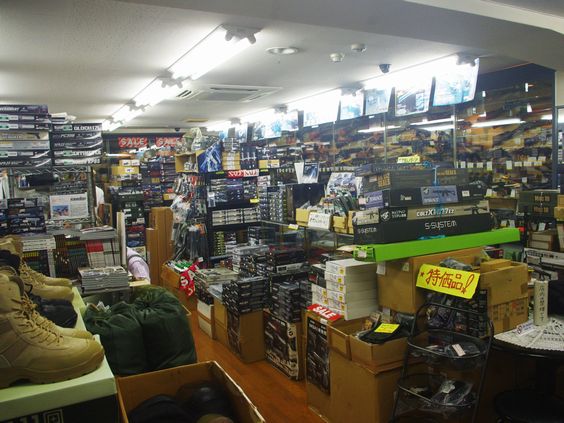 The store is jam-packed with products. It would take a good chunk of time just to give it all the once over.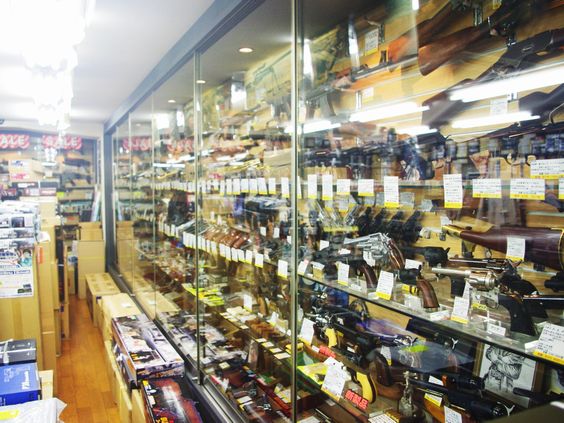 This showcase alone boasts more than 100 items!
The world of model guns is very much about collector's items, and as such, most of the partakers in this hobby are solo users. Perhaps a reflection of the household environment in Japan, "hand guns" are the model of choice, rather than larger models like "rifles," with tie-up products always proving to be hot sellers, often sending stocks running short. And not only manga or movie related replica items; in recent years, collaboration products based on weapons used by characters in video games, like the survival horror game "Biohazard," are also increasing. Not only are the guns themselves becoming more diverse, the fan demographic is, too.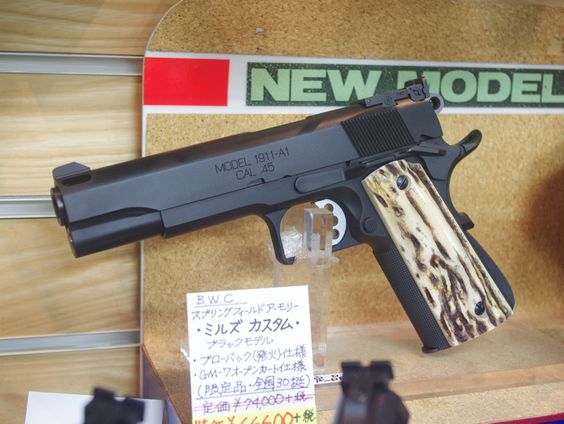 A model of the gun used by Brad Pitt's character, Detective Mills, in the movie "SE7EN."
One thing worth pointing out though, is that Japan is the strictest country in the world when it comes to regulations on model guns. There is a set speed at which pellets/balls can be fired from these guns and a violation of these regulations is punishable by the Swords and Firearms Control Law. As such, there are instruments available which measure the speed of model gun bullets in order to ensure that your gun complies with these rules. Japan's committee on air and model guns, the Air Soft Gun Kyokai (ASGK), is also in place to instruct and promulgate the correct usage and enjoyment of model guns. Preventions on the modification of toy guns like air guns and model guns are in place to uphold the established safety measures and ensure the safety of users. It's all about abiding by the rules and playing sensibly. In a sense, you could say it's like "taking the high road on adult pastimes."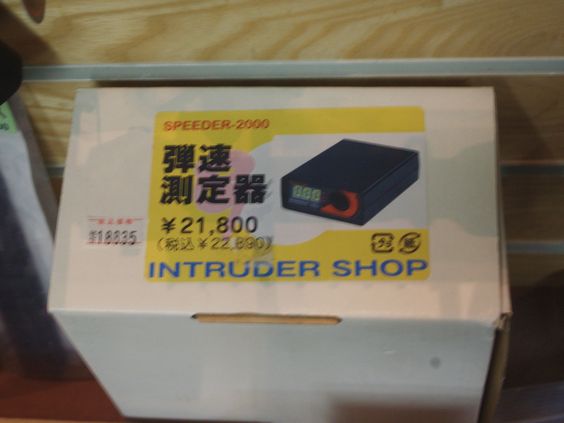 The initial speed of model gun bullets can be no greater than 0.9889 Joules!
Did you know that there are various games that are played using air and model guns as well? The most well known of these are the "survival games." Recently, there has been an increase in female fans of the pastime, or "sabage joshi" (survival game girls), as more and more people have apparently come to refer to them. These games are mostly played outdoors in open fields, but in Fukuoka I'm told there is even a cityscape field that they are played on. Apparently there's an entire building that has been converted into a survival game facility. It would be just like a scene from a movie – no doubt making for a thrilling playing field.(For more details: Tactics-field
http://tactics-field.com/
)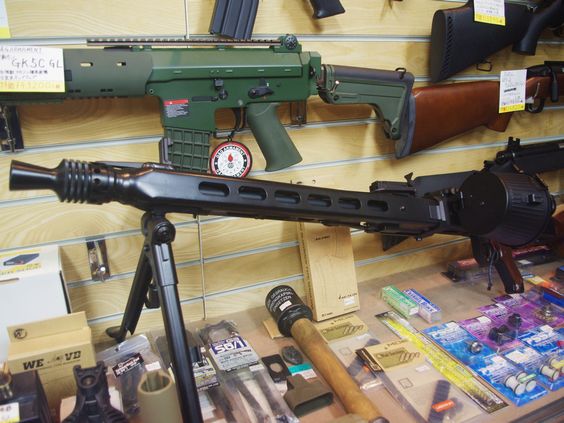 I love the ruggedness of this German army "MG 42" machine gun!
Perhaps a little less mainstream is the "Fast Draw" game. It's an old Western style contest of speed shooting. The only guns used in this competition are the good old single barrel .45 Colts (aka Peace Makers) that were so prolific during the settlement of the American West. The contest also imposes a strict Western-fashion-only dress code, so don't forget your riding boots and cowboy hat if you want to return to the "old West" and take part in this showdown. This is a contest that separates winners from losers by 1 1000th of a second! So not only is it visually stunning, it's exciting as well. Watch closely though, because this is quite literally a "blink and you miss it" art form!
Fast Draw has been running for more than 20 years now and there are even national tournaments. The national tournament runs on a rotating schedule and is held in either Tokyo, Nagoya, Kobe, or Fukuoka, each year. Keep your eyes and ears peeled because the venue for the 2014 tournament is none other than Fukuoka!
(
http://dawhois.com/www/wfda-japan.com.html
)
For all those people out there who might think the world of model guns is a little hard to approach, tournaments are a perfect opportunity to see the enthusiasts in action and get a close-up look at the "gun world" for yourself. Once you've caught the bug you'll be hooked for life, though, I'm sure of it!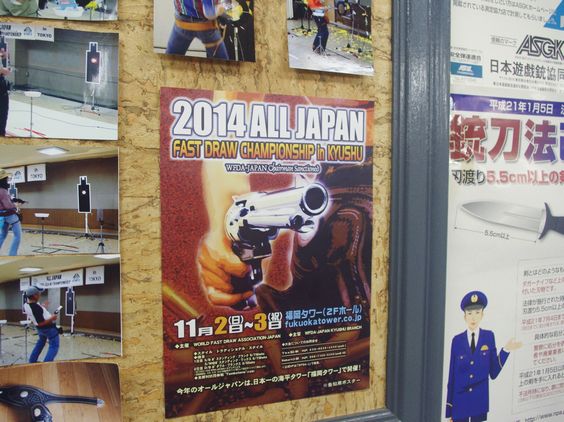 Jimon Terakado (a member of Japanese Comedy group,"Dachou Club") is apparently one of the top shooters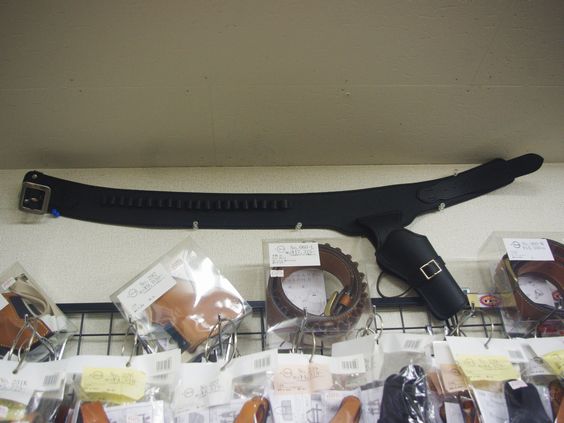 Handmade gun belts and holsters. So cool!
Model Gun Specialty store NEW MGC FUKUOKA is HERE
Model Gun Specialty Store NEW MGC FUKUOKA
- Products: Model guns, air guns, electric airsoft guns, and various gun-related products.
- Address: 3F Tenjin Oshima Building, Maizuru, Chūō-ku, Fukuoka-shi, Fukuoka Prefecture

*All information correct as of August 2014.