Fukuoka Otaku Map-ver. 痛 (Two) – WONDER MUSEUM Sanatorium (1/9)

Made to resemble a germ-free hospital room, this concept cafe really stands out from the rest!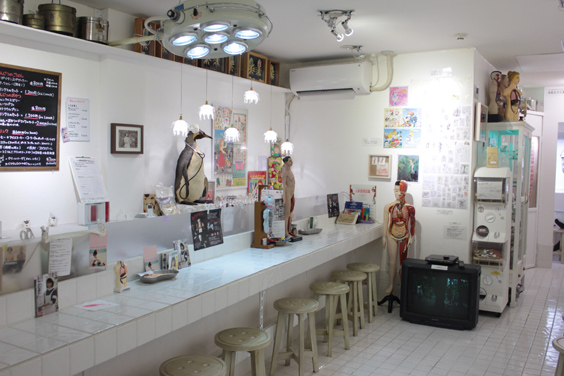 The north part of Tenjin is known as an area where various forms of Fukuoka subculture come together. Within this section of the city, one of the most truly distinctively unique joints you are likely to find is a concept cafe called the "WONDER MUSEUM Sanatorium"! Have you heard of it before? It's pretty remarkable; the interior has been made to resemble a germ-free hospital room. Once inside you will be able to take in the decor, which includes anatomical models of the human body and an array of medical instruments. Guests can also enjoy the cafes range of food and drink. Once you getting chatting to the "Fushigiko-chan," the name given to the staff who are dressed in nurses style outfits, you start to forget about your daily life! Keep reading as we introduce you to this bizarre, eccentric world!
Having first opened in June 2015, the WONDER MUSEUM Sanatorium is the annex of a privately run museum "不思議博物館 (lit. WONDER MUSEUM)" based in Nakagawa-machi that displays works created by artist and sculptor Takamasa Sumi. The cafes close proximity to the center of Tenjin means that it is easy stop by while you are out and about shopping or sightseeing.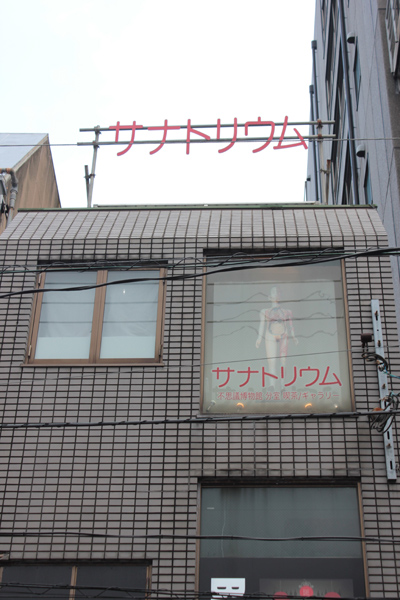 The cafe is located on the third floor of the building. When you look up from the street you can see a model of the human body looking out the window!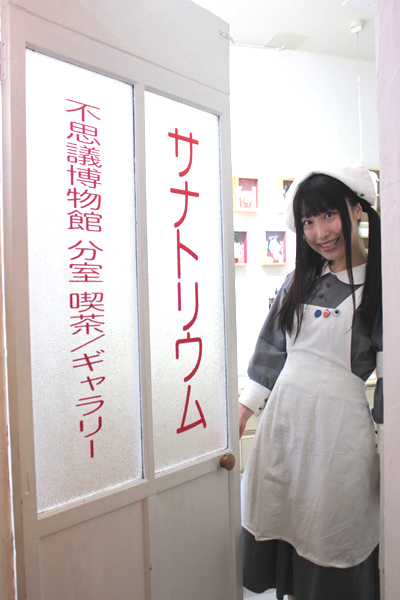 As soon as you open the white door on the third floor you will be welcomed by the "Fushigiko-chan!" On the day we went, our "Fushigiko-chan" was Chen Chen. For any fans of scary movies, apparently once a month they host a horror day inside the cafe!
A "Sanatorium" was a medical facility for patients who required long term care; it was primarily associated with providing treatment for tuberculosis. The all-white interior of the cafe, which has been decorated like a germ free hospital room, features anatomical models of the human body and all kinds of medical apparatus. It has an unusual appeal and strange kind of beauty.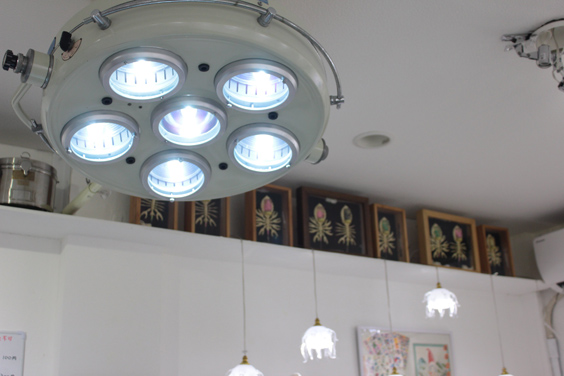 The surgical light that has been fixed to the ceiling was once actually used for medical treatment and health care. The lamp was first remodeled and then installed by the curator of the space Mr. Sumi.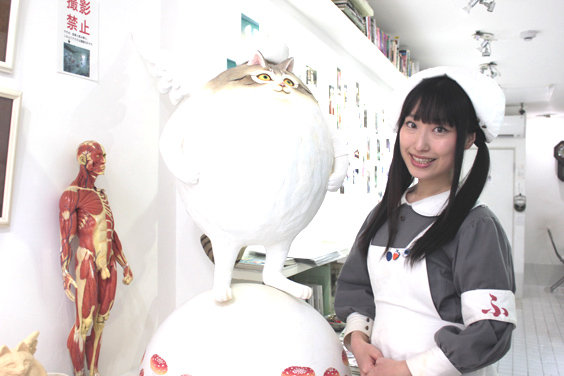 One of the first things you will notice once you have entered is a winged cat ornament called "Toneriko," which is an original character created by Mr. Sumi. One noticeable feature is that it is wearing the same type of nurse's hat as Fushigiko-chan. It is definitely worth sampling the food and drink, while sitting at the counter and enjoying a chinwag with the Fushigoko-chan. They bring up all kinds of topics to talk about, so there is no need to worry if it is your first time and you are visiting by yourself. There always seems to be a sense of excitement among the customers when they meet up for the first time.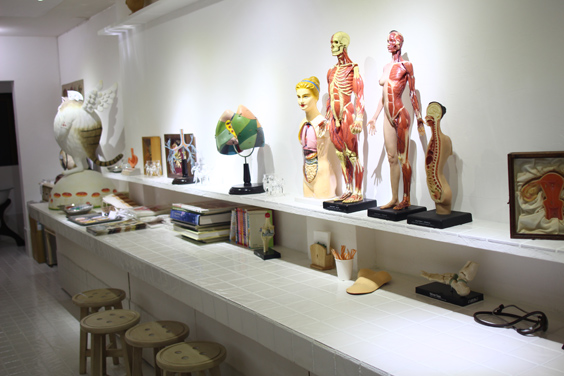 There is also another counter facing a wall, which is used as a free gallery space.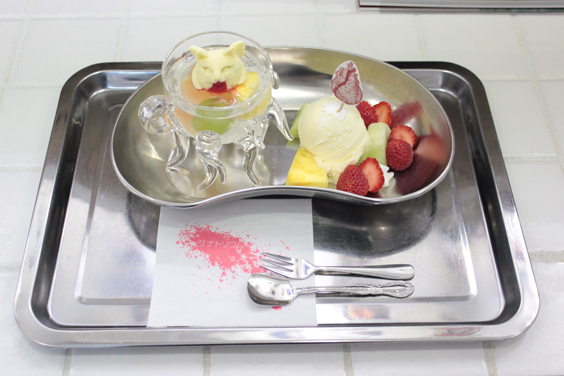 Much like the atmosphere inside, the food menu is also incredibly unique and puts an original spin on things. Served on medical apparatus, the "Homunculus Jelly" (800 yen) is a delicious assortment of ice cream, fruit, and jelly. It is a dish that really has an impact!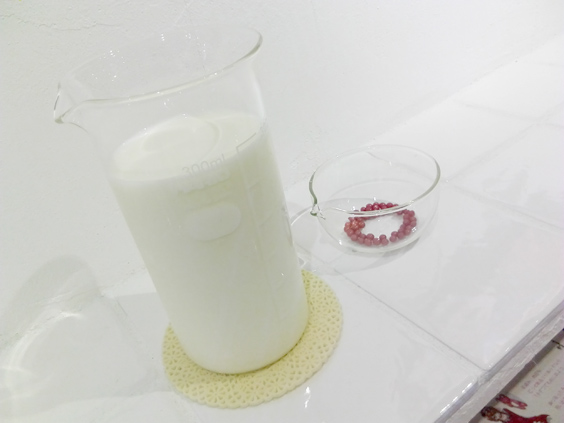 What is in their "barium" (700 yen) drink? Curious?... Why not give it a try!?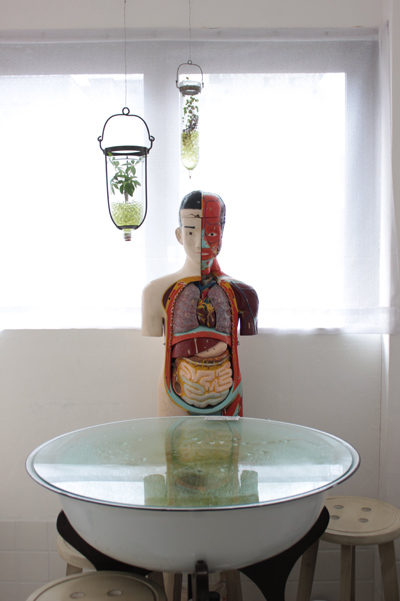 There are four models of the human body inside. Each one has been given a traditional name usually associated to a child's order of birth within a family, Ichiro (first born), Jiro (second born), and so on. One of the four is the human figure looking out the main window.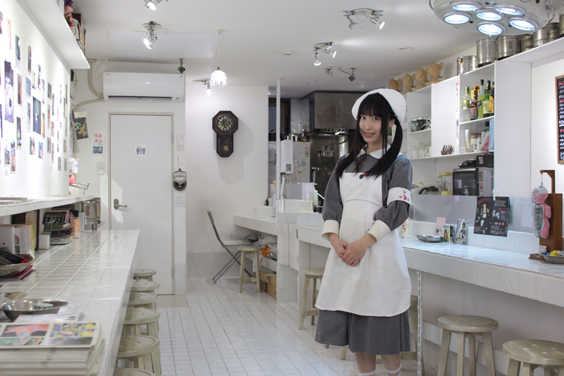 Exhibitions and events are regularly held at the "WONDER MUSEUM Sanatorium!" It is a pretty strange world inside the cafe, but it is easy to relax and have a fun time once you've walked through the door. Why not experience it for yourself?
WONDER MUSEUM Sanatorium is HERE!