Fukuoka Otaku Map #12 World Military Surplus & Riders Shop SWAT(1/7)

Text/Interview:トク(1093)
In Business for 34 Years and a Pillar of Fukuoka's Military Goods Scene
For this installment we veer away from the regular pop culture related fields and take a look at a genre that's a little more hard-core. The store this time around is "World Military Surplus & Riders Shop SWAT." It's a store that has been in business almost 34 years and is a pillar of Fukuoka's military goods scene. I was surprised to learn from the manager that the store didn't actually start out as a military goods store, but as a "gun shop," and it was only after a meeting with the owner of Japan's most famous military shop, Nakata Shoten in Tokyo (http://www.nakatashoten.com/) that they too began dealing in military items. And they have quite a collection to boot!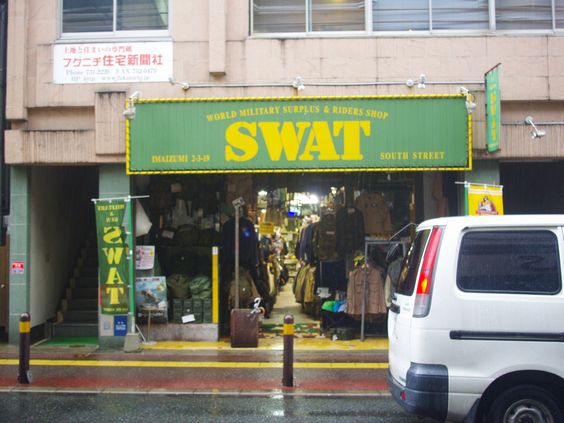 The entrance is packed with items and the rather manly appearance is quite alluring.
Inside the store is a treasure trove of military goods and army-surplus items! Not only that, they're also well stocked on biker items, like leather jackets and gloves, and have a total of more than 1000 items in store. The lineup of goods is simply overwhelming and I'm told that whether it's teenage boys or men in their 60s, fans of all things military can't get enough of this store.
What is it about military goods that men find so appealing? On the battlefield, people's lives depend on the durability of these items, so each article has to be constructed with the highest level of strength and functionality in mind. So I guess it's the rugged and robust nature of the goods that draws people in.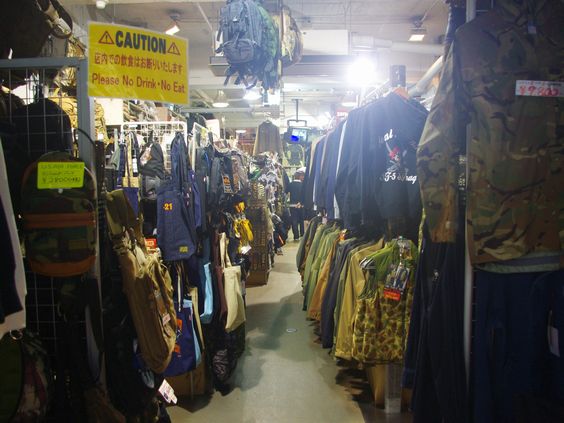 There are just so many items; you don't know where to look first!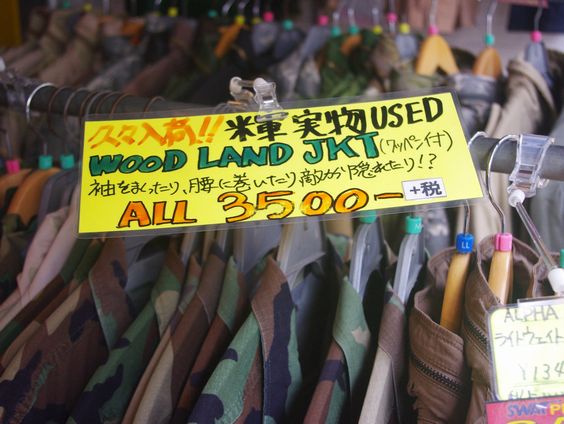 Real "used" military jackets. Really stirs the imagination, doesn't it?
There are also a few trends in the world of military goods, I'm told. In the 1990s when East and West Germany were unified, there were quite a lot of German military related goods circulating on the market (not so much these days, though). Popular items now are those of the American military. They also make up most of the items in their collections of jackets, boots, sunglasses and backpacks. One item from SWAT's lineup of goods I would like to recommend is the Oakley "SI" model sunglasses. Oakley is a popular brand amongst athletes and sporting professionals, but this particular item has been designed specifically for military use. It's not an item that you can purchase online, only in-store. What's more, it's not even available at the Oakley specialty store here in Fukuoka. So this is one extremely rare item! They don't even post any photos of it. Be sure to stop by SWAT and check it out for yourself.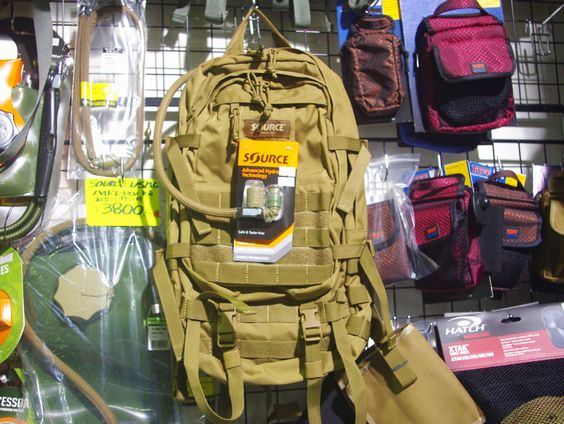 A hydration system backpack for carrying water.
These look like they could get you through just about any situation no matter what the weather!
Towards the back the store you can find the electric airsoft gun, gas gun and model gun corner. They have BB guns, air guns, gas guns, and all those items that, if you're a boy, you've probably been obsessed with at least once at some point in your life. Of course, design and quality have come along way since back in the day, but the detail (realness) with which they can recreate guns these days is just incredible. In the past, you could only take one shot at a time with each pull of the trigger, but now, there are semi-automatic and full automatic guns, blowback systems, and you can fire up to 3,000 shots in a single pull of the trigger. There's even a "recoil shock" feature that mimics the action of a real gun when fired, and some even discharge shell casings. These are no longer mere children's toys; these are hobby goods for adults, not unlike cars or motorcycles.
Also, what's great about SWAT is that they have their very own survival game field where they hold events on the 2nd and 4th Monday of every month. (For more details(Japanese) http://www.swat.bz/html/page3.html) It's not about playing in teams so much as it is about playing as individuals and forming teams as you progress through the game. This way you can increase your circle of survival game friends, apparently. They also allow you to observe as a visitor, so if you're thinking that survival games is something you would like to get involved in, why not drop by and check it out for yourself? Women are slowly starting to take more of an interest in survival games, too, apparently. Who knows, maybe there's even a bit of romance to bit found on the battlefield, amongst all the skirmish and crossfire.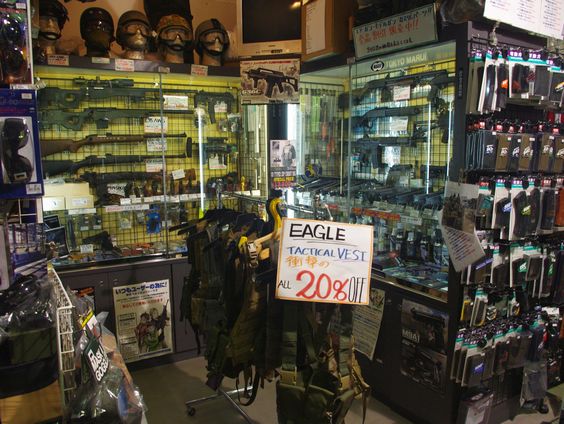 An excellent lineup of electric airsoft guns, gas guns and model guns.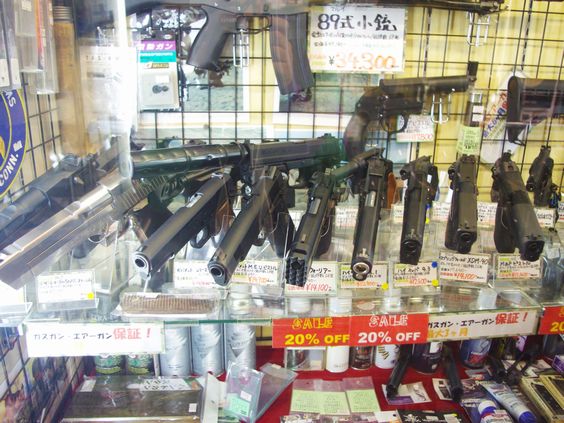 The first model gun I bought was a "Government." It feels a whole lot different to the one I bought back then!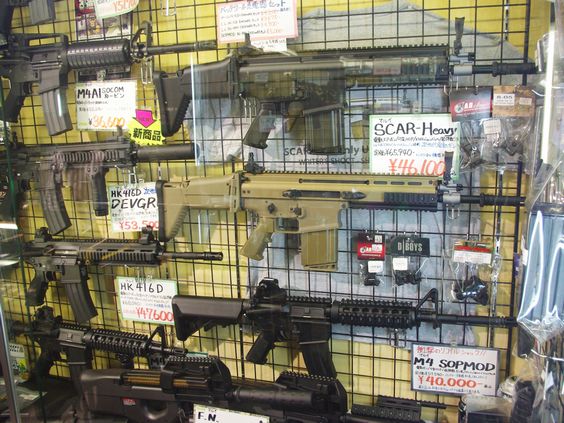 Now that I'm older I can finally play around with the electric airsoft guns too!
World Military Surplus & Riders Shop SWAT is HERE
World Military Surplus & Riders Shop SWAT
- Products: Military items
- Address: 2-3-19 Tokiwa Building, Imaizumi, Chūō-ku, Fukuoka-shi, Fukuoka Prefecture

*All information correct as of May 2014.