Fukuoka Otaku Map-ver. 痛 (Two) – TSUKUMO Fukuoka Branch(1/13)

There are all kinds of games and attractions to check-out! The VR simulation is full of surprises!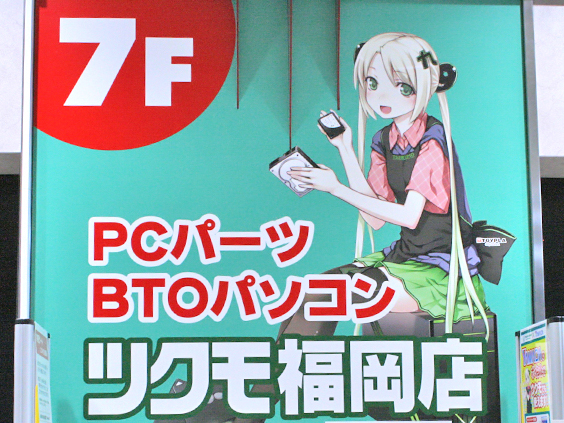 "Tsukumo" does not only cater to gamers and computer enthusiasts who are looking to build their own PC! The store welcomes all kinds of shoppers, from artists to YouTubers, and vloggers! The main branch is located in Akihabara, Tokyo and stretches out over nine-floors! The store is packed full of PC-related products and welcomes huge numbers of customers everyday! The Fukuoka branch is based on the 7th floor of Best Denki in Tenjin, and has become a popular spot that has built up a strong, dedicated customer base. The store has some great, eye catching interactive attractions, including a virtual reality (VR) simulator, a gaming PC corner, and 4K video editing suite. These entertaining features often draw big crowds during the weekend! On a Saturday or Sunday, you will often find queues of people waiting to check them out! Read on to find-out more!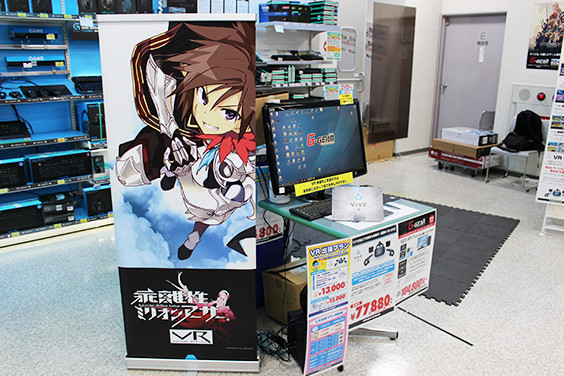 This is where customers can experience VR! The set-up includes some of the best VR technology available. The HTC "VIVE" headset and "Steam VR" software provide the user with the chance to explore some fantastic simulations. Visitors can enjoy titles such as "TITAN SLAYER," "theBlu," and "VR Kanojo." The immersive experience is sure to deliver!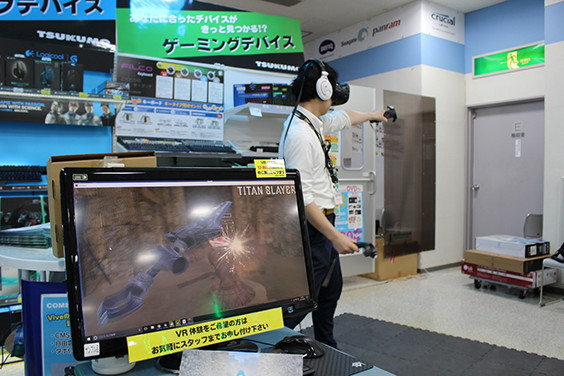 Scenes from the user's VR experience are displayed on the monitors. I tried VR for the first time during my visit. I was overwhelmed by the quality of the images. It was completely different to what I had imagined!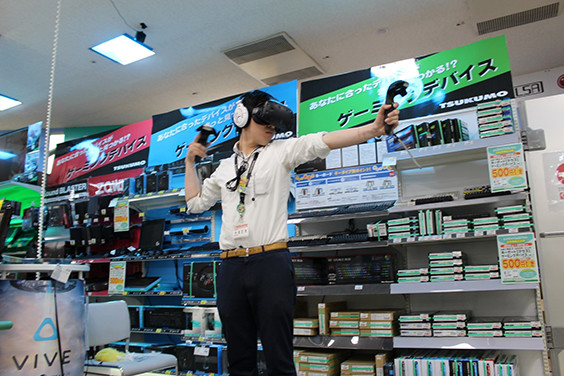 In some games you can use the controllers to fire an arrow at an enemy! To carry out the attack you actually have to recreate the action that is required to use a bow and arrow in real life!
It's said that there are not many places in Fukuoka that give customers the chance to experience VR! Tsukumo Fukuoka has knowledgeable staff on hand who can provide detailed information about what VR has to offer! The store has also established a support service for people looking to set-up VR equipment at home!
TSUKUMO Fukuoka Branch is HERE!